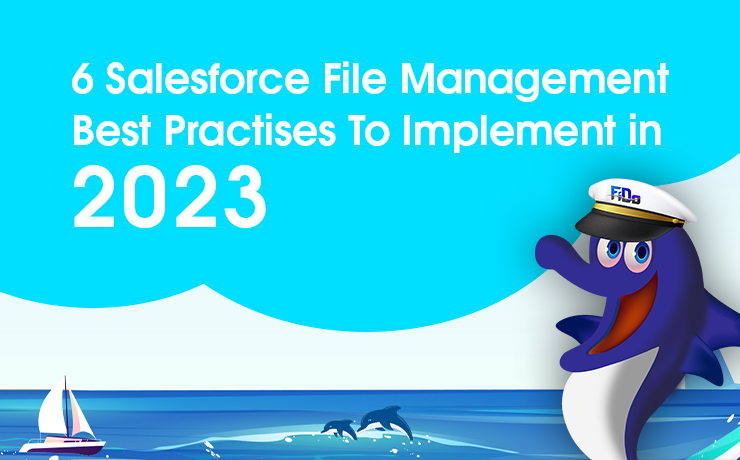 It is late 2022's. This is probably the last piece of information that you will be going to get. So, let's make it count. Hey Salesforce Admins, spare some of your attention here. This blog will unravel some of the best practices to boost your Salesforce file management strategies in 2023. Managing a large number of files in Salesforce is something that can easily result in a headwind if not taken care of. Below are some of the uber-popular methods that are being used by some of the smartest Salesforce file management experts. You are minutes away from getting to be one such expert. Keep calm and read through the blog.
Always have a folder structure for your Salesforce files
With the accumulation of files on a daily basis, it is very much hard to not pay attention to the Salesforce storage getting filled. The most organized and traditional way to do so will be to have your files arranged in folders. This will help you keep track of and organize your files in Salesforce.
Pro tip: XfilesPro is a file management app that is prominent and exalted among Salesforce users. Smart Salesforce admins use this #1 external storage integration app to have their Salesforce file storage optimized with a neat folder structure in their external storage system.
Mark your content with the right keywords
When you have a lot of files, how do you know the contents of your Salesforce files? Even though you have your Salesforce files sorted, still not sure of the contents in each file? Such a chaotic mess right? To help you escape from this oxymoron situation, the best solution is to have your Salesforce files neatly tagged with the right keywords.
Pro tip: Tagging is a very important feature in Salesforce file storage. XfilesPro will help you with its newest feature of SharePoint tagging to overcome this head-above-the-water situation. This is considered one of the Salesforce File Management best practices.
External Storage Integration
We just can't stop the Salesforce files from getting piled up in the Salesforce file storage. With a random amount of files, the Salesforce storage will exceed and soon get depleted. One smart move that can be undertaken will be to have your Salesforce files uploaded to an external storage platform.
Pro tip: The one app that is being boasted by AppExchange when it comes to external storage integration and file management in Salesforce is XfilesPro. With it acting as a pathway, the files are easily moved to the external storage of your choice including SharePoint, S3, Google Drive, OneDrive, and On-premise platforms. Henceforth having your Salesforce storage optimized.
Read the above point again. Because this is a very important function that has to be followed. Having your files synced will always help you if not now, but definitely in the future to retrieve your Salesforce files to be accessible from anywhere. With the Salesforce file storage hitting the threshold in no time, it is rather important to have your Salesforce files synced.
Pro tip: But where will you sync your files automatically? With an alarming increase in the files day-to-day, it is actually a liability to have your files synced manually. This is where XfilesPro comes into the equation. Having your Salesforce files integrated into the external storage, the Salesforce files can be synced into the same.
Protect yourself from unauthorized file manipulation
Are you aware of how many files might have access to your Salesforce files? Sometimes with too many Salesforce files on the plate, it is difficult to keep track of how files are getting manipulated. Hence it is always important to have a clear idea about what is going on with your files.
Pro tip: In retrospect, this is a very difficult issue to keep track of. But XfilesPro is here to save you. With the feature of viewing version history, you can easily identify who, when and what has been changed in the file. It will give you a clear-cut idea of the new modifications and also help in maintaining the integrity of the Salesforce file.
Have an upper hand on the access
Always make sure you have complete ownership of your files in Salesforce. Be aware of who is given access to the Salesforce files and also be mindful about whom you share the files with.
Pro tip: Not all of your employees will have a Salesforce license. How will you share your files at the need of the hour? XfilesPro has a feature wherein you can store your files at a central location that can be accessed by both community users and Salesforce-licensed users too.
Life is so simple with XfilesPro. And at this point, we are very much sure you agree to it too. Your Salesforce files are your asset. Helping you to optimize them is our expertise. So, this holiday season would be the right time for you to get the XfilesPro app, as the biggest deal for it is happening right now. So hurry up and get your Salesforce file management sorted before it is too late.
If you are looking forward to knowing more about the application, then our product experts are here to help you. Schedule a meeting with them and clear the air around your thoughts on XfilesPro.