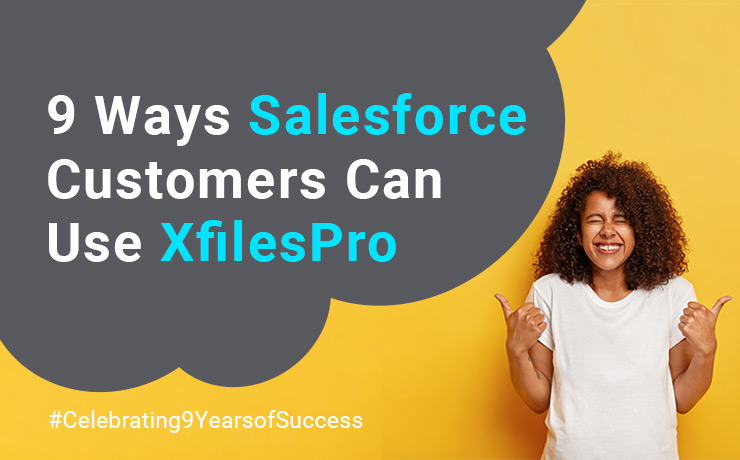 On this 9th anniversary of XfilesPro, it feels surreal to look back and realize that it has grown to help several Salesforce customers at crucial times. With its ingenuity and instructive solution qualities, XfilesPro tops the AppExchange for file management and storage optimization in Salesforce. This blog provides a summation piece on how customers can use XfilesPro in Salesforce.
To store Salesforce files in SharePoint
XfilesPro is a file storage management app, and SharePoint is one of the external cloud storage it supports. SharePoint has always been a reliable option for storage and several XfilesPro customers are preferring it for their Salesforce. By using SharePoint, one can have seamless folder management along with many other possibilities. Another thing to be noted is that it has exclusive features for SharePoint users.
To store Salesforce files in S3
Amazon Simple Storage Service is a service that provides object storage via a web service interface. This has been serving as a dynamic storage service. This is the most preferred option when it comes to enhancing your Salesforce storage through external storage support. Since it has unlimited scalability, there is no particular limit for storage.
To store Salesforce files in OneDrive
Microsoft OneDrive is considered one of the perfect cloud solutions that help in connecting all your business files. It makes more sense for large enterprises to have all their files stored in one place. Its rapid sync and multiple accounts are features that make it more desirable. XfilesPro supports the usage of OneDrive as an external storage optimization.
To store Salesforce files in Google Drive
Google Drive is a common usage for all your files to be stored. With getting your Salesforce files saved online and accessing them from anywhere, Google Drive is pretty much used by all types of users. You can securely edit and collaborate with others making the process of file optimization easy. XfilesPro also provides an option of Google Drive for having your files getting stored externally apart from Salesforce storage. XfilesPro also supports Team Drive.
To store Salesforce files in On-prem systems
This is the most interesting feature of XfilesPro. Not only does it support cloud storage services, but also provides the support of On-prem storage systems to have your files stored. The on-premises storage that is supported by XfilesPro is SFTP, Network Drive, and SMB. It gives its customers of all kinds a 360-degree solution when it comes to external storage optimization.
To manage Community User Files
Having a large enterprise with several files and users to manage, it sometimes becomes difficult to keep an eye on all the operations. With the integration of XfilesPro into your Salesforce, all the files are managed along with the community member's files too. It is highly a tedious task that XfilesPro is going to get you sorted.
To keep files in a highly structured way using folders
Being a huge enterprise, we know that you deal with a huge number of files from different Salesforce org or departments. Hence having it structured is a monotonous task to cope with. XfilesPro offers a customizable folder structure that the customers get their hands on.
To migrate a large volume of files from Salesforce
XfilesPro supports the migration of large files at once from your Salesforce storage to external storage. This helps in a faster and more secure way to optimize your Salesforce file storage. With our expertise of 9 years in the industry, this feature is regarded as the most useful.
To implement a centralized file management system with Salesforce
XfilesPro helps in implementing a centralized file management system in Salesforce. This helps in the better optimization of the storage in Salesforce. Internal and external teams can collaborate on the centralized files to improve the file management system and productivity.
Now that you have come across our top 9 ways of using XfilesPro, why wait? We are the perfect solution for getting your Salesforce storage optimized. Our product experts will be more than pleased to answer all our queries. Schedule your call today and be lucky enough to avail yourself of our anniversary surprises.