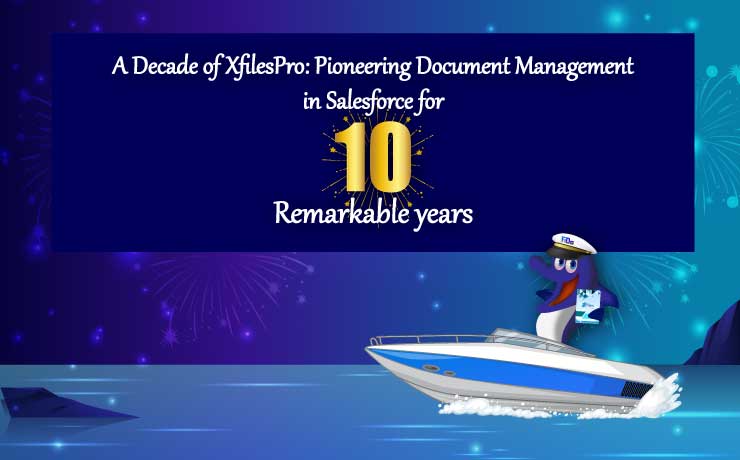 Phew…Just like that, our first baby turns ten!
Who knew that time could fly this fast? It seems like just yesterday we introduced our most intelligent and adorable kid to the Salesforce world. Today, he has grown to be the one-stop solution for Salesforce users around the globe for their document management needs.
If you're wondering who we are talking about – it's our Gen Z kid XfilesPro.
From the launch in 2012 as EXTFM to a big brand name XfilesPro provides solutions for document management challenges in Salesforce, the journey of our flagship application has been incredible and upwards. Today, it's delivering two on-demand solutions for Salesforce users — file management and document generation apps with advancements that no one else provides.
We will tell you more about XfilesPro's journey.
A decade ago, XfilesPro stepped into the booming Salesforce ecosystem as an app supporting AWS S3. Later, we advanced the solution by extending its wings to SharePoint, Google Drive, OneDrive, and On-premises platforms. So, XfilesPro can now help #AwesomeAdmins get rid of their ever-complicated task – document management in Salesforce. The admins can move their growing volume of files from Salesforce to their preferred external storage in order to free up storage space and achieve peace of mind. This is the magic that XfilesPro's file management application does.
The best part is that it's not only the external integration or file migration functionality that the next-gen application provides. There are a lot of other capabilities that make XfilesPro a complete document management system and a cut above the rest.
Enhanced File Collaboration:

XfilesPro's Bi-sync functionality plays a big role here. It syncs Salesforce records with respective files in the external storage so that the modifications on files can be reflected in both platforms. This streamlines the file collaboration as internal employees can work on files within Salesforce while external users modify the files in the external storage and can have the real-time changes reflected.
A Centralized File Management Process:

XfilesPro nurtures a centralized file management system where different external systems can be integrated with Salesforce through a single-point file management system. Be it a 3rd party or an AppExchange app you're integrating with Salesforce, your external storage will be the centralized file location where the user can access and edit files.
Customized Folder Structure Creation:

Since Salesforce poses limitations in creating folder formats, XfilesPro empowers them to build their preferred structure in the external storage so that the files can be arranged in a way that makes sense to their business. Here, XfilesPro provides two options, template folder structure and custom folder structure. The former is an easy-to-understand folder format that comes by default with XfilesPro, where users can easily access files. And, the latter helps the users to customize their folder structure as per the business requirements.
Massive File Migration in One-Go:

If the customer has already accumulated certain volumes of files in their Salesforce file storage, XfilesPro can easily push them to the external repository in one shot by maintaining the hierarchy between files.
Enhanced File Security:

XfilesPro understands the users' concerns regarding the security aspect of storing Salesforce files in an external storage location. Here's where XfilesPro's Access Control functionality comes into play, ensuring that authorized users gain the ultimate control to decide who can view and access their documents.

Significant Cost Savings:

The cost of additional storage purchases from Salesforce may not sound cost-effective for your business. Since XfilesPro optimizes the storage space and eliminates the need for storage upgrades, customers can save exorbitant money.
Also, Read: XfilesPro 9-Years Of Journey – Top Highlights
Now, let's talk about the recent and biggest addition we have made to the XfilesPro family — XfilesPro DocuPrime. It's the modern auto document generation app for Salesforce that automates the generation of documents of any type, size, and volume 100% natively within the CRM platforms. So, the users can eliminate the manual efforts of creating a document as the application automatically fetches data from multiple Salesforce objects and fills out the respective spaces to generate documents. With added functionalities like support for popular 3rd party eSigns, customized template creation, and template import, XfilesPro DocuPrime reinvents the never-ending, tedious document generation process of Salesforce users.
With two superior applications, XfilesPro provides a holistic platform for Salesforce users to generate and manage documents within the CRM with zero human involvement and in a way like never before. Through this elevated document management experience, the users can drive their attention back to strategic business goals without being worried about the growing volume of documents. This is what makes XfilesPro a fully-fledged document management system for Salesforce.
So, where does XfilesPro stand today?
With the ground-breaking addition of DocuPrime to the family, we started experiencing the tremendous growth of XfilesPro in the world of Salesforce. With a strong background of 500+ customers from around the world with 500k+ user licenses that have been granted to be renowned as the most trusted and recommended document management suite for Salesforce, XfilesPro has come a long way in a span of 10 years.
And, with the announcement of Captain FiDo in 2022 as the official mascot, the brand value of XfilesPro scaled to the next level in a way like never before. In addition, it takes immense pride to bask in the glory of five stars in AppExchange for the app. Altogether, we should say, that it's been a decade of unstoppable progress in XfilesPro's history.
But, XfilesPro's innovation doesn't stop here. The application will go above and beyond every year to accomplish the growing and evolving requirements of the customers by continuing to push the envelope. Because XfilesPro is 10 years stronger and prouder now!
Meanwhile, look into the Top 3 Moments During XfilesPro's 9th Anniversary Event
Finally, big cheers to XfilesPro's customers, leadership team, employees, and partners for their continued striving and efforts to meet excellence. This note would never be complete without acknowledging their significant contributions.
So, repeat after us, a decade of XfilesPro excellence, the best is yet to come!
Here's to many more XfilesPro years!