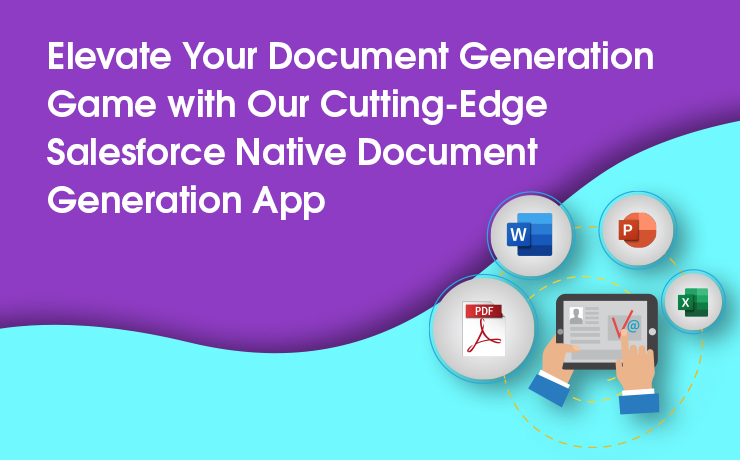 Lily is the Admin of an HRM department in a large firm. Life is not easy for Lily. With a clear set of duties and operations alongside the overwhelming creation of documents for several needs, work-life balance is out of the question for her. Since the admin of an HRM, document generation is very much integrated with her work profile. There is no escape from this.
It is a regular Tuesday. Lily came to work after a week's vacation. Still, in the vacay mood, she pulled herself to work cheerfully. She opens her laptop optimistically after greeting her colleagues. But her email is flooded with the documents that have to be created for 5 newly employed personnel who were selected last week. Their roles and responsibilities alongside the code of conduct have to be sent to them with their offer letters by EOD. There are 3 meetings clubbed for her with the superiors of the organization regarding some policy changes which have to be kept a note for further creation of the revised policy document.
Lily is now panicking. She cannot have any more excuses and it is better she kickstarts her work right away. It is impossible for her to finish these tasks on time. But otherwise, she will have to face a fair share of consequences. Allysa, an HR executive, notices this and comes up to Lily.
Allysa: Hey Lily, I hope you had a spectacular vacation. But why do you look so worried?
Lily: I had a wholesome week Allysa. But with the pending works that have been piled up for today being the deadline, all the stress that I left at Hawai, came back to me in just 5 minutes of time span opening my mail.
Allysa: Is the workload that bad?
Lily: Very bad. I am supposed to prepare at least 8-9 documents alongside 3 meetings where each will last an hour at the bare minimum.
Allysa: I do not know about the meeting part, but I have the best solution for you to finish up all your document generation by EOD.
Lily: Don't tell me that you are going to ask an intern to do it. These are very important documents.
Allysa: Oh ho Lily. You are not aware of any of the latest market trends, right?
Lily: What do you mean?
Allysa: I am talking about XflesPro DocuPrime in Salesforce. It is a Salesforce Native document generation and also the biggest hotspot for getting your documents created automatically.
Lily: I remember hearing that it was the best for people like us working in Salesforce. Our HR Org would be very much grateful if we could get access to such an app.
Allysa: Then what are you waiting for? Go and get the app right away.
Lily: It's not Allysa. Nothing is perfect as it sounds to be. I had tried several document automation apps before. It comes with its own limitations. I gave up on this try a long time ago.
Allysa: Alright then. What are your specifications? I bet we can find a solution with everything in XfilesPro DocuPrime that is Salesforce Native Document Generation.
Lily: I create documents for different departments and everything cannot look the same. The templates have to be different. This is a basic standard that has to be followed. In other apps, I found only a maximum of 5-8 templates available. That is such a buzzkill.
Allysa: Is that your worry? XfilesPro DocuPrime has many templates. And even if that is not enough, you can customize your own templates and make a new one. Also, there is an option for template import that can help you with your documents.
Lily: That is cool. Another problem I encounter is that sometimes I need my document to be in PDF, PPT, or word doc. Also, I need these documents by EOD. There are at least 8 documents for me at the beginning of the day. I have no idea how much will turn out to be by EOD. How to tackle these problems?
Allysa: XflesPro DocuPrime's multiple document type supports all popular formats. You do not need to worry about this. And XfilesPro DocuPrime works at a fast-paced speed and all your documents will be generated with just one click. I think that will give you enough time to document maybe another 15 documents by EOD.
Lily: That is fantastic. After creating a document, always getting it attested by superiors is very important. That is another concern.
Allysa: Xfilespro DocuPrime supports e-signature attachments in your preferred font style. Not only that, it supports bulk document generation, own business flow, template design with different font styling, images, and logo attachment, and authorization to decide on the visibility of the sections and specify the sequence of sections along with the others.
There is no chance XfilesPro DocuPrime will miss any details because all the necessary documents from the needed salesforce object will be carefully taken. It is the #1 Salesforce Native Document Generation application you find on AppExchange for a reason.
Lily: XfilesPro DocuPrime in Salesforce is a real-lifesaver Allysa. I am going to get the app and better head to complete my work. Thanks, Allysa.
Allysa: Just a Thanks? You owe me one girl.
Lily: Yes My Lady. Your wish is my command. Let's catch up after work.
Lily completed all her work 1 hour before the time and went out to celebrate with her colleague Allysa. Lily's day was saved with XfilesPro DocuPrime. Imagine what mishaps she would have come across if the documents were to be created manually. She also saved her time from excessive proofreading and editing. XfilesPro DocuPrime in Salesforce is a one-stop solution to several document creation problems of yours. We are here to help you. Schedule a call with our product specialists and get to know more about the same.
If you are looking for a Salesforce Native Document Generation application for your business, why not let's have a chat? Click here for a free demo.