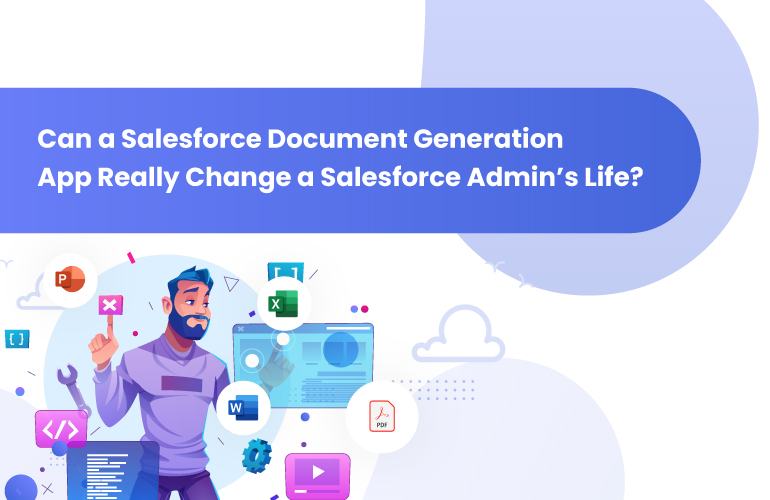 Hey, Salesforce workforce, picture this:
With that much stress on your shoulder, you are sleighing of hand multiple balls to finish all tasks on the dot. Suddenly, there comes an important communication from your team lead, asking you to create seven quotes and four proposals before the end of the day. How bad can your day turn out to be? To create the documents, you need to manually obtain and copy data from different Salesforce objects, garner it outside of Salesforce, and then build the files. Still, it doesn't end. Finally, you have to go back to the Salesforce environment to store the generated files. Though there is Salesforce to improve your sales and revenue of the organization, how to move the sales cycle if a sales rep is not able to create documents on time?
Assume how much time you would need for all these tasks. Hours and hours, right? If the above scenario resonates with your daily life — if you're from the Salesforce fraternity who spends productive hours daily building documents, it's time to embrace the change. When it comes to creating quotes and proposals, you don't need to look back. Salesforce facilitates the linking of data and discussions to drive actions, streamlines routine tasks within the workforce through automation, and integrates essential systems to uncover fresh avenues for enhanced sales performance. Even though you have made your mark in suitable customer finding and cordial relationships with customers, generating documents expeditiously is still a challenge.
What's that change? It's auto document generation in Salesforce!
Why do You need to Embrace Auto Document Generation in Salesforce?
Because you don't need to go anywhere else to create documents — from pulling data from multiple objects to building the template to storing the documents, all steps can be done within Salesforce automatically. Expanding a bit, with an auto document generation app for Salesforce, you're adopting a cloud-based, automatic service that lets you build documents of all types and sizes by uploading your own templates to Salesforce or by building one within the platform. Moreover, upon the successful implementation of a Salesforce document generation application within the Salesforce org, it will play a pivotal role in enhancing the efficiency of admins. This robust tool streamlines the document generation process, making it simpler and more seamless for administrators to create documents on a daily basis, thus optimizing workflow and productivity.
Looking for a real use case on how document generation worked for a US Machinery Manufacturing Company, then click here
Four Ways an Auto Document Generation App Will Benefit a Daily Salesforce User
Let's look at some advantages that a Salesforce document generator can unleash for you and your business.
You can put a lid on the unfruitful hours and mistakes that manual data obtaining and copying can cause for your document generation process! With your Salesforce data scattered over several Salesforce objects, a Salesforce document generator pulls the necessary data from specific objects automatically at lightning speed. So that you can rest assured about the accuracy of the information and the quick time it takes to create the documents. In one click your document is ready to be served.
Less time building documents = More time closing deals
If your business adheres to particular regulations and verifications, you can effectively reinforce them by utilizing an intelligent document generation application. This process promotes data compliance, granting you the authority to determine document accessibility within your Salesforce platform. Additionally, you can rest assured that your data and documents remain securely within the Salesforce environment, as the entire document generation process occurs in the cloud.
Get insights by going through this on-demand webinar to get to know more about creating and e-signing documents within Salesforce by clicking here.
Your data is undeniably safe as it's residing in Salesforce and processed within the platform during document creation. Neither an unauthorized person can access the documents nor the files will make accidental falls on unnecessary systems — it's that safe. In simpler terms, a Salesforce document generator offers enhanced security measures to mitigate the potential data risks associated with producing numerous documents across various systems by different users, ensuring a secure document generation process within the Salesforce environment. Also, the new feature of improved public share functionality includes password protection and link expiration for further accessibility of your data.
Data never leaves the platform
Bid farewell to the onerous and time-consuming process of manual document generation. Embrace the transformative power of a Salesforce document generator to revolutionize your daily document creation tasks and embark on a journey toward achieving full automation. Salesforce provides the ideal platform to kickstart this automation journey, ensuring efficiency, accuracy, and unparalleled convenience in your document generation processes. Say hello to a future where manual document generation becomes a thing of the past, and productivity reaches new heights.
Invest in the Right Auto Document Generation App that Your Business Needs
Given the plentitude of Salesforce document generation apps, teasing out the appropriate software for your business is a tough call. So, we welcome you to explore XfilesPro DocuPrime, our superior and native document generation app for Salesforce to find out how our next-gen application can streamline your document generation process. XfilesPro DocuPrime comprises all essential features including e-sign and template creation/export that you are absolutely looking forward to in an auto document generation app. You can generate error-free documents of any size, format, and quantity within Salesforce with zero involvement required.
Also read: XfilesPro DocuPrime: Your Auto Salesforce Doc Gen Expert
XfilesPro also has a file management application alongside document generation. Once you have generated your documents on XfilesPro DocuPrime, you don't need to go looking around for any third-party applications to manage these files. XfilesPro's document management will take care of the rest.
This is about our product in a nutshell. Schedule a demo with one of our product experts to dig deeper into the unique capabilities of our app.
NB: Ready to blow your mind!