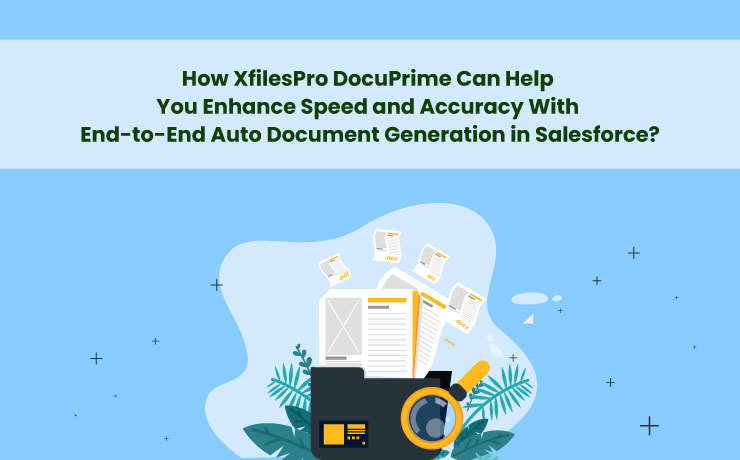 We know document generation is a part of many industries' daily workflow. Healthcare, real estate, corporate, financial and legal sectors are a few of them. As a corporate firm, we know first-hand how tedious and time-consuming it's to create documents on a daily basis by ruining the productive hours of workers. That's why we have developed XfilesPro DocuPrime for Awesome Admins to help them automatically create documents natively within Salesforce.
No long elaboration, we know your curiosity to know about how XfilesPro DocuPrime enhances the speed and accuracy of your document creation process.
We will discuss this with an imaginary example of 'Mili,' who is a salesperson as well as a Salesforce Admin in a leading financial service firm.
It was a very fine morning when Mili came to her cabin. She opened the laptop to find the 'High-Important' email message from her manager, who asked her to create customized proposals for 83 leads they generated from the last day's campaign. She was required to swiftly fill in details in each proposal according to the service each lead was interested in. Because the more she's late, the more leads will be lost.
Mili knew that creating customized proposals for 83 leads by collecting data from different Salesforce Objects is like asking for the moon considering the short time span.
Mili stood helpless, feeling a chill down her spine.
We know how to help Mili. How to get this herculean task accomplished in a matter of minutes with the XfilesPro DocuPrime application.
Our application is built to assist Salesforce admins like Mili in leading a stress-free work life by automating their end-to-end document generation process within Salesforce.
Let's see how XfilesPro DocuPrime could have helped Mili in the above scenario.
Also, read: How to Enhance Sales Efficiency and Customer Experience with Automated Document Generation in Salesforce
Our application can automatically fetch all the details from respective Salesforce Objects and fill in those details in the appropriate spaces in the documents. Assume a lead's proposal takes 1-2 minutes to be created. Mili could have generated customized proposals for 83 leads in 2-3 hours in any type, size, or quantity she wanted with our app.
The best part is that she could have got this comprehensive report ready without her involvement. Everything would have been done in ONE CLICK.
From the above scenario, have you identified the key benefits of automated document generation in Salesforce with XfilesPro?
It's INCREASED SPEED AND ACCURACY.
Calculate the time Mili could have saved if she had XfilesPro DocuPrime at her disposal. Hours and hours, right? She could have created the detailed report in the blink of an eye and can spend the rest of her time in her core job, which is sales.
And what about the accuracy? The information is up-to-date and free of errors. Because XfilesPro DocuPrime directly obtains the most up-to-date data from multiple Objects at once, which eliminates the manual effort of copying, pasting, or entering the details. That means Mili can create error-proof proposals in the stipulated time frame by gathering a large number of details, just as a cakewalk.
Also, Read: Why Do You Need an Auto Document Creation App in Salesforce
Hope Mili's example has shed light on how XfilesPro DocuPrime can bring a powerful impact on the speed and accuracy of your document generation process in Salesforce.
If you're curious to explore or experience the different capabilities of XfilesPro DocuPrime, we urge you to schedule a demo with one of our product experts. He/she will show you how our document automation app for Salesforce can contribute not only to streamlining your everyday workflow but also to driving enhanced business results such as improved productivity, high brand reputation, and strong consistency.
After that, it's your call to how to take this ahead.