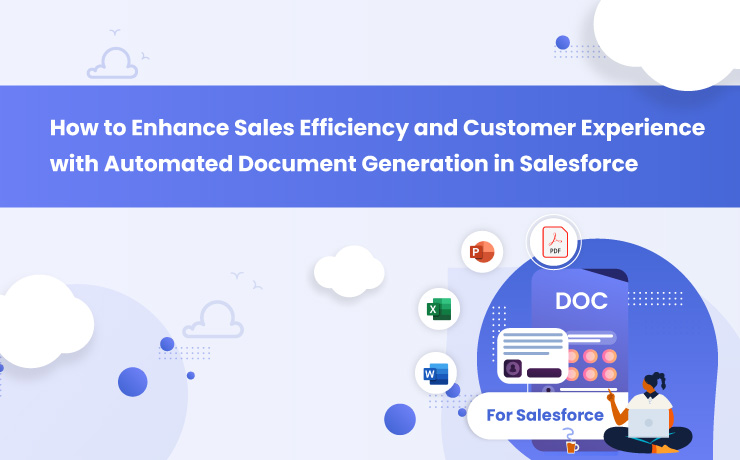 Studies have shown that on average, sales representatives spend almost two-thirds (64.8%) of their time on non-revenue generating activities, leaving only 35.2% of their time for selling-related operations.
We can confidently state that a significant portion of that 64.8% of non-revenue generating activities can be attributed to their manual document creation process. We have observed that the power of auto document generation has always been looked down upon by many Salesforce users and most of them still create documents by themselves manually.
But It's high time you know that auto document generation in Salesforce can do wonders for your sales team. Because automation can make life easier for your sales reps.
Are you thinking 'how?' Here're some benefits that auto document generation in Salesforce provides for the efficiency of your sales team.
Technology has always helped us to save time. Whether transferring money via online banking option or using GPS to reach a destination without spending time to find the way, we save a lot of time with technological advancements. The same goes for automated document generation in Salesforce. Your sales teams can prepare quotes, proposals, contracts, or invoices (that usually consume productive hours) on the go by automatically fetching the data from specific Salesforce objects. That means they can save time, significantly.
Indeed, Sales reps in any organization need to limit time spent on non-revenue-generating activities. Only then can they focus on their core job, which is selling. With an auto document generation app automating the end-to-end document creation process within Salesforce, the sales reps get more time to generate leads, nurture them, convert them into customers, and maintain relationships. So, this will not only improve the productivity of the overall team but also drive higher revenue for the company.
Have you ever thought about the consequences that wrong information or a typo in a document you already sent to a lead or customer could create? It will terribly affect your brand reputation and you will be barraged with harsh criticism from the person who your sales team wanted to close a deal with. Document automation in Salesforce can be a lifesaver here as it uses existing templates, fetch data from multiple sources, and creates error-free documents faster. In simpler terms, no manual copying or pasting means that zero-errors in your documents.
Most businesses are bound by compliance guidelines that prevent them from exposing their Salesforce data to unreliable external environments. With an automatic document generation solution inside the Salesforce application (preferably a native solution) you don't need to take your essential data outside of the Salesforce environment — everything will be done within the Salesforce app. This will help you follow your compliance guidelines and eliminate the risk of data exposure on external platforms.
Hope you have learned how Salesforce document generation that uses the power of automation helps your sales team to enhance efficiency and results. If we say the sales process is efficient it directly indicates the enhancement in the customer experience too. Because efficient sales processes are closely tied to improved customer experiences, directly impacting the customer's journey.
So, let's also look at how an auto document generation solution in Salesforce can bump up your customer experience.
If it's a lead, your sales team has to send multiple documents to them such as proposals, quotes, and contracts. If it's a customer, they need documents such as an agreement and invoice from your sales team. With an auto document generator implemented in the Org, your sales team can send personalized documents of any type in a matter of one minute with a single click. They can send multiple documents in one go to multiple leads/customers. So, they don't have to put any of them on a waiting period. This will impress your customer and they will rate you high for your quick actions.
An auto document generation solution also paves the way for ensuring high consistency in documents. It empowers your team to create documents that follow the same templates, formats, and colors, which ensures consistency in the layout and structure of documents. This is what is called the standardization of documents. Indeed, high consistency can secure high satisfaction from your customer, lead, or even prospect.
Document consistency has one more big advantage — strong brand identity. If all your documents are consistent in terms of layout, design, language, and tone, it creates a unified brand image that is easily recognizable and memorable. And the best part is that it's a hundred times easier to incorporate your brand guidelines in your documents when automating the document creation process than the manual ones. This will build brand value, making people recall your brand with its standardized document generation approach.
Apart from these, there're a lot of benefits that document automation in Salesforce can bring to you.
Final Thoughts
Are you also thinking about automating your document generation in Salesforce? Let us lend you a hand! Meet XfilesPro DocuPrime application, the most advanced and recommended native document generation app for Salesforce. Our application automates your complete document creation process 100% natively within Salesforce, helping you generate documents of any type, & size, in one click. As our application automatically obtains data from respective Objects, you can rest assured that the document generation process is efficiently carried out and your teams can focus on their core sales operations.
If you're curious to know more about our product,
schedule a demo
with one of our product experts.