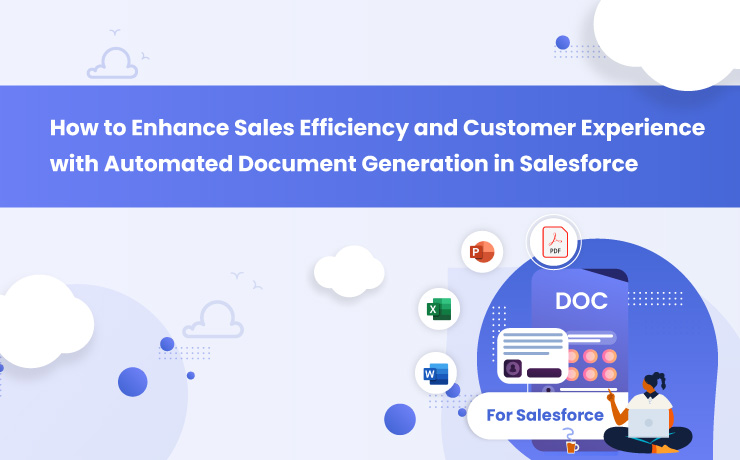 May the (Sales)force Be with You
Studies have shown that on average, sales representatives spend almost two-thirds (64.8%) of their time on non-revenue generating activities, leaving only 35.2% of their time for selling-related operations.
A significant portion of that 64.8% of non-revenue generating activities can be attributed to their manual document creation process. We have observed that the power of Salesforce Document Generation apps has always been looked down upon by many Salesforce users and most of them still create documents by themselves manually.
Being in the sales fraternity, it is very difficult to trace if they are high or low-value leads. But with the Salesforce CRM combined with AI and having easy and accurate access to data, your 360° view of the prospect is going to be very much sorted. With Sales Cloud Einstein, your sales rep doesn't need to aim for the low-hanging fruit. The sales process is going to be pretty much easy.
Is Customer Experience Really Important?
If you are looking for a sustained relationship with your customers, then the easy way to their hearts is a first-rate customer experience. It promotes loyalty, plays a major role in retaining customers, and your brand advocacy is highlighted. So the things to jot down here is that every single interaction with your customers is important.
Your sales team should be all hands on deck regarding knowing in and out of your customers. And Salesforce is your divine intervention to achieve it. Salesforce acts as a single source of truth and helps you have a complete POV about your customers right from the time they were your suspects.
Are you an effective salesperson who is keen on converting 50% of those additional calls into qualified opportunities? What if we say you can up that number by 75% if you shift to automatic document generation for your document creation needs?
Customer Experience and Document Automation in Salesforce
How does the customer experience get better with document automation? The connecting link is sales efficiency. Though customer experience in Salesforce is not directly connected to document automation for Salesforce, by automating your sales documents, the one thing that you can achieve at a moment's notice is giving time for your customers from the first point of contact to the post-purchase engagement.
It's high time you know that auto document generation in Salesforce can do wonders for your sales team. Are you thinking 'how?' Here are some benefits that auto document generation in Salesforce provides for the efficiency of your sales team.
Wondering how to create And eSign documents within Salesforce through an automatic document builder, then click here to watch an on-demand webinar on the same
Skyrocketing Productivity Potential
Indeed, Sales reps in any organization need to limit time spent on non-revenue-generating activities. Only then can they focus on their core job, which is selling. With an auto document generation app automating the end-to-end document creation process within Salesforce, the sales reps get more time to generate leads, nurture them, convert them into customers, and maintain relationships. So, this will not only improve the productivity of the overall team but also drive higher revenue for the company.
Turbocharged Time Management
You blink your eye and bada bing your business proposal is ready. You don't need to spend hours of your manly labor creating any of your sales documents. This will give you significant time to prioritize activities that deliver you the highest impact. Your sales reps can concentrate on algorithms that apply to faster prospect conversion trends on your Salesforce Sales Cloud and help you target promising opportunities that you see on your Sales Cloud dashboard as per their range being high, medium, and low.
Enhanced Communication
In sales, effective communication extends beyond verbal proficiency. Following the initial dialogue, prospects often request a product pitch or relevant documentation outlining USPs, your company's objectives, real-time use cases, and more. If you don't have immediate resources available, you can swiftly gather customer details from various Salesforce objects with a simple click and promptly create a sales presentation detailing your product with automatic document generation.
Merge Reliable and Accurate Data
Even salespeople who are good at everything aren't always great at data entry. Salesforce customer database being a wild child, you can see that your customer details will be scattered and hard to fetch in one go. The actual complexity arises when consolidating customer details to create that real-time use case to forward to a client. However, leveraging a document generation application within Salesforce resolves this issue, enabling seamless retrieval of details from diverse Salesforce objects with just a few clicks, making the information readily available for document creation.
Personalized Notes for Customers
If you are sending bulk emails to your customers at once but would like to send customized notes to only a few of them, then you can have a personalized note as per the customization sent along with the documents to the specifically selected companies. In such cases, you recognize the greatness of automatic document generation for Salesforce. In this way, the double work is gone and you are done with it in just a few clicks.
Creating Professional Sales Documents
Though you add Einstein to your Salesforce sales cloud and it scans key information By going through a whole mountain of data from the Salesforce org about your customer, sending out a poorly written business proposal is not going to help you retain the customer. Have you ever thought about the consequences that wrong information or a typo in a document you already sent to a lead or customer could create?
It will terribly affect your brand reputation and you will be barraged with harsh criticism from the person whom your sales team wanted to close a deal with. Document automation in Salesforce can be a lifesaver here as it uses existing templates, fetches data from multiple sources, and creates error-free documents faster. In simpler terms, no manual copying or pasting means that zero-errors in your documents.
Customizing contracts and documents
Even busy eyes will welcome an interactive template with all their heart. Now that you are proficient with Einstein as to which opportunities are going to convert soon, the next big step is going to be creating an array of documents for each stage and if you follow one boring template, then there is no fun in it. With customised templates applying a different template to each of your back-to-back documents is a quick win with automatic document generation adding creativity to the process.
Compliance Adherence
Most businesses are bound by compliance guidelines that prevent them from exposing their Salesforce data to unreliable external environments. With an automatic document generation solution inside the Salesforce application (preferably a native solution) you don't need to take your essential data outside of the Salesforce environment — everything will be done within the Salesforce app. This will help you follow your compliance guidelines and eliminate the risk of data exposure on external platforms. This helps in building the trust factor between the company and the customers.
Final Thoughts
We hope you have learned how Salesforce document generation which uses the power of automation helps your sales team to enhance efficiency and results. If the sales process is efficient it directly indicates the enhancement in the customer experience too. Because efficient sales processes are closely tied to improved customer experiences, directly impacting the customer's journey.
Whenever you replace administrative pains with more time to sell, your reps will thank you for it Are you also thinking about automating your document generation in Salesforce? Let us lend you a hand! Meet XfilesPro DocuPrime application, the most advanced and recommended native document generation app for Salesforce. Our application automates your complete document creation process 100% natively within Salesforce, helping you generate documents of any type, & size, in one click.
Curious to know how XfilesPro DocuPrime tackled the issue of a leading tax and financial advisor based in Sydney? Click here to learn more about this case study.
As our application automatically obtains data from respective Objects, you can rest assured that the document generation process is efficiently carried out and your teams can focus on their core sales operations. If you're curious to know more about our product, schedule a demo with one of our product experts.