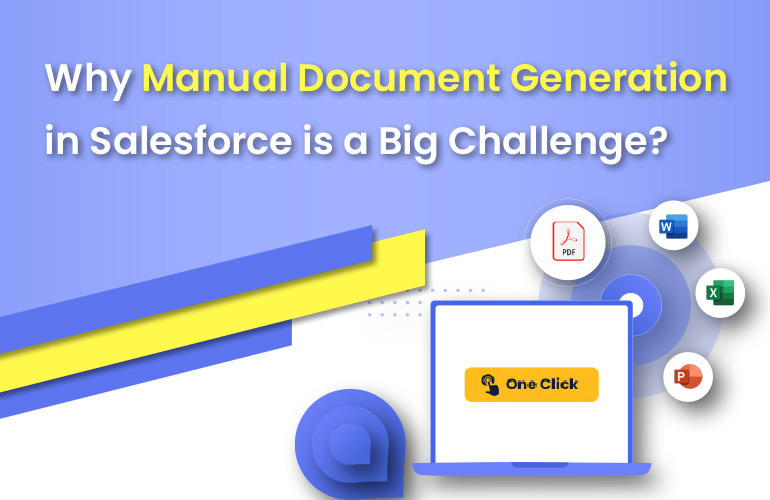 In business, we come across several critical and sensitive documents that are supposed to be created for several verticals. With the lawsuits and protocols getting tighter each day, documentation has now become more of an obligation. Hence business users have a busy time creating documents for each operation undertaken in the verticals. Creating several documents manually, the chance of getting things muddled is a common thing. Apart from that, there are several other challenges that are associated with manual document generation as below:
The culmination of important information
There will be times wherein you are juggling multiple document creation. Each will have a different set of requirements to convey different messages. In any case, the facts and figures to be represented will be presented in different fields of Salesforce records. Hence there are high chances you miss out on relevant data.
Pro tip: XfilesPro DocuPrime, the most preferred auto document generation application for Salesforce facilitates collecting data from different fields and appropriately includes it in the document as per the requirements.
The never-ending proofreading and editing
With manual document creation, it is very difficult to convince oneself of a perfect write-up. Each time, proofreading and editing will help you unmask a new error and correct it. With several editing and proofreading, the document might sometimes fail to deliver the message it was intended to.
Pro tip: For the pain of multiple proofreading and editing, XfilesPro DocuPrime is the best option for Salesforce users to have their documents generated automatically. With several template imports, it also helps in better readability.
Security
Business documents are all about sensitive information and confidential data. With the manual creation of data, you never know how many people have established access to it. You will need help tracking the number of users who have the data too. Hence this is one of the most significant drawbacks of manual documentation.
Pro Tip: Business documents are considered confidential for a reason. Hence the security of these is very important. XfilesPro DocuPrime always gives the creator the full authority to decide on the visibility and the sequence of the sections & also has an access control feature to limit document access.
Time-consuming Process
Documentation is a process that needs to be done by taking into consideration all the necessary details. Hence it will take a lot of time to finish each document if chosen to be created manually. If demanded to create several documents in one go, then it is going to be a liability rather than a challenge.
Pro Tip: Auto documentation is the only solution for this trouble. XfilesPro DocuPrime is helping several workforce by enhancing their productivity. With XfilesPro DocuPrime taking over the task of document generation, bulk document generation can take place in one go.
Compromised Accuracy
When documents are created on a manual basis, there will be mistakes that cannot be avoided. This is a human tendency. Multiple edits will have to be undertaken if going through the traditional document generation. If they are not created with utmost concentration, there is a high chance it will lead to severe escalations. This is the last thing you want to hear when you are drafting a document.
Pro Tip: Applications stand a chance against mankind because of their steadfast accuracy. When you have a perfect alternative through XfilesPro DocuPrime to have your document authenticated automatically, you are worrying for no reason.
Technology is an application of knowledge that is getting integrated into every facet of life. It is hard to find any component in this world that technology has not touched. When a coffee maker can make coffee at your office, why not switch your manual document generation method too? Automating the document generation process only improves your delivery in all ways with zero disadvantages. Hence try out our XfilesPro DocuPrime for Salesforce to save you the trouble of drafting a document manually.
Reach out to our product experts, who will elucidate the application better.