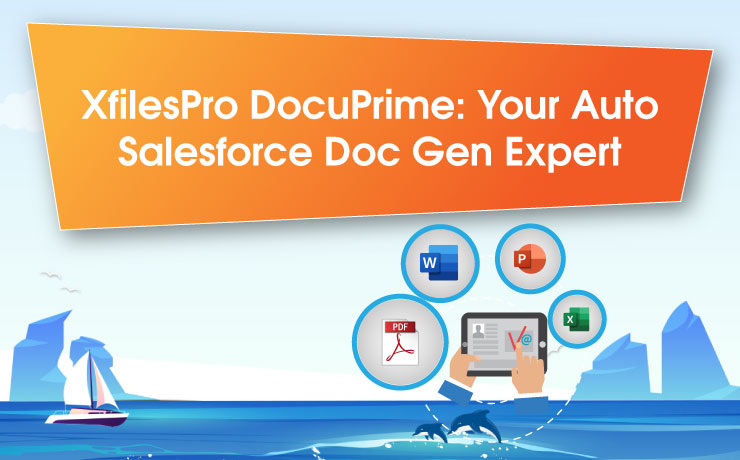 If you are looking for the perfect and productive boosting application for getting your Salesforce documents drafted, then you will have to read through this whole blog for your flawless fix because typing out the same document over and over is just cruel and unusual punishment!
Salesforce is the #1 CRM in the world that provides you with a one-stop solution for managing your Sales, customer service, and marketing efforts in one place. All the Salesforce Admins know the pain of maintaining the configuration, customization, and all the processes within the Salesforce org. You are pondering over the problem and we are giving you the solution, the problem being manual document generation in Salesforce.
If you're seeking the ideal and efficient enhancement application for creating your Salesforce documents, then this entire blog is a must-read for the perfect solution. The repetitive task of typing the same document repeatedly is unduly harsh! With XfilesPro DocuPrime, an outstanding Salesforce automation tool, document automation becomes seamless. Say goodbye to the tediousness of manual document generation, significantly boosting Salesforce document productivity. This innovative tool, XfilesPro DocuPrime, comes with exceptional features designed to streamline Salesforce document creation, making it a crucial element of Salesforce document management and integration.
This blog is a cure chronicle for you to overcome your grief on all the hours you spent drafting them. It is time to wave that goodbye forever. We are introducing you to the six superpowers you get in the process of auto salesforce doc gen.
No Code Solution
It's not a given that every Salesforce user possesses a technical acumen. As each day advances, the process of document generation becomes more time-sensitive, making coding and manual document creation a distant task. However, with a Salesforce document automation tool, the complexity of document generation is alleviated. All that's required is a seamless setup of the tool, allowing users to effortlessly engage in the document generation process.
Customized Template Creation/Existing Template Import
Each document has a unique purpose, requiring tailored aesthetics. Over the years, your organization likely developed specific templates through manual effort. Our application, XfilesPro DocuPrime, respects your established workflow. This automated Salesforce document generation tool facilitates personalized template creation for ongoing needs. It seamlessly integrates with Salesforce, enhancing document management and productivity. Importing existing templates for efficient auto-drafting is also an option. DocuPrime's features further enhance this Salesforce automation tool's efficiency and precision.
Supports Multiple Doc Type
Not all documents are confined to a Word format. There are instances where a financial audit report is more compelling in an Excel sheet, or a comprehensive customer statistics report grabs attention when presented in the form of a PowerPoint presentation. This advantage is precisely what you gain when utilizing XfilesPro DocuPrime, a robust Salesforce automation tool. It effortlessly supports various popular formats including PDF, Word, Excel, and PPT, streamlining the process of document creation through seamless document automation in the Salesforce environment.
Template Access Control
When it comes to SMB businesses, collaboration is always given a lot of importance. Automatic document generation will help them eradicate the need for manual data input and mitigate the risk of siloed information. If you are using XfilesPro DocuPrime, then you need not worry about who has access to your files. You retain absolute ownership, dictating precisely who possesses viewing and editing privileges. In this way, one need not worry about the inadvertent information disclosure that the companies have to face. The sophistication of this Auto Salesforce Doc Gen Expert is truly unparalleled, wouldn't you agree?
Want to go through a real-time use case on automatic document generation in Salesforce? Click here to get the insights.
Custom Note Addition
If you wish to add some specific notes while generating documents, you can get them attached and decide on where the notes need to appear in the file. This is a very thoughtful move to enhance auto Salesforce Doc Gen in today's times.
E-Signature Attachment
Attesting documents by higher officials is the most high-end task while drafting a document. The document drafting will only be completed with this process. This is a very strenuous process. But when you are drafting a document with an auto Salesforce doc Gen Expert like XfilesPro DocuPrime, every procedure is smooth sailing. XilesPro DocuPrime supports all popular e-sign forms for you to have included in your draft.
If you are looking for the application of automatic document creation in Salesforce, then this datasheet is going to help you.
Wrapping Up
XfilesPro DocuPrime presents an aesthetically pleasing panorama for those fatigued by manual document drafting. This expert in auto Salesforce document generation is akin to a breath of fresh air, elevating your productivity to new heights. Balancing both the intricate processes of document generation and document management can indeed be a formidable task. However, we present a streamlined solution for these challenges.
Through a unified login UI, we seamlessly address these concerns. Allow us to introduce XfilesPro DocuPrime—a comprehensive document management application meticulously designed for Salesforce. This application not only automates your document generation but also facilitates effortless management, seamlessly integrating with your preferred external storage. With a wealth of promising features, bidding farewell to a cluttered Salesforce org is now a reality. The pro of organizing and managing is what we are giving you through this application.
We gave you the reasons to come to us. Now it is your turn to take the decision. Meanwhile, feel free to schedule a free demo with our product experts for a better perspective.