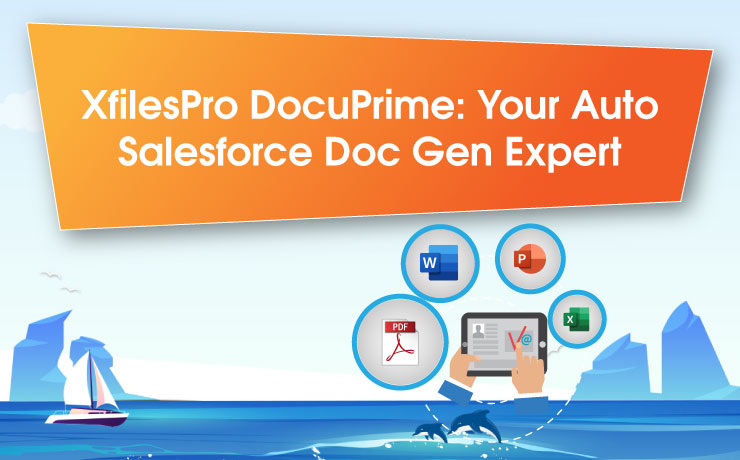 If you are looking for the perfect and productive boosting application for getting your Salesforce documents drafted, then you will have to read through this whole blog for your flawless fix because typing out the same document over and over is just cruel and unusual punishment!
You are pondering over the problem and we are giving you the solution, the problem being manual document generation in Salesforce. This blog is a cure chronicle for you to overcome your grief on all the hours you spent drafting them. It is time to wave that goodbye forever. We are introducing you to the five superpowers you get in the process of auto salesforce doc gen.
Also Read: Top Five Ways How Auto Document Generation in Salesforce Unfolds Magical Benefits for Your Business
Customized Template Creation/Existing template import
Since each document serves a different purpose, the looks of it will demand a change too. With years of drafting the documents manually, your organization might have its own template. Our application XfilesPro DocuPrime is not intending to disturb your flow in anyways. This auto Salesforce doc gen expert will help you create your customized template for ongoing requirements. You can also import your already using templates to auto-draft your documents.
Supports Multiple Doc Type
Documents will not always be in a word doc. Sometimes it might be a financial audit report which can be more convincing on an excel sheet or a detailed report on customer statistics which will gain more attention in the form of a presentation. That is the upper hand you will get if you are using XfilesPro DocuPrime. It supports all popular formats such as PDF, Word, Excel, PPT, and so on.
Template Access Control
If you are using XfilesPro DocuPrime, then you need not worry about who has access to your files. You are the sole owner and you decide who can view and edit the files. Auto Salesforce Doc Gen Expert never looked so evolved, isn't it?
Custom Note Addition
If you wish to add some specific notes while generating documents, you can get them attached and can decide on where the notes need to appear in the file. This is a very thoughtful move to enhance auto Salesforce Doc Gen in today's times.
E-Signature Attachment
Attesting documents by higher officials is the most high-end task while drafting a document. The document drafting will only get completed with this process. This is a very strenuous process. But when you are drafting a document with an auto Salesforce doc Gen Expert like XfilesPro DocuPrime, every procedure is smooth sailing. XilesPro DocuPrime supports all popular e-sign forms for you to have included in your draft.
XfilesPro DocuPrime is a colorful vision to sore eyes that have been manually drafting the documents. With this auto Salesforce doc gen expert, your productivity will raise a bar and you will grow heights. We gave you the reasons to come to us. Now it is your turn to take the decision. Meanwhile, feel free to schedule a free demo with our product experts for a better perspective.