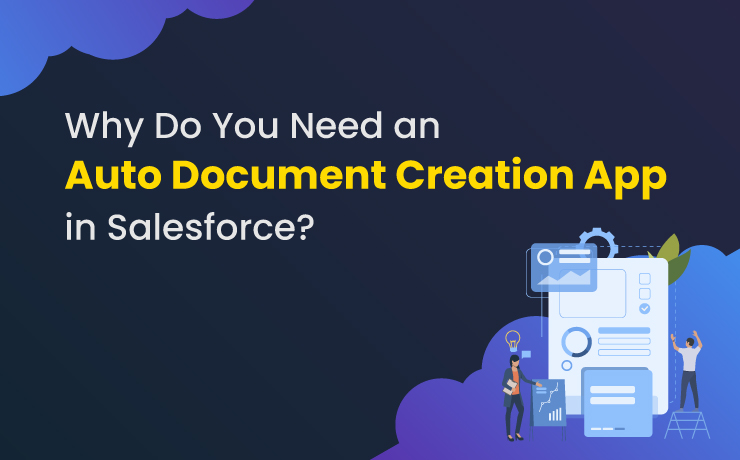 We're modern humans who don't prefer spending time on manual work and expect fast-paced automation in everything.
If you're a Salesforce user who builds documents outside of the platform using the data in the CRM application, this might ring true for you. From collecting data from specific records and bringing it out of the Salesforce system to creating the documents from somewhere else, you absolutely know it takes a huge time sink.
But your time isn't worth spending on such activities that could have been automated.
There are a sea of opportunities that an auto-document generator within your Salesforce application can bring to your business. And, that's our topic today — why your business needs an auto-document creation application in Salesforce.
Without further ado, let's start!
Salesforce Auto Doc Generation App: An Absolute Life Saver
Picture this scenario.
You got a product inquiry from a lead. Obviously, you need to send them quotes, proposals, contracts, etc. But those documents are getting created exactly in your desired way without your efforts.
How would it be? Your life would be 10x easier, right?
This is exactly what an auto document generator in Salesforce means to serve.
An auto document creation app in Salesforce eliminates the manual efforts to create documents and executes the process completely within Salesforce using automation. And the bright side is that you don't have to compromise on the quality, benchmarks, or parameters of your documents. You will have your documents ready in the way that your business prefers.
In a nutshell, having an auto-document generation app in Salesforce will contribute to nothing less than a streamlined workflow for your modern business demands.
Also, Read: How Can Automated Document Generation in Salesforce Improve Business Revenue?
Now, what are the potential benefits that such an application brings? Let's look at one-by-one.
Power of Automation:

A document creation app helps you take a big step toward your mission to 100% automation by automating your end-to-end document generation process and lets your teams achieve peace of mind.

Increased Productivity:

As automation eliminates the need for manual efforts to create a document, your employees can focus on what matters the most to them and what they enjoy doing.

High Speed:

As the auto-document generation app does away with manual copy-and-paste of data from Salesforce into your document, it will speed up your process and help you save time.

Zero Errors:

As you don't copy and paste the data manually to your document, it also ensures a strong possibility for an error-free document, which your customer or teams would love to receive.

Absolute Security:

Since a document creation app functions within

the Salesforce system, it never lets your data or document move out of the CRM application and promises there's no exposure of them on external platforms.

Consistent Branding:

Having the ability to use a standard template that an auto-document creation app provides in Salesforce, you won't harm the layout, logo usage, grammar, etc. in a document that your marketing team really cares about.

End-User Empowerment:

The Salesforce admins no longer have to depend on a peer or external team member to create documents for him/her when an auto-document generator is implemented in their Salesforce Org.
Having understood how an auto-document creation app in Salesforce can simplify your work, are you curious to get your hands on this next-level game? If yes, we'd love to introduce you to XfilesPro DocuPrime, the most recommended application that you can give a shot at.
XfilesPro DocuPrime is a powerful auto document generation app that is 100% native to Salesforce, helping you create documents of all types, formats, sizes, and quantities within the CRM in one click. With additional capabilities including eSign support, template import, customized template creation, and bulk document creation, XfilesPro DocuPrime can take your document generation process to the next level.
Reading this brief overview, are you thrilled to learn more about our app? And want to know how XfilesPro DocuPrime will be a right fit for your business?