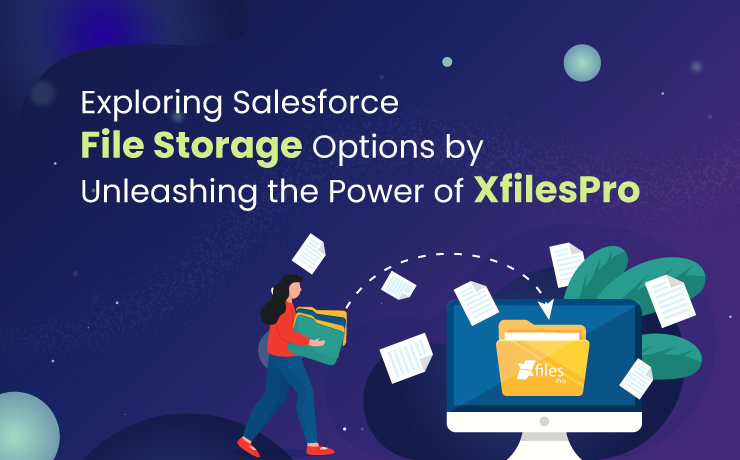 Being the #1 CRM in the world, Salesforce is the most preferred platform to run business by enterprises from multiple industries. Running a big business comes with incoming files on a daily basis. With the piling up of files, the need for optimizing file storage has become very important. Organizations have highly dependent policies on collecting, storing, retaining, accessing, and using files.
But is the Salesforce storage very flexible? Is it dynamic enough to accumulate your day-to-day files in its limited storage? Of course, NO!
That's why we say the integration between Salesforce and a reliable external storage platform is your solution for file storage concerns. So, XfilesPro is built with advanced capabilities to support varied external file storage platforms.
What is XfilesPro?
XfilesPro is the #1 file management app for Salesforce that helps you optimize your Salesforce file storage space. The application automatically moves your growing file volumes from Salesforce to your preferred external storage systems such as SharePoint, Amazon S3, Google Drive, OneDrive, and On-premise platforms. This is a great step toward optimizing your file storage space and regaining the performance of your CRM.
The best part is that, XfilesPro integrates your preferred external storage with Salesforce without even the need for an additional integration tool. Let's take a look at each of the storage platforms that you can leverage with XfilesPro.

SharePoint:

SharePoint is a popular web-based collaborative platform owned by Microsoft. It seamlessly integrates with Microsoft 365 and is primarily known as a document management and storage solution. With XfilesPro, the users can have the great chance to leverage the

SharePoint Tagging functionality

along with the abundance of the storage space provided by the platform.
Learn more about Salesforce-SharePoint integration here.
AWS S3:

Amazon Simple Storage Service (Amazon S3) stands as a top-tier object storage solution, recognized for its exceptional scalability, data reliability, security, and speed. You can

leverage Amazon S3 for safeguarding and storing any volume of files

and data, serving a wide spectrum of purposes, including data lakes, websites, mobile apps, backup and recovery, archiving, corporate applications, IoT devices, and extensive big data analysis.
Google Drive:

Google Drive is one of the most popular cloud storage services available today. IT'S a free service from Google that allows you to

store files online and access them anywhere using the cloud

. Google Drive also gives you access to free web-based applications for creating documents, spreadsheets, presentations, and more.The service syncs stored documents, photos and more across all the user's devices, including mobile devices, tablets and PCs.
Learn more about Salesforce – Google Drive integration here.
OneDrive:

Microsoft OneDrive is a file hosting service allowing you to store, share and sync your files. OneDrive also works as the storage backend of the web version of Microsoft 365 \ Office. OneDrive offers 5 GB of storage space free of charge, with 100 GB, 1 TB, and 6 TB storage options available either separately or with Microsoft 365 subscriptions.
Discover the tips to store Salesforce files in OneDrive here.
On-premise Platforms:

On-premises storage is when data or files are stored on local hardware, such as servers, computers, or other devices. For example, if you purchase a server and set it up at your office, you and your team can store your data on that server. The server is controlled, administered, maintained, procured, etc. by your company and its in-house IT team, or an IT partner. Some of the examples for on-premises platforms that XfilesPro supports are SMB, SFTP, and Network Drive.

That's all about the external file storage options XfilesPro provides. If you wish to learn more about the integration part, please schedule a demo with one of our product experts.