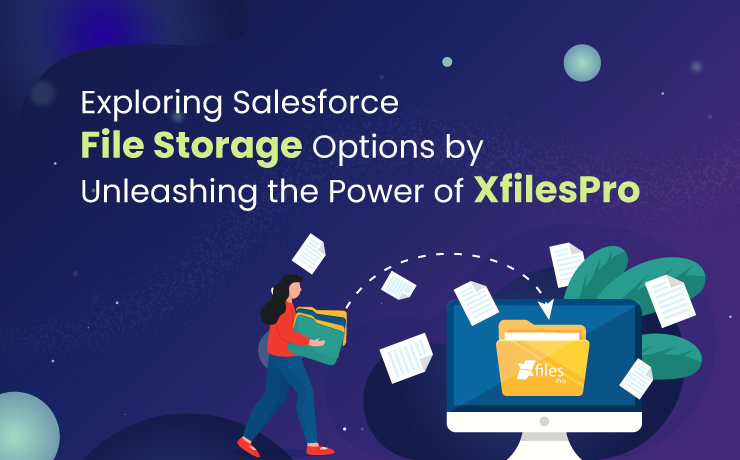 Being the #1 CRM in the world, Salesforce is the most preferred platform to run business by enterprises from multiple industries. Running a big business comes with incoming files on a daily basis. With the piling up of files, the need for optimizing file storage has become very important. Organizations have highly dependent policies on collecting, storing, retaining, accessing, and using files.
But is the Salesforce storage very flexible? Is it dynamic enough to accumulate your day-to-day files in its limited storage?
Also read: Understanding Salesforce File Storage Limitations
This blog reflects on exploring the Salesforce file storage options for better optimization and file management. This will satisfy your musings if you are looking for other options to have your Salesforce files sorted externally. Uncover further for more information.
Salesforce Files Connect
Salesforce Files Connect is where Salesforce users can access, share, and search external data from external storage systems. It enables seamless integration and sharing of files between Salesforce and these external file storage systems, providing users with a unified and streamlined experience for managing and collaborating on files within Salesforce.
Perks – Salesforce Files Connect
Seamless file access

Improved collaboration

Expanded file storage options
Drawbacks – Salesforce Files Connect
File sync and update challenges

A costly affair

Limited integration
3rd Party AppExchange Applications.
By using the 3rd party applications on AppExchange, you can have your Salesforce file storage optimized. There are several applications on AppExchange that can help you move your file storage on any of the external storage systems. But you cannot expect them to extend their usability apart from integrating your Salesforce to the external storage of your choice. Still, folder structure, bi-directional sync, file collaboration, and many more concerns are still under question.
The Application that beats all the challenges
XfilesPro is the
#1 AppExchange
application for enhancing your file management experience in Salesforce. It integrates your Salesforce with external storage and optimizes the Salesforce file storage. Not only that, but it also comes with numerous other perks with zero drawbacks.
Also read: What Makes XfilesPro Best for Salesforce File Management
Worry less about your unstructured file system in Salesforce
XfilesPro has an excellent folder structure that comes in two forms such as custom and template. Once integrated into your external storage, XfilesPro will help you sort your files and organize them in the manner they are intended to.
Goodbye to high file storage costs
Once you reach the zenith of your Salesforce file storage, buying extra storage or using Files Connect, is going to be a costly affair. But XfilesPro comes with the most minimal and reasonable price in the industry. Check out here to know more.
Get your files synced from time to time
With XfilesPro's bi-directional feature, you do not need to ponder on the syncing of your files. Automatic Sync takes place with the help of XfilesPro. If new files are uploaded in Salesforce or your External storage, they will be present in both simultaneously.
Salesforce File Management can be like walking on a tightrope, requiring precision and expertise to strike the right balance between collaboration and security. Getting lost in this digital maze of files is second to no problem and it affects productivity to an extent beyond imagination. But with XfilesPro, all these constant battles of chaos and confusion can be kept aside and a harmonious and streamlined file system can be expected.
XfilesPro never disappoints you when it comes to file management. If you are looking for a free demo or a deeper comprehensive understanding of the product, don't shy away from talking to our product experts. Click here to schedule your free demo.