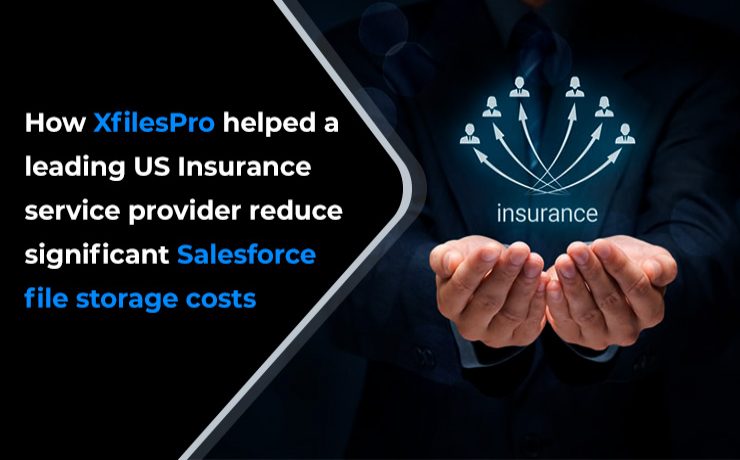 Businesses of every size and industry using any Salesforce solution usually deal with a lot of files and attachments. As the default file storage space is limited and additional file storage cost is on the higher side, organizations look for a solution that can help them store their Salesforce files in an external storage system. XfilesPro has been widely considered as the #1 external file storage solution for Salesforce and has customers across industries. In this post, we are going to discuss the use case of a leading US insurance service provider and how they used XfilesPro to store and collaborate all their Salesforce files in Google Drive.
Roadblock in the path of growth
As an insurance service provider, our client was dealing with a lot of customers and their files. The files were big in volume as well as in size. As our client was offering insurances related to multiple sectors including automobile, home, business, health, and personal, the number of their customers were increasing and with that their default file storage space was quickly getting filled up. The recurring file storage cost was rapidly increasing as our client ran out of their Salesforce primary file storage space.
They tried using a third-party application to store their Salesforce files, but accessibility and scalability were the concerns. The challenge for them was to implement a new & efficient external file storage solution which can store their Salesforce files externally in Google Drive and also make sure the transition process from the existing file storage application to the new one go smooth without any business interruption.
A new blueprint for external file storage
To achieve their goal and in order to manage their files and attachments with highest efficiency, our client got in touch with XfilesPro support team and was highly impressed the way XfilesPro manage external file storage with seamless integration and collaboration. Powered to manage files of any size and volume, XfilesPro quickly replaced the existing solution and seamlessly integrated our client's Salesforce system with their Google Drive for seamless file storage along with secure file transfer.
Other compelling XfilesPro features helped our client effortlessly manage their external file storage. Using XfilesPro components, our client directly stored files in Google Drive & managed them from their Salesforce system without impacting user-experience. XfilesPro offered customized folder hierarchy, using which the insurance company managed their remote storage folder structure based on object relations. Bidirectional Sync feature helped them manage remote storage files directly from Salesforce. Files can also be shared with users out of their Salesforce system efficiently.
ALSO READ: A Complete Understanding of Salesforce File Storage with XfilesPro
Keeping their focus solely on their business and customers
XfilesPro took care of all the file storage woes and helped our client successfully store all their files and attachments externally in Google Drive. Their primary file storage never gets hindered so they keep their complete focus on their business and customers. XfilesPro also reduced huge additional file storage costs and offered a smooth file collaboration without impacting the user experience.
If you are also looking to store your Salesforce files and attachments in your favorite Cloud or On-premise storage system, Get in touch with XfilesPro today for a demo. XfilesPro offers highly flexible license costs that will suit your business needs.
ALSO READ: How XfilesPro helped an Australian non-profit organization manage 6K+ files and efficiently store them in Amazon S3