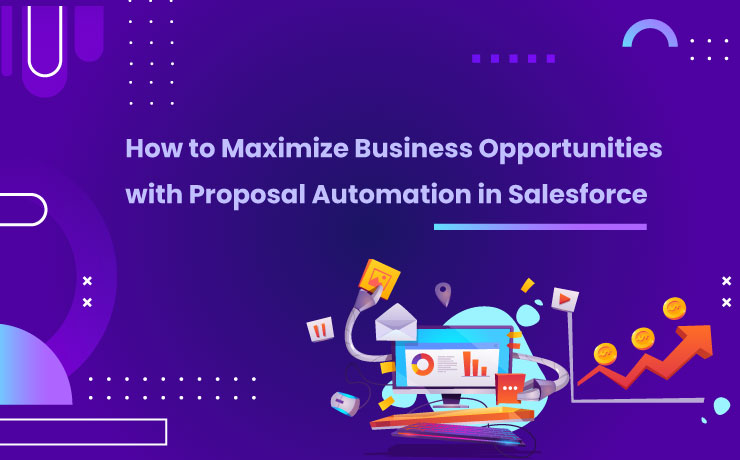 You're leaving money on the table if not using automation for drafting your business proposals
When you are in need of a business proposal, it means that your product is doing good and you have solutions for the specific needs of your buyer. There is a misconception that a sales pitch and business proposals are one and the same. While a sales pitch is an all-encompassing document about your product, business proposals are the real heroes who will act as that silver bullet in filling your success stories.
Sales pitches are more of a generic understanding of your products and services whereas a business proposal will solely address the pain points of that particular prospect and give solutions dedicated to their concerns.
A business proposal is one of the most used documents in marketing to drive the sales process. Business proposals are the latent talent that will ensure your prospects are persuaded to avail of your product/services. Business proposals usually come in handy for B2B businesses most of the time. So this article will help you how to make them more compelling through automation.
Types of business proposals
Unsolicited business proposals
If you want to increase your business visibility or widen your customer base, unsolicited business proposals are the best solution. Introducing your product to your prospect even before they have come up with their pain points and budgets can be defined as an unsolicited business proposal. The main aim of these is that they accelerate process efficiency and achieve cost enhancements.
Solicited business proposal
Once the customer knows about your product, they come back to you and enquire about the same. They in turn ask for further a proposal to have an extensive idea about your product. This is called a solicited business proposal. It is further taken into a description of what the client or buyer wants, formatting instructions, criteria, and many more.
Win More Deals with Faster Proposals
With the process of automation, you can help yourself with an accurate, creative, brand consistent good-to-go business proposal of any kind as per your requirement. Below are some of the processes that are tested and proven to be effective for many prospering businesses. We have carefully articulated them just for you. Read on!
Automate proposal data retrieval
End-to-end process automation is the major idea behind automated document generation. That will include even the help of retrieving your data from multiple Salesforce objects. Imagine going through the chaos if you are to pull in the data manually. Now that you think of it in this era, it feels like a lifetime ago.

With XfilesPro DocuPrime around the corner, you do not need to worry at all. XfilesPro DocuPrime pulls out the data accurately like a pro and have you sorted with the rest of the process. The hassle-free experience will help you place the right data at the right place leaving no room for human error and the added advantage is that you can finish it in a jiffy.
Cutting down the clock time is another important virtue while creating a business proposal. Drafting one document and pulling in the data, placing them in the right place, proofreading the whole document, checking the tone of the proposal and many more are just the extended pain points while you are creating a business proposal manually. ` `
XfilesPro Docuprime is your silver lining if you are looking for an application to eat away this time and rush in the process. With just one click, your business proposal is all ready and set to send. This method will shorten your sales cycle and you can put in more of the time to some better yielding works.
Provide a consistent brand experience
How do you get to imprint the best impression into your prospect's mind? If you ask us, we would say uniformity. That is how we have seen the leading brands rule in sales and marketing. A brand experience is your identity and every element is of utmost importance. With each point of contact going out to your customers, don't you want them to perceive you as a brand?
With XfilesPro DocuPrime facilitating the process of automation, your brand image is going to be intact and there will be no loose ends. The missing gaps in your branding are going to be sorted and you will thrive hereon in the name of your brand among your customers.
Never underestimate the power of a business proposal. As per your customer response, you tailor a proposal entirely that fits the requirements of the customer. At the end of it, there is also going to be a budget section which is to be approved and signed by the higher power of your product/service.
With automated document generation, XfilesPro DocuPrime also provides a special feature called e-sign that supports popular e-signs. By exploiting the power of e-sign, your business proposals can be easily approved and signed by your C-suite or the concerned officials before passing it on to the specific customer.
Enough said. There are no more compelling reasons to switch to automated document generation for making your business proposal the best. Be it for any customer, or any industry, XfilesPro has templates ready to use as per your business requirements. Better efficiency as a result of zero error, enhanced productivity which is a result of saved time, custom note addition, multiple document type support, and many more are what XfilesPro DocuPrime promises.
Why not schedule a free and personalized demo by clicking here so that you can have an enriched understanding from our product experts? Hope you are looking forward to automating your document generation processes.


See you on the other side!