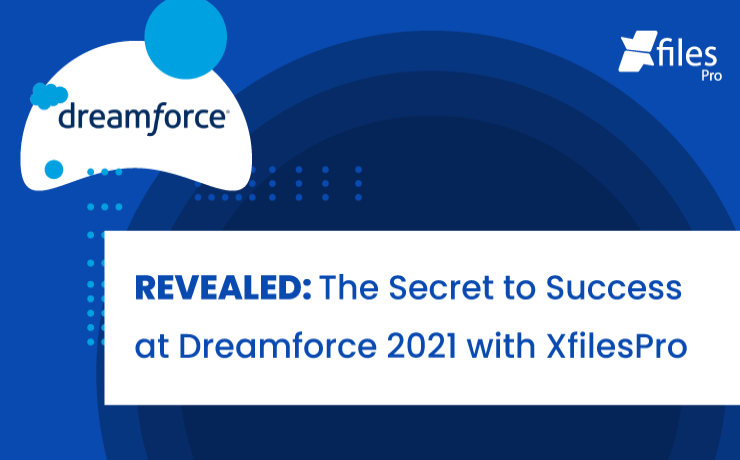 DREAMFORCE IS BACK!!!
Yes, the biggest B2B Salesforce Cloud conference is finally here & this time it's going to be epic. Dreamforce 2021, Salesforce's 'global family reunion', is scheduled to be held in less than a week, from September 21 through September 23. The event is aimed at bringing the entire Salesforce Ohana, i.e., customers, partners, employees, students, & more, together to give them a fulfilling experience filled with learning, connecting, having fun & giving back to the community.
After the immense success of a completely-reimagined Dreamforce 2020 'Dreamforce to You', hosted in an all-digital manner, Dreamforce 2021 is cited to build upon its success. Bringing together inspirational & immersive in-person experiences (in San Francisco at an invite-only basis) alongside innovative digital experiences, Salesforce is adopting a hybrid approach for Dreamforce 2021.
How to Ace the Dreamforce 2021 Game?
Since Dreamforce 2021 is expected to have multiple luminary speakers, customer success stories, & groundbreaking innovation, this is not at all the kind of event that can be attended without proper planning. As a regular Dreamforce attendee, we are sharing some success mantras that can help Trailblazers gain maximum benefit out of Dreamforce 2021.
Plan your Sessions in Advance
Because of Dreamforce 2021's digital approach, there are various important sessions & guest lectures that are jam-packed into 3 days. These include the always-memorable Dreamforce keynote speeches by renowned industry leaders, insightful sessions about latest product innovations, exclusive product demos from Salesforce experts, & several other exclusive episodes. A little research about the session topic & the speaker goes a long way in helping you understand things better.
Since it's very easy to become confused because of the sheer number of sessions, choosing what sessions appeal to you, planning for them in advance, & registering for them is an ideal way to get past the hassles and save time. And don't worry if two of your favorite sessions are happening simultaneously. All of the Dreamforce content will be available as on-demand content on Salesforce+ before, during and after the event.
Prepare for Dreamforce Keynotes
Keynote speeches are one of the biggest inspirations during Dreamforce events. Every year some of the biggest industry leaders share their experiences with everyone & major product announcements are made during the keynote. Like previous Dreamforce events, Marc Benioff, Chairman & CEO of Salesforce, will take center stage & address the keynote session along with special guest speakers from Daimler & Mercedes-Benz and ENGIE group.
Since this is one important session you definitely shouldn't miss, don't forget to register for it beforehand & prepare your calendar in advance. And though this session will also be available on Salesforce+ later on, it's always recommended to attend the keynote session live, so prepare your schedule accordingly.
Register for Salesforce+
Salesforce+ is Salesforce's recently-launched 'Netflix-like' digital streaming service where Trailblazers can enjoy compelling live & on-demand content, like original series, podcasts, live experiences, etc, pertaining to every role, industry, & topic. And all of this is completely free to access! Moreover, Salesforce+ can give virtual attendees, like you, a chance to experience more personalized content that can be tailored to your needs. So don't forget to become its member to enjoy a front-row seat-like experience during Dreamforce 2021 as well as later on.
Some Time for Fun & Celebration
Each year, Dreamforce has plenty to offer in terms of fun & celebrations. In the past, when the event was held in person, popular bands & performers like Metallica, Bruno Mars, Alicia Keys, U2, & more have performed here; all benefiting UCSF Benioff Children's Hospitals. And now when Dreamforce 2021 is going to be virtual, you can be rest assured that the fun still won't stop. Though Salesforce hasn't revealed who they have in store for this year's celebration, you can expect an experience of a lifetime. So don't forget to take some time off from your regular sessions to enjoy a relaxed time.
Avail Exciting Product Offers
Much like all the other Trailblazers, we are quite excited about Dreamforce 2021 as past Dreamforce events were great for us where we launched our suite of Salesforce data management applications. First it was the Dreamforce '18 launch of DataArchiva (the ONLY native Salesforce data archiving solution), followed by the Dreamforce '19 launch of DataConnectiva (external Salesforce data archiving solution) & lastly the Dreamforce '20 launch of DataBakup (Salesforce data backup & recovery solution).
And this year, XfilesPro is offering personalized, one-on-one demo sessions with its file management experts; totally free of cost. Not only this, another one of our other flagship products, DataArchiva, is organizing a 'Scratch & Win' contest where Trailblazers can avail exciting product offers & discounts. So stay tuned to our social media handles for some more amazing product announcements as we bring to you all the live-action from Dreamforce 2021.
Also don't forget to register for Dreamforce 2021 & be part of this grand Salesforce celebration.