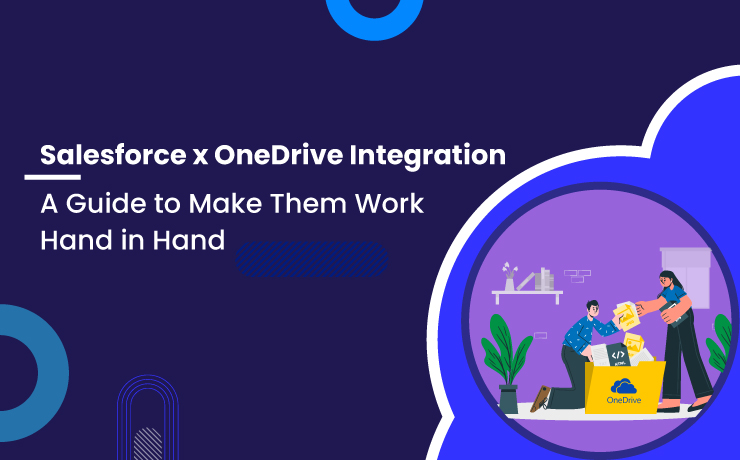 With Salesforce as your CRM, the fact that can be annoying is that there will be limited file storage. There is no escape from this. The only thing that can help you come out of it is by creating a foolproof plan.
With generations of files that need to be stored, this blog will help you start from the very basics as to how to optimize your storage and move them to OneDrive.
Why Salesforce Needs an External Integration
The Salesforce file storage pricing for extra storage is reaching the horizon. Salesforce Admins are still tackling ways to free up file storage in Salesforce. Below are the two major reasons why it's high time to look for a better way to keep your Salesforce files in your CRM without upgrading storage.
On the first purchase, Salesforce provides 10GB of file storage space, and once that is completely consumed, then purchasing Salesforce storage cost per GB is the only way.
Skyrocketing storage expenses
Never underestimate that you will be getting less storage for a cheaper price. Here everything is pricey and storage of all tops the bar.
Why OneDrive to optimize your Salesforce file storage?
OneDrive is one of the best storage clouds that provides you with great reliability and is user-friendly. With its rich storage space, getting files stored is not going to be a problem anymore. Also taking into account its cross-platform compatibility, it's more preferred by businesses and enterprises.
It offers large storage capacity, starting with 5GB of free storage, and users can upgrade to a paid plan for up to 6TB of storage. Additionally, OneDrive has advanced security features, such as two-factor authentication, encryption, and file recovery, ensuring that users' files are secure and protected from unauthorized access.
OneDrive also has an upper hand with its integration with Microsoft 365. It is considered the best cloud-based productivity suite. This compressive software bundle provides a seamless work environment making it more harmonious.
The Benefits of OneDrive x Salesforce Integration
More Space, More Possibilities
By moving your Salesforce files to OneDrive, say goodbye to the limited file storage. Say hello to increased storage and lesser headaches. With an ample amount of space, you do not need to compromise on the files that can be neglected. All your files can be stored and henceforth, they will be at your beck and call when in need.
Secure with a Peace-of-Mind Promise
OneDrive provides the best encryption with the incorporation of industry-standard encryption protocols. Alongside it also supports multi-factor authentication, access controls, and many more. Full-fledged security can be expected for your user files in Salesforce.
Cross-platform Collaboration
With this ability of OneDrive, users can access their files from any device and work on them. The files once in OneDrive are easily accessible to all the users across all the devices that are synchronized with the OneDrive platform.
Top Tier Team Collaboration
If the right permissions are granted, then the users can access the files and work on them simultaneously. Either by sharing the links of the files directly or by certain sign-in protocols, the files can be accessed, and more than a user can work on it collaboratively at the same time.
Effortless File Backup Solution
With the continuous upload of files, there is a high chance that the files can get lost or maybe sometimes misplaced. But with OneDrive, you will never miss a file. The files automatically undergo a backup and your files are safe enough to store.
How to Integrate Salesforce x OneDrive
There are many ways to set up the integration of Salesforce and OneDrive. One way to use the native connector of Salesforce i.e. Salesforce Files Connect. Also through force.com (a PasS), an application that facilitates the process of integration can be built.
But we would say you all to stay far away from all this waste of time and get Salesforce integrated with the #1 application on the AppExchange called XfilesPro. Making headways since its inception, XfilesPro has been doing a marvelous job and the reasons to acquire it is not just constrained as a connector. It is an application that provides you with an overall enhanced file management experience in Salesforce.
Why XfilesPro should be your file management Maverick
Affordability that Meets Industry Standard: By connecting OneDrive to Salesforce with the help of XfilesPro, the cost-cutting is really visible on your financial budget. Check it for yourself.
Streamlined Folder Hierarchy: With a folder structure as intact and durable, none of your files are going to be lost midway through the transfer from OneDrive to Salesforce.
Seamless Integration: Without the need for any platforms, XfilesPro can easily integrate Onedrive and Salesforce and bare you all troubles you are undergoing with file management in Salesforce.
Ultimate Flexibility Guaranteed: With each user's careful file management requirements, the application provides tailor-fit solutions for their specific needs.
Bidirectional Sync:
On integration, the files in OneDrive and Salesforce can be synced to each other with the feature of BiDirectional Sync.
With all these possibilities, managing files in Salesforce is now possible. You can now stop worrying about looking for tips to free up your Salesforce storage as this how-to blog has given enough information as a solution to this problem.
Salesforce and OneDrive integration has been proven effective in the past years. Customers have been able to leverage this integration to maximize productivity and the folder structure alongside initial file offloading was a big hit.
If you are still looking for the perfect option for transferring your Salesforce files to OneDrive, then you have to talk to our product experts and get an exhaustive understanding of the application. Have your concerns addressed here with just a click where you will even get a free demo of XfilesPro.