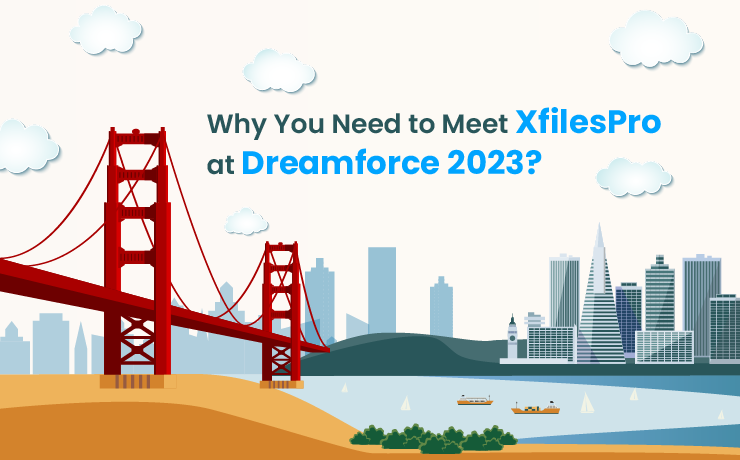 1000+ sessions, 4000+ attendees, 45+ keynotes, and a ton of unlimited fun — it feels like yesterday Dreamforce 2022 unfolded. While we still relish the unforgettable moments of one of the best tech events, the time is here to roll up our sleeves for Dreamforce 2023. The biggest Salesforce conference once again knocks on our door for new beginnings.
Unlike ever before, this year, Dreamforce is going to evolve from being the largest tech event in the world to the largest AI event in the world. The global Trailblazers are gathering to witness how AI + Data + CRM powers the future and the way the brightest minds shaping technology. Taking place from September 12th to 15th, the three days event will reunite the Ohana community for innovation, learning, and fun.
Join Team XfilesPro at Dreamforce 2023
When the world is gearing up for the biggest AI tech summit of the year, how can we stay apart? We are thrilled to announce that team XfilesPro is making it to San Francisco this year as well to experience the magic of Salesforce's flagship conference in person. We're excited to leverage the action-packed sessions, hundreds and thousands of fresh content, groundbreaking product innovation, and enormous fun while giving back to the community at the heart of Dreamforce.
We'd love it if you share a handshake and join us for a journey of learning and innovation. If you're wondering what XfilesPro has in store for you, here's a sneak peek into the two exceptional products that we're eager to showcase.
XfilesPro File Management: The #1 Document Management App for Salesforce
Just like any Trailblazer, you're in for Dreamforce to find solutions for many of your challenges. Efficient file/document management in Salesforce is one such challenge that demands an intelligent solution. Considering the troubles associated with the management of your growing file volumes in Salesforce, XfilesPro provides an advanced file management platform for your requirements.

What makes XfilesPro stands out is, with this superior application, you can manage your overloaded file storage space in Salesforce by moving them externally.
Not clear? We will explain better.
XfilesPro File Management helps you to automatically migrate your files from the file storage space of Salesforce to your preferred external storage such as SharePoint, AWS S3, Google Drive, OneDrive, and on-premise system (SFTP, SMB, and Network Drive) so that your storage space will remain free up.
Now, let's see the benefits of this automatic file migration process.
By moving files out of the CRM platform, you can free up the storage space and regain the performance of your Salesforce app, which will be a big step toward achieving a streamlined file management experience.
So, let's look into the next-gen capabilities that XfilesPro delivers, making the application a cut above the rest.
Seamless External Storage Integration:

XfilesPro seamlessly integrates Salesforce with your preferred external storage systems (as mentioned above) without the need for an additional integration tool, which comes with extra charges.

Automatic File Migration:

You can automate the end-to-end file migration from Salesforce to your external storage (or can opt for the manual process) as per your business demand.

Customized Folder Structure Creation:

If you prefer to keep your migrated files in a certain format or in folders in the external storage, XfilesPro can create a customized folder structure matching your requirement.

Complete File Ownership:

Since XfilesPro is highly concerned about the file security, the app empowers you with the ultimate ownership of your files, where you will decide who can view and access them.
Massive File Migration:

Apart from automating the migration of new files, XfilesPro can also move your existing files (in any volume) from the file storage space to the external storage in one shot.

Bi-directional File Syncing:

With XfilesPro, you can have the modifications made on a Salesforce file to be automatically reflected on the subsequent file in the external storage and vice-versa.

SharePoint Tagging:

This functionality allows the users to tag the content contained in a file against the specific columns so that you can learn about the information in the file without opening it.
Yes, that's a bit about one of the apps we're presenting to you at Dreamforce. Now, let's look into the second one.
XfilesPro DocuPrime: 100% Native and Auto Document Generation App for Salesforce
You know firsthand manual document generation claims your productive work hours. Even for your journey to San Francisco, you must have created a number of documents for varied purposes. What if you could automate the process within the Salesforce platform? By getting it all done with one click?

This is exactly what XfilesPro DocuPrime does for you. We are presenting you an application that can automatically obtain the relevant data from multiple Salesforce objects and generate documents 100% natively within Salesforce. The bright side is that you can create documents of any type and size with this next-gen doc gen application for Salesforce.
Now, let's discuss the capabilities of XfilesPro DocuPrime.
Template Access Control:

Just similar to the file ownership capability that XfilesPro's file management app provides, XfilesPro DocuPrime gives you with the supreme authority of your documents, where you can control its access by different users.

Existing Template Import:

If you want to continue with your existing template format, XfilesPro DocuPrime helps you upload it to your Salesforce for the document generation process.

Custom Template Creation:

If you prefer to create a new template as per your evolving business needs, you can customize one within Salesforce with our application.

Multiple Document Type:

XfilesPro DocuPrime supports different document types including Word, Excel, and ppt for your easy workflow.

eSignature Support:

With XfilesPro DocuPrime, you can easily get done with the approval of your document as the application supports all popular eSigns.
Sounds cool?
During DF23, we will show you a glimpse of the two advanced applications under the big brand XfilesPro. If you think any of these apps are something you're searching for or if you're willing to learn more about them, please join us at the biggest AI event by scheduling a meeting here.
Hope to see you in San Francisco!