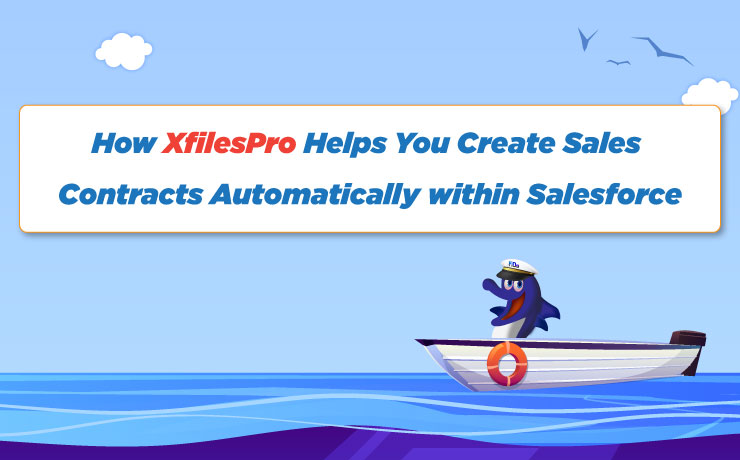 Document generation or document automation is one of the most important aspects of any business using Salesforce as its CRM as it acts as the best form of credibility for any operation that happens in an organization. Your data is recorded, collated, stored, shared, and even signed electronically. Running an organization or a company can help you relate to it. There are several contexts of document generation such as the closing of each deal, appointing a new employee, collaborating with a new partner, new contracts, thank you notes, daily-monthly-yearly reports of different departments, relieving an employee, analyzing each month's business market, and many more. Each day having to record documentation for several important matters, results in a bottleneck. This requires the help of dynamic document generation in Salesforce
One of the departments that makes the most use of documents is the sales department. The sales funnel is a journey of several documents such as sales decks, sales pitches, business proposals, and so on. The list keeps going on and on. Not only that but it also turbocharges your productivity. Even though you are a Salesforce newbie or a seasoned pro, manually creating your sales documents by merging data from several Salesforce objects is a big challenge.
Sales contracts are one of the most crucial and important documents for the sales department. These are the most data-driven documents that stand as a testament to the relationship between the buyer and the sender. But how does a document builder for Salesforce help in an easy and efficient contract document in Salesforce?
Full-scale Contract Automation
The main and foremost reason you opted for document automation is self-explanatory. It provides you with the convenience you never even wished for. With a smart CRM document generator, it just a single click your whole document will be generated automatically in a matter of minutes. Contracts are a compulsion and apparatizing an automated contract generator will facelift your sales needs better.
Superlative Contract Devoid of Errors
A contract is not the document wherein you say, "Oh, that was a small mistake" or "I will correct that right away". A sales contract embodies the details regarding the exchange, the terms of sale, clear product or service descriptions, and more. It should not leave even a tiny bit of skepticism between the two parties. The most rudimentary quality that a contract should dominate is that it should be unerring. It is one of those documents that are passed on between parties after legal assistance. Hence automated document delivery in Salesforce comes with the competence of zero errors. Try creating even batches of contracts in Salesforce for your business. You will never need to look back at it even once. Everything is going to be intact.
Advance Contract Processing with E-signature Implementation
When you are curating a contract, it will likely entail attaching a sign for validation—wondering how you do it when your document is generated automatically. When you are seeking a complete digital transformation, even this sensitive issue has a solution. Opt for a document generator for Salesforce that bolsters up the popular third e-sign formats so that you can incorporate your e-sign digitally. Also, go through this webinar for more insights about the same.
Go for a document generation application that adheres to the Salesforce data compliance policy. It concentrates on who accesses the documents that are being generated in Salesforce. It makes sure that only authorized users are allowed to access and merge Salesforce or third-party documents. Your contract document is a private affair between you and the buyer. So better keep it confidential. Also, automated documents carry a better win at business presentations and meetings because of their carefully curated content. Hence it is very important as to who views it or has access to it.
Interested in exploring a real-world use case of automated document creation within Salesforce? Click here to gain valuable insights.
Cybersecurity is at stake in a majority of cases. This has been one of the most sensitive risk elements that organizations and companies face on a daily basis. Take the assistance of a document generation tool for Salesforce that features to limit the data, the chances of vulnerabilities to other desktops or unrecognized users are quite a few. It's nifty enough to place the documents in a single repository where the data delivery and permission are controlled.
Also read: How Can Automated Document Generation In Salesforce Improve Business Revenue
Consistent Marketing Plans
Effectuating a good marketing plan is very important for your brand or company to keep up with the changing marketing trends. Proposing an idea in writing by giving it the same impact as the carried-on thought process is not an easy task but with a good automatic document generator for Salesforce, generating a document with content and visual richness in combination with customized designs templates, and several other choices is an easy-peasy task for you. It also facilitates modification from time to time as per the brand evolution. And just a single click, your sales contract will be generated with all the necessary brand elements it should suffice.
Swift and Efficient in Action or Process
At times you come under situations wherein you are to meet a potential client in an hour or meet a prospective partner for collaborations in the days to come. But what would you do when it comes to drafting a proposal or presenting a report? Fret no more. A document generator for Salesforce's thunderbolt speed will get your documents generated in no time and will save you from all the troubles you would have to undergo if you chose to go through manual generation.
So what say? I guess you are now pretty much on par with us for getting your documents generated automatically. Then XfilesPro DocuPrime is the best option for you. After much contemplation, we have tailored this product in such a way that it is well-suited for creating business documents of any sort in Salesforce. Rather than following an aggressive approach of recording the documentation of every event up-to-date, with the help of XfilesPro DocuPrime, the Salesforce workforce can have this job done with great ease and better accuracy.
XfilesPro DocuPrime promises you that it will take away the most hectic job of document generation in Salesforce. This will result in you being more dynamic wherein you can invest your time in better planning and pioneering conceptualization. Come unleash your possibilities of skyrocketing your business with XfilesPro DocuPrime for Salesforce. Set up a call with our product experts and get your business rolling. With all the above quality and more, there is no more ideal application that you would prefer for your automatic contract generation.