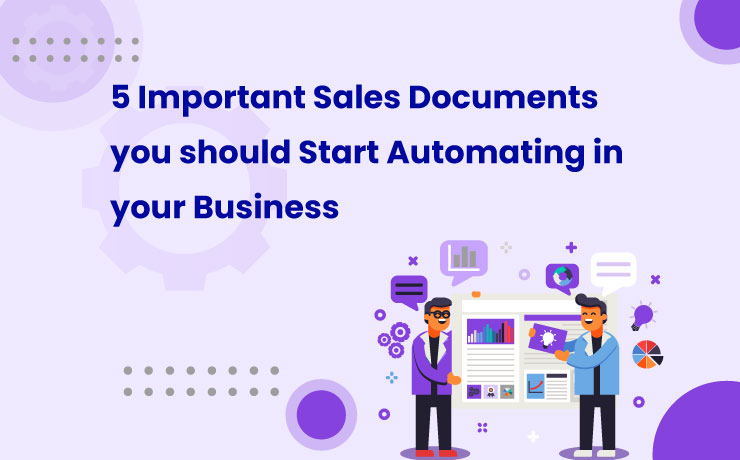 Documents are always a necessary evil. Be it sales, finance, marketing, or whatever it may be, documents are part and parcel of business operations. In this era of rapid technological advancement, endless possibilities have been emerging. Effortlessly generating a comprehensive document by seamlessly retrieving data from various Salesforce objects automatically has become a reality, showcasing the power of innovation.
One department that has been the most beneficial from this document automation is Sales. Having to create documents in every walk of their process, by automating those, they are literally keeping aside a significant burden of duty from their chest. Being in the Salesforce ecosystem, sorting out your prospects, and having a clear list of opportunities create cohesion and will eliminate the chances of confusion.
Sales Cloud by Salesforce has very much unified the sales process by bringing everything to one platform. The Sales Cloud is a highly adaptable solution that brings together customer data into one unified platform. It encompasses various aspects, including marketing, lead generation, sales, customer service, and business analytics. Additionally, it offers access to a wide array of applications through AppExchange.
Why Sales Cloud should be used by every Salesforce user
Amalgamation of your sales process
Salesforce's Sales Cloud, a powerful solution within Salesforce, empowers sales teams by providing a unified platform for collaboration, breaking down communication barriers, and offering access to timely and pertinent data to streamline their processes effectively. This enables them to focus on their primary goals. Sales Cloud serves as an ideal tool for gaining deeper customer insights, as it allows sales representatives to centralize business prospects, customer information, contacts, leads, opportunities, and purchase histories in a single location. This, in turn, leads to a shorter sales cycle.
If your sales team utilizes Sales Cloud, managing data becomes remarkably straightforward. This is because Sales Cloud facilitates in-depth data analysis. It not only ensures data accuracy and cleanliness but also aids in the efficient collection, presentation, and organization of data. Moreover, Sales Cloud enables businesses to monitor various interactions with the company, including email communication, social media ad engagements, contact form submissions, and more. Your team can also generate reports to assess customer and lead interactions, evaluate customer service initiatives, and assess potential opportunities.
Automate and improve your efficiency
Salesforce's Sales Cloud is the premier sales application that efficiently transforms data into actionable insights for addressing customer issues. One of the key advantages of Salesforce Sales Cloud is its automation capabilities, which streamline lead management and email communications, ultimately leading to quicker response times. Additionally, it enhances lead conversion by prioritizing high-potential leads. Automation also plays a pivotal role in handling routine customer inquiries, such as order status inquiries, through the effective use of automated messaging and chatbots.
Helps you know your customer
Sales Cloud offers a range of essential features, including contact and opportunity management, providing you with comprehensive access to crucial customer data. Additionally, it tracks their interaction history, enabling you to build a deeper understanding of customers' social data and preferences. This valuable insight enhances your ability to better comprehend and engage with your customers.
5 Documents that you have to start automating in your Sales cycle
To build brand awareness and customer loyalty, generating documents is the only go. And to supercharge this process, automating these documents is going to be your 5-minute hack in your sales process.
A sales deck is a visual presentation designed to display and highlight your products and services to potential customers. After you have identified your SQLs, communicating with them through a visually explainable sales deck is the most proven step when it comes to letting your leads know about your product/service.
The best testimony document that can go into your sales cycle is by using a credible case study of how the organization leveraged your product to bring about a revolutionary change in their business workflow. 13% of marketers use case studies as a primary form of media within their content strategy.
Business proposals play a crucial role as initial sales documents sent by your sales team to customers, serving as a means to create a positive first impression. To secure new deals, it is essential to present a compelling offer and an outstanding proposal. These documents stand tall when it comes to outlining the value of your offering.
Product Demos & Explainer Videos
Never will a customer turn towards a product that doesn't have a demo. Product demos and explainer videos are visual materials that provide information about your product to potential customers. During the stage of presenting, you can show your clients how your product works with a demo. The script for the same can be automated.
Crafting contracts can be daunting as you aim to cover all essential details and potential scenarios to safeguard your revenue. Fortunately, Better Proposals provides a range of contract templates that you can easily personalize to suit your requirements. Each contract includes a digital signature option, ensuring they become legally binding documents and granting you peace of mind.
XfilesPro DocuPrime – Your True Document Automation Champion in Salesforce
Now that you understand the sales cycle and how important it is to automate these sales documents, how about we pitch our product now? This is the right time as by now you will be looking for a viable document generation application in Salesforce. If you are looking for end-to-end document automation, that fetches data from objects, creates documents in one click, brand consistency, e-sign attachments, error-free documents, creating bulk documents by making no compromise on the quality, and many more benefits, then you are in the right place.
Discover an intriguing real-world scenario showcasing the impactful benefits of document generation for a leading tax & financial advisor based in Sydney. Click here to explore the success story!
XfilesPro DocuPrime has been also providing several additional benefits such as:
Existing Template Import

Template Access Control

Customized Template Creation

Multiple Document Type Support

Support Creating Own Business Flow

Template Design with Different Font Styling

Support Adding Images or Logos

Documents Pre-filled in Real-time

Choosing the Visibility of the Sections for the Created Documents

Sections Sequence Specification

Template Versioning
What are you still waiting for? We know these are the concerns that you're facing. If you want to have a comprehensive understanding of how XfilesPro DocuPrime fits into your Salesforce ecosystem, then do have a customized talk with our product experts. Schedule your meeting here.