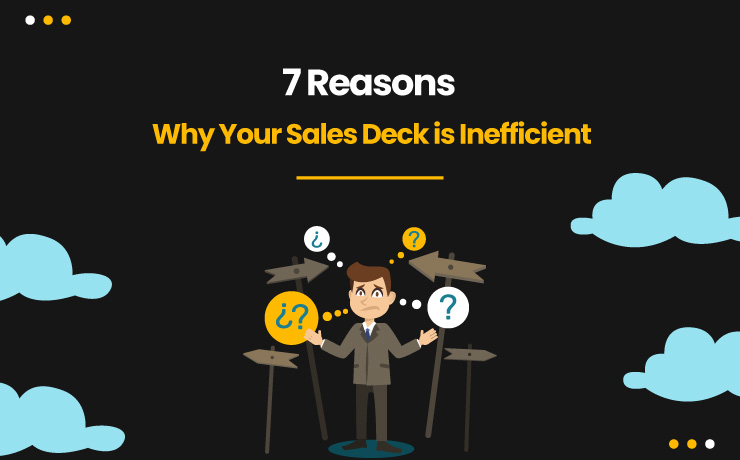 An inefficient sales deck is like trying to play chess with a deck of UNO cards—chaotic, unpredictable, and definitely not a winning strategy.
In this era of automation, every salesperson we know is turning toward the magic of having their documents created automatically in Salesforce. But we came across a particular section of people still struggling to have that client sign that deal. When we approached them and analyzed their problem thoroughly what we found out was horrific. We started from the very beginning. Surprisingly, it was not the product nor the services it render that offered the problem, it was its way of approaching its customers.
Yes! We are referring to the sales deck. Their Sales deck was a mess and a pile of chaotic strategies, wherein they dug their own pit. So, XfilesPro DocuPrime swooned in, before they knew it and got their sales deck straight.
The Red Flags of a Bad Sales Deck
We wish you don't make the same mistakes and hence we are listing here the errors that stood as an obstacle to their increasing ROI.
Mistake 1: No Clear Messaging
The whole reason you approach a person with your sales deck is to give them an understanding of why your product/service exists. Hence it is very much important to give them a vivid understanding of the same. Hence even before you start generating your documents, maybe jot down what you want your sales deck to represent and then go forward with creating it.
Mistake 2: No Enough Visuals
Business can happen in the blink of an eye nowadays. And that will happen only if the appeal is good. One can definitely never rely on words for that kind of speed. But 100 words can be substituted by a good visual that is both interactive and creative. Never be lazy enough to put in the right images/videos which in turn will beautify your presentation.
Mistake 3: Too Much Technical Jargon
The agenda behind not using technical jargon is to stop confusing your prospects. Not necessary that your sales deck will be received by a "technical" person on the other side. Assuming your audience can understand technical knowledge can be a dangerous thing. Hence the usage of simple language will lead to a succinct and clear sales deck.
Mistake 4: No Unique Selling Proposition
In this tight competition of the world, it is very unlikely if you do not have a USP for your product. It requires efficient branding and several aspects such as consistency, highlighting suitable features, presentation skills, and so on. Having a USP and marketing it in the right way will get you to land a big fish as you always hoped for.
Mistake 5: Too Much Information
Your sales deck is just the bait. You need to draw in new prospects and have them convert into a new customer. Hence just giving them the top-layer information is more than enough. One thing to always keep in mind is that your sales deck should always be a simple, clear, and uncluttered document rather than a text-heavy slide deck.
Mistake 6: Always Focus On The Product.
To put it in marketing terms, always focus on the benefits rather than the features Customers are always in need to know how your product is useful to them and not how great your product is. Understanding the psychology of your prospects will help you overcome this mistake. Customers will only listen to you if you speak in their language and tell them exactly what they want to hear.
Mistake 7: Missing a Valuable CTA
If your prospect is looking forward to having a business relationship with you and once they try to contact you, you have not provided a proper CTA nor the contact details, must we tell you what a loss it would be? Therefore, it is extremely important to incorporate a clear call-to-action (CTA) that prompts individuals to take specific actions. Whenever feasible, conclude with an enticing offer that is irresistible, such as a complimentary trial or personalized service.
The truth behind a successful sales deck? They use XfilesPro DocuPrime.
XfilesPro DocuPrime: Your Unmatched Document Generation Partner in Salesforce
Flourishing businesses have been using XfilesPro DocuPrime and have yielded results like no other. End-to-end process automation during the process of document generation such as retrieval of the data from various Salesforce objects, constructing them in the right template, creating documents of any time be it of any size, or quantity, and everything in a single click, giving you the brand consistency you needed all this while, e-sign, error-free, time saver, cost-efficient, and many more.
XfilesPro DocuPrime is your perfect application for all your document generation woes in Salesforce. Your sales deck can now eliminate and rule out all the concerns related to inefficiency and can provide a peaceful customer journey in all your future business deals.
If you are looking forward to having brilliant and creative sales documents for your business use, maybe you should get on a call with our product experts. They will definitely help you. Click here to schedule a personalized call.