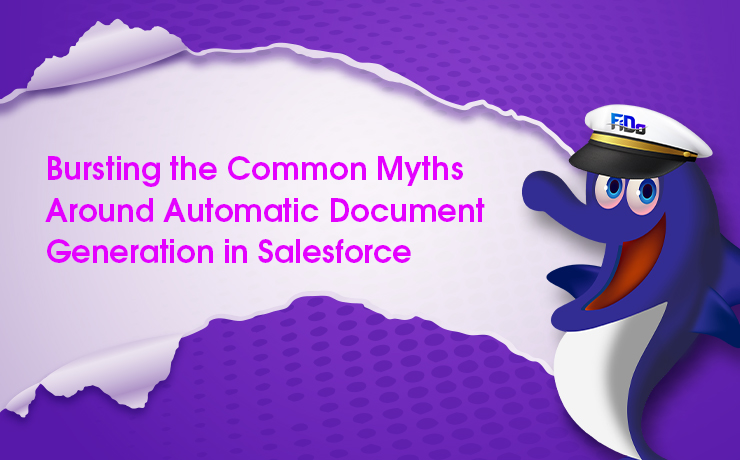 Ryan had been waiting to close that deal for a very long time. And amidst a lot of other important works, this dream lead of his was looking for a business proposal that solely addressed the challenges for his business. But creating a sales deck would mean taking data from several Salesforce objects and manually updating it into your sales deck. That is a freaking 3-hour process. Henceforth, Ryan lost that client.

– Based on a true story
In today's world, every action has to be documented. Sometimes, we fall under the impression that the world is driven by information. To some extent that is true. When running an enterprise or a small business with the Salesforce platform as your CRM, you stumble upon several actions that may be mainstream or sensational at every step. Whatever may be its degree, they are supposed to be documented. And each piece of the document stands for a different purpose. There are several challenges that a sales rep or a service agent faces when manually drafting a document from scratch. Are you going through these meticulous circumstances?
Businesses of all stripes in Salesforce need this. The question of automating document generation in Salesforce has given rise to a lot of rumination. This blog will help you decode all your assumptions and better understand the importance of automatic Salesforce document generation.
Want to go through a real-time use case on automatic document generation in Salesforce? Click here to get the insights.
Myth 1: You have only limited template choices for the documents to be auto-generated
Every document serves a different purpose and definitely, and they will have different formats, content, font, and many other factors. So, the process automation integration of XfilesPro DocuPrime into Salesforce provides templates by default and also the choice to have your desired templates through customization. This will provide you with an automatic assembly of engaging and personalized copies of your business quotes, proposals, and so on. With customizable page layouts, all your documents are created on autopilot and customized as per individual opportunity needs.
Myth 2: Automatic Document Creation cannot generate incisive and complex documents.
This is one of the substantial misconceptions that Salesforce users have been circulated through. Salesforce document creation can come in several forms. Sometimes they can be short, otherwise long as needed according to the purpose. But the consideration of whether it can generate complex documents is just a myth. With document generation's wizard-driven powers, it can easily replace traditional macro and template-driven approach that was hard to construct and put the elements together. Also, it takes away the pain of proofreading your document. And there is no better example than XfilesPro DocuPrime to satisfy this need of yours.
Also read: Why Do You Need An Auto Document Creation App In Salesforce?
Myth 3: Proofreading is a must for automated Document Generation
Be it whatever the document, when we draft it manually, proofreading is an insatiable task. You can keep proofreading it the whole day and still need to give it a rest. Will you have to do proofreading even for automatic Salesforce document generation? No, not at all. XfilesPro DocuPrime is one of the most accurate automation tools for Salesforce which will take away the pain of proofreading your document.
Myth 4: To master document generation software, you will need special training and a significant amount of time
Document creation in Salesforce is now very much developed and Salesforce Admins have their hands on the best automation tools when it comes to document creation. XfilesPro DocuPrime is a 100% native document generation tool for Salesforce that is easy to use & comes with a superior UI. The documents can be created as per the desired template with just the right input. You do not even need to leave your Salesforce CRM to create your documents. With a single click, the document is created from scratch. You can just let the pro of document generation which is XfilesPro DocuPrime create your document while you can sit back and enjoy. Your work personnel can easily have their documents generated without any prior training.
Want to know how we helped a US Machinery Manufacturing company burst the bubble of manual document creation? Then click here
Myth 5: Handwritten signatures are required on all documents
This is one of the most believable myths. It might sound untrue but we are far from the times when we need a hand-signed signature to prove the authenticity of the documents. With XfilesPro DocuPrime, signing documents has become easy with any 3rd-party popular e-sign application. To speed up your process, you can just add a custom signing field to your Salesforce document wherein your third-party e-sign can do its work.
Myth 6: Automation is prohibitively pricey for small organizations
Imagine the horror of having several Salesforce admins or sales reps go through the trouble of having the documents drafted manually for each occasion. Comparatively, if you replace the time and energy invested by them with one of the best-automated tools for Salesforce, then the automation process will be error-free and also give your employees more productive hours. XfilesPro DocuPrime has a reasonable price in comparison with the document generation tools for Salesforce. Not only that but with the usage of our application, you can concentrate mutually on other important tasks which will result in a better return on investment.
Myth 7: Since the document is generated automatically, the document can be accessed by anybody in the organization
This myth is a hard nut to crack. When one generates a document in Salesforce, it makes sure that the accessibility to view that document also is in the hands of the person who creates the document. With the best automation tools for Salesforce present on AppExchange i.e. XfilesPro DocuPrime, the accessibility can be decided based on the type of document and it can be shared with only the concerned authorities. Also, it has adhered to all corporate standards.
In today's times, technology is of paramount importance. The whole world is digitally transforming and having its hefty document-related work done by document generation tools for Salesforce. XfilesPro DocuPrime is one of the most preferred applications on AppExchange that helps you unveil the smart alternative of manual document drafting. Say goodbye to error-prone documents as this document generator in Salesforce is going to wipe off the errors just like an expert in one click. It might have the answers you are looking for. If you are looking for the perfect solution or need to update yourself to the Salesforce automatic document generation tool, then talk to our product experts and have your doubts cleared.