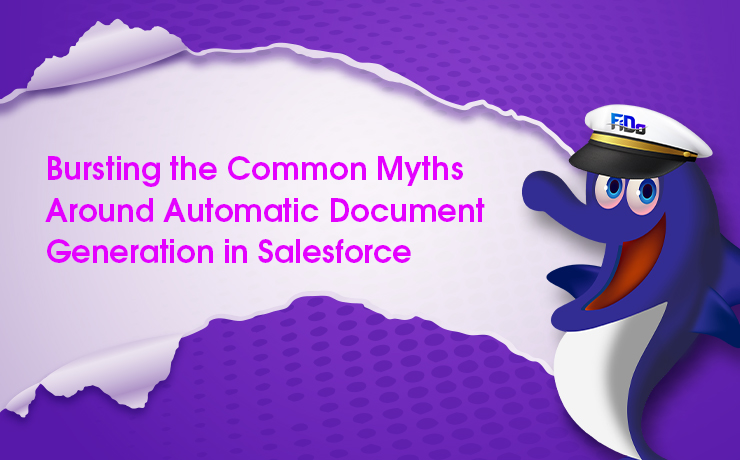 In today's world, every action has to be documented. Sometimes, we fall under the impression that the world is driven by information. To some extent that is true. When you are running an enterprise or a small business, at every step you stumble upon several actions that are mainstream or sensational. Whatever may be its degree, they are supposed to be documented. And each piece of the document stands for a different purpose. There are several challenges that a Sales rep or a Service agent faces when drafting a document.
Businesses of all stripes in Salesforce need this. But the question of automating document generation in Salesforce has given rise to a lot of rumination. This blog here will help you decode all your assumptions and better understand the importance of automatic Salesforce document generation.
Myth 1: You have only limited template choices for the documents to be auto-generated
Every document serves a different purpose and definitely, and they will have different formats, content, font, and many other factors. So, keeping this in mind the best automation tool for Salesforce, XfilesPro DocuPrime has provided templates by default and also the choice to have your desired templates through customization.
Myth 2: Automatic Document Creation cannot generate incisive and complex documents.
This is one of the biggest misconceptions that Salesforce users have been circulated through. Salesforce document creation can come in several forms. Sometimes they can be short, otherwise long as needed according to the purpose. But the concern of whether it can generate complex documents is just a myth. XfilesPro DocuPrime, one of the leading document generation applications for Salesforce, helps you to generate documents of any type & size in the blink of an eye with the right inputs embedded in them.
Myth 3: Proofreading is a must for automated Document Generation
Be it whatever the document, when we draft it manually, proofreading is an insatiable task. You can keep proofreading it the whole day and still need to give it a rest. Will you have to do proofreading even for automatic Salesforce document generation? No, not at all. XfilesPro DocuPrime is one of the most accurate automation tools for Salesforce which will take away the pain of proofreading your document.
Myth 4: To master document generation software, you will need special training and a significant amount of time
Document creation in Salesforce is now very much developed and Salesforce Admins have their hands on the best automation tools when it comes to document creation. XfilesPro DocuPrime is a 100% native document generation tool for Salesforce that is easy to use & comes with a superior UI. With just providing the right input, the documents can be created as per the desired template.
Myth 5: Handwritten signatures are required on all documents
This is one of the most believable myths. It might sound untrue but we are far from the times when we need a hand-signed signature to prove the authenticity of the documents. With XfilesPro DocuPrime, signing documents has become easy with any 3rd-party popular e-sign application.
Myth 6: Automation is prohibitively pricey for small organizations
Imagine the horror of having several Salesforce admins or sales reps go through the trouble of having the documents drafted manually for each occasion. Comparatively, if you replace the time and energy invested by them with one of the best automated tools for Salesforce, then the automation process will be error-free and also give your employees more productive hours. XfilesPro DocuPrime has a reasonable price in comparison with the document generation tools for Salesforce.
Myth 7: Since the document is generated automatically, the document can be accessed by anybody in the organization
This myth is a hard nut to crack. When one generates a document in Salesforce, it makes sure that the accessibility to view that document also is in the hands of the person who creates the document. With the best automation tools for Salesforce present on AppExchange i.e. XfilesPro DocuPrime, the accessibility can be decided based on the type of document and it can be shared with only the concerned authorities.
In today's times, technology is of paramount importance. The whole world is digitally transforming and having its hefty document-related work done by document generation tools for Salesforce. XfilesPro DocuPrime is one of the most preferred applications on AppExchange that helps you to unveil the smart alternative of manual document drafting. If you are looking for the perfect solution or need to update yourself to the Salesforce automatic document generation tool, then talk to our product experts and have your doubts cleared.