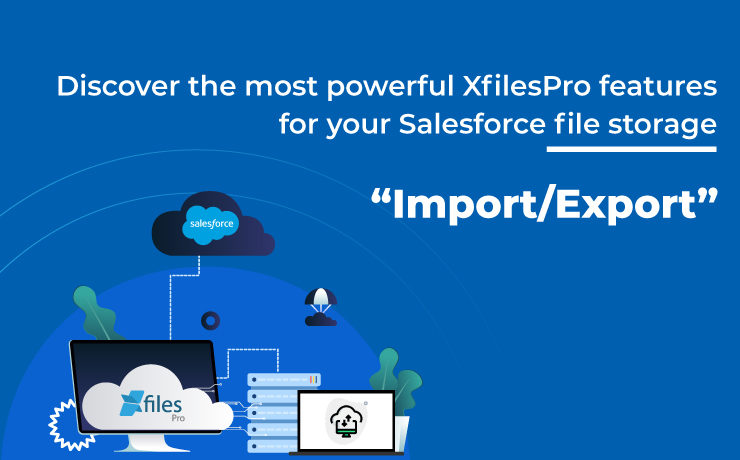 Since it's AppExchange launch, back in 2012, XfilesPro has proved to be one of the most robust & strategic solutions when it comes to Salesforce file management. Enterprises from across multiple industries like finance, healthcare, education, & many more have trusted XfilesPro and used it for their Salesforce file storage needs. Offering integration services with various external storages, XfilesPro has soon become the #1 file management application on the AppExchange market.
A Little About XfilesPro
To simply define XfilesPro, it is an advanced file management & collaboration solution for the Salesforce system which was designed to help enterprises achieve their goal of efficient, cost-effective Salesforce file management. Using XfilesPro, users can easily store their important files/attachments in different external cloud (SharePoint, AWS S3, Google Drive, OneDrive & Dropbox) and on-premise (SMB, SFTP & Network Drive) storages with complete file accessibility.
The XfilesPro application has an array of robust features that enable its users to avail a highly optimized, streamlined & seamless file management experience in Salesforce. These include awesome features like file archiving, bidirectional sync, folder hierarchy, file drag & drop, intelligent file/folder creation, and much more. More such beneficial features are added in the application's each new release, just like the new import/export feature that takes the application experience to a whole new level.
ON-DEMAND WEBINAR: File Archiving: The Future of Salesforce File Management
Let us tell you how you can use XfilesPro's new import/export features to control your files in a simplified way.
Export
If your Salesforce file storage space consumption has increased over time then you can use XfilesPro to instantly reduce it by almost 80-90%. This feature is especially useful for Salesforce enterprises from the industries that deal with a lot of files & attachments across objects. By using the 'Export' feature, such enterprises can easily export the files & attachments (stored in their Salesforce Org) to any external storage of their choice, all in a single call.
In just a few simple steps, enterprises can start exporting their files instantly. Once the export process is executed successfully, the exported files can be easily viewed in the external storage. Not only this, XfilesPro also lets the admins open those exported files from within the Salesforce Org, which can then be easily viewed in a reduced size.
Select your external storage provider, choose object and set your filter criteria
2. Start the export process
3.
View your exported Salesforce files
Import
If there is ever a need to access and bring back the Salesforce files that are stored in the external storage, it can easily be accomplished by using the 'Import' feature of XfilesPro. The import feature allows admins to link the files & attachments stored in the external storage to a Salesforce object in the form of an 'attachment', without physically moving the files back into the Salesforce Org.
This prevents the primary Salesforce file storage space from being again filled up during the file import process. Once the import process is completed, the imported files can be viewed within the Salesforce Org. Here are the simple steps that admins need to follow to import the files & attachments.
Select the external storage system from where you want to import the files
2.
Start importing your files. You will receive an email once the process is completed
With the introduction of the latest import/export feature, using XfilesPro to manage the Salesforce file storage has become even more cost-effective & easier. In addition to offering a strategic & efficient approach to store files in the preferred external cloud/on-premise storages, XfilesPro is now also powered with unique features that make it an ideal application for efficient Salesforce file management.
With many progressive Salesforce companies making XfilesPro their first choice for file management, what are you waiting for? The price of an XfilesPro license for a month is now cheaper than a cup of coffee. Don't waste time and get in touch with us today to know more about the application or schedule a demo here.