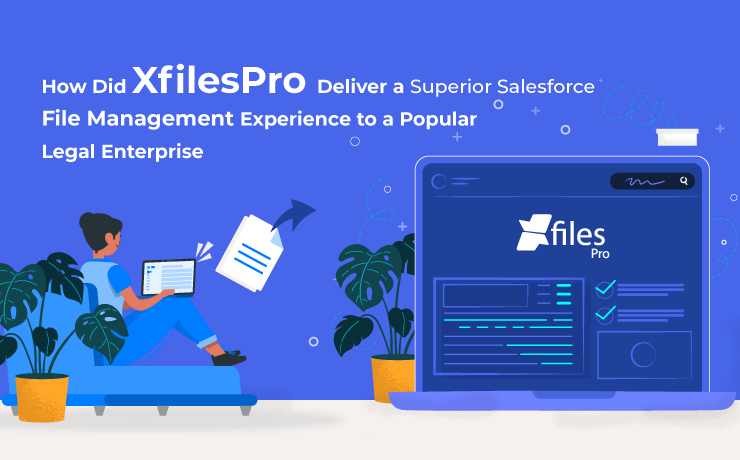 In due course of time, XfilesPro has carved out a solid niche for itself in the Salesforce ecosystem & emerged as the #1 application for file management. This is largely because the default file storage is limited & additional storage space is costly so most enterprises look for solutions that can help them manage their Salesforce files efficiently. In this article, we're going to discuss a similar use case of a Salesforce-using legal firm that also leveraged XfilesPro in its system to collaborate with AWS S3.
A brief introduction to the enterprise
Our client, one of the USA's leading law firms, is a specialist in handling mass tort litigation cases and has helped thousands of injured & mistreated people get the maximum possible compensation. They also have been crucial in representing leading personal injury & mass tort firms in a variety of litigation cases. Started with the mission to provide the best possible legal representation to everyone, our client puts its' customers first & offers them faster service.
To effectively achieve business success, they were trusting the world's #1 cloud platform, Salesforce, to handle their business operations. This meant a lot of files & attachments were being generated in their system as they strived to manage their existing as well as past legal cases. Also, in order to manage the sheer volume of legal cases, the Salesforce firm was making extensive use of a third-party legal case management AppExchange application, Litify. Though the app helped them manage & optimize their processes and workflows, it also contributed to increasing the volume of files.
Also read: How XfilesPro helped an Australian non-profit organization manage 6K+ files and efficiently store them in Amazon S3
Elaborating upon their file management challenges
Being a popular player in the legal sector, our client's customer base was growing exponentially each day. This meant that a multitude of customer-related Salesforce files & attachments were being generated on a daily basis in their Org. To add fuel to the fire, the third-party AppExchange solution, Litify, that they were using to simplify their legal case management, was also generating a horde of files & attachments of its own.
Since all the files were directly stored in the primary file storage of their Salesforce Org, it began filling up sooner than they had anticipated. This became such a big problem for them that they resorted to purchasing additional file storage space from Salesforce in a bid to have more storage space for the newly-generated files. But this led to an even graver situation as this put an extra burden on their storage budget since the additional storage was slightly costly; not to forget that it's a recurring cost.
Not only the storage costs but even file accessibility & visibility were a big challenge for them because of the dearth of a proper folder structure in their primary storage. This also made searching for particular files a very tedious task. But above all, the thing that bothered them the most was the compulsion to retain all case & customer-related files for a minimum of 7 years, courtesy of the different retention & compliance guidelines (both internal & industry-directed) that governed them.
Also read: How XfilesPro helped a leading US Insurance service provider reduce significant Salesforce file storage costs
How did XfilesPro come into the picture?
To realize their dream of efficient & hassle-free file management in Salesforce, our client was on the lookout for a robust application that was capable of managing their files and attachments with the highest level of efficiency. This is how they landed upon XfilesPro's AppExchange page & got in touch with the support team, following which they were highly impressed with the app's advanced capabilities.
Widely rated as the most trusted & preferred Salesforce file management solution in the market, XfilesPro quickly understood the client's storage limitations & management complexities. After thoroughly analyzing their Salesforce Org & all the possible use cases as well as after discussing with multiple stakeholders, our Salesforce file management experts created a personalized integration roadmap for them to manage the primary Salesforce file storage through seamless integration and collaboration.
Leveraging AWS S3 to simplify file management
Considering the nature of their business, complexities, retention needs, & compliance demands, they felt it best to leverage their existing AWS S3 external storage to manage the Salesforce files. Using XfilesPro, they seamlessly integrated their Salesforce Org with AWS S3 storage in very simple steps & migrated all their important Salesforce files & attachments from the primary storage to the S3 external storage. As a considerable chunk of files was moved out, it instantly freed up & optimized the file storage space.
XfilesPro also allowed them to create an intelligent folder structure in the S3 storage where all the files & attachments, from both the Salesforce Org & the third-party application, could be properly organized, based on pre-defined criteria. Through this functionality of the robust file management platform, the client was also able to resolve their file accessibility & visibility issues as all files were extremely easy to access, view, edit, share, download, or even delete (right from within Salesforce) because of being organized into different folders.
And not to forget that since the Salesforce files & attachments no longer needed to be kept in the primary file storage, they could be retained for as long as required according to the retention & compliance guidelines. This allowed them to easily comply with all the stringent compliance directives that were governing their enterprise. After leveraging XfilesPro in their Org, the legal firm also stopped purchasing additional storage space & consequently reduced their file storage costs by 80%, without any effect on their ongoing business operations or the user experience.
What's more, is that after using XfilesPro to integrate the Salesforce & AWS S3 systems the legal enterprise also noticed a significant increase in their overall return on investment (ROI) because of the 80% reduction in storage costs & 5 times improvement in terms of performance. Thereby, with XfilesPro's help, the client was able to create a long-term, sustainable file management model for their system where they could enjoy a highly centralized file management experience.
Don't forget to check out the product datasheet before you go.
What does the future hold for them?
In conclusion, we can safely say that after leveraging the advanced capabilities of XfilesPro, the legal firm was able to efficiently address its top three challenges: Accessibility, Compliance, & Sustainability without worrying about file storage, file growth, or file storage costs. Because of the improvement in the performance, they were able to better align with the growing number of clients which boosted business as well. With over 80% storage cost reduction, better file retention & unaffected user experience, XfilesPro's presence has secured their future.
Are you also struggling with some similar problems in your Salesforce system? Or do you have some unique set of problems that are getting too much to manage? Don't worry, our experts can help you manage your Salesforce files better & transform your file storage needs. Please get in touch with us to see how or schedule a free demo right now.