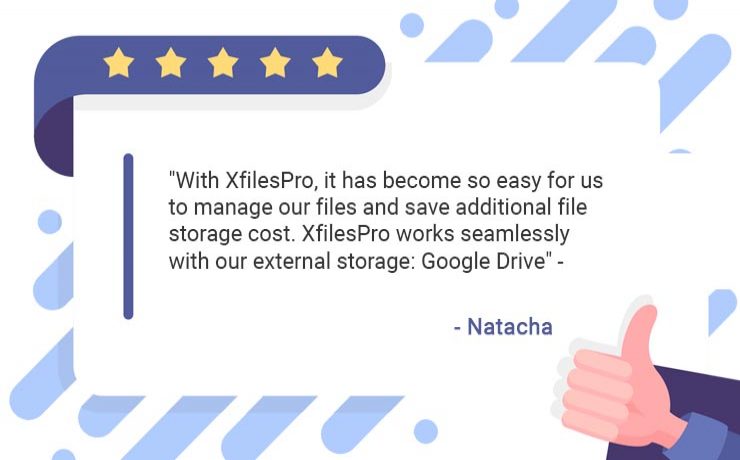 XfilesPro has been strongly addressing one of the biggest challenges of Salesforce users by offering an easy external file storage solution and optimizing primary file storage space. Enterprises of different sizes and from varied industries are currently using the solution and saving significant file storage costs. AGF Group was one of those top enterprises, who embraced XfilesPro and successfully managed their Salesforce files.
Being a leading construction company in Canada, AGF Group was using the world's #1 CRM Salesforce and were dealing with a lot of files. Often it becomes difficult for organizations to deal with a huge number of files subsequently resulting in high file storage space consumption. AGF also faced similar challenges as their recurring file storage cost was rapidly increasing. They wanted to move out from their existing external file storage solution and looking for a better option.
Natacha who was the Salesforce admin of AGF Group told "Salesforce file storage costs were a big challenge for us. While we were in search of a better application to resolve this issue, we came across XfilesPro."
AGF wanted to onboard the new solution as soon as possible because they were about to move to the new Lightning Experience. While explaining their requirements to our support team, Natacha told as most of their users work with their phones, it would be great to have a solution that supports Salesforce1. Considering XfilesPro's user-friendliness, and other robust features, it was a no brainer for Natacha to choose the solution in order to store and collaborate their Salesforce files in an external storage system.
XfilesPro replaced the old solution and took it all over within hours. The implementation process was smooth and AGF was good to go without any impact on their production. AGF wanted to use Google Drive as their external storage and we successfully completed the initial XfilesPro application setup as well as XfilesPro and Google Drive integration for a seamless file transfer. We also set up the Salesforce 1 environment in a way users can view and manage their files from their phones.
"With XfilesPro, it has become so easy for us to manage our files and save additional file storage cost. XfilesPro works seamlessly with our external storage: Google Drive" – Natacha
AGF also used one of the most dynamic XfilesPro features folder and subfolder creation which helped them organize their files by creating new folders within a record and navigate through breadcrumb view. XfilesPro made it easy for AGF users to map an existing folder. Talking about XfilesPro features, Natacha told "There are many features in the applications like EXPORT, Import and default files/folders are really impressive. Anyone who uses the application can look forward to the best in class support and service."
Get in touch with us to access more such customer success stories to know how XfilesPro helped many enterprises manage their Salesforce files.
Check the app here.