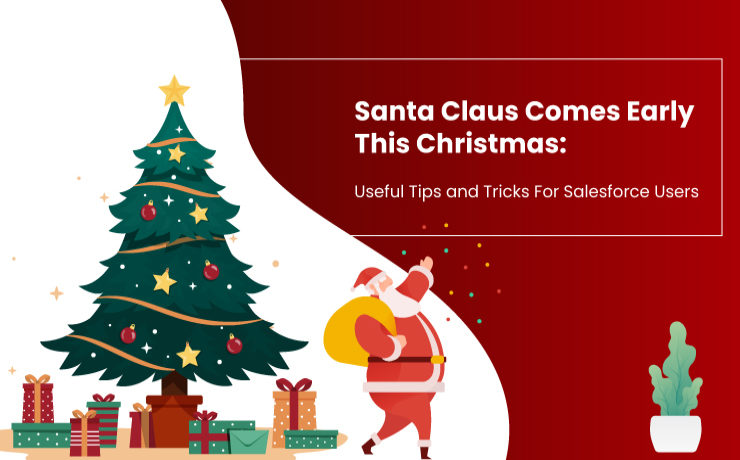 With each passing second, the world is inching closer to one of the biggest festivals all-around the world. Christmas, the annual festival commemorating the birth of Jesus Christ, will be observed on coming Friday, December 25. People have already begun their customary preparations of installing and lighting Christmas trees, hanging Advent wreaths, Christmas stockings, candy canes, and creating Nativity scenes depicting the birth of Jesus Christ.
Christmas carols and stories are already being sung everywhere. In addition to that, people have also been gearing up for exchanging cards and gifts with their loved ones as well as preparing the special meal, including the special Christmas cake. But even before Christmas this year, we have assumed the role of Santa Claus and have come bearing certain gifts for the Salesforce customers.
Keeping alive the joy and spirit of Christmas that is sharing, spreading joy, and love, we bring you some all-important tips and tricks that can be implemented in order to make Salesforce more efficient and take the experience to the next-level.
Number 1:- Manage your Salesforce Files Properly
The primary thing Salesforce users must ensure is the top-grade management of their files and attachments. These files, no matter from where they are generated, sooner or later start piling up in the internal storage, which can become a great hassle if not managed properly. Salesforce users must either periodically purge their system of the files that are no longer needed or look for options that optimize the storage. This can include purchasing additional storage space from Salesforce or looking for solutions that can manage the files in a seamless manner.
XfilesPro is one such AppExchange solution that makes things easier for the Salesforce users with its top-notch file management capabilities aided with seamless external collaboration capabilities. Using this highly customizable application, users can integrate their Salesforce system with different external cloud storage systems (SharePoint, Google Drive, Amazon S3, etc) and store their files over there to optimize their native storage and reduce their file storage costs significantly.
Number 2 :- Archiving Data for Efficient Salesforce Data Management
Another major concern for most Salesforce users is their 'data'. The contacts, leads' information, events, sales data and many such data records hold unprecedented importance for smooth functioning and business growth of the organization. But many users struggle because of the restrictive nature of Salesforce data storage and other issues like compliance and security. It's no hidden fact that data archiving has a plethora of benefits when planned at an early stage. With proper archiving techniques in place, Salesforce users can archive their less-used data into some different storage space and optimize the native storage.
To help Salesforce users, we have popular data archiving applications like DataArchiva and DataConnectiva available on the AppExchange. DataArchiva, powered by high performance and security, archives the data at a native level into Salesforce Big Objects and optimizes the CRM application, reduces the data storage costs and offers an enterprise-level data management experience. While DataConnectiva also offers the same benefits when it seamlessly and securely archives the Salesforce data in the preferred external storage platforms like Amazon, Azure, Google, etc. and external databases including Postgres, Redshift, MySQL, etc.
Number 3 :- Keeping a Secure Backup of Salesforce Data
When it comes to ensuring the security and safety of organizational data, most Salesforce users refrain from relying simply on archiving solutions for managing the data. Not to mention, creating a backup of the data is a more popular option any day. Keeping this in mind, Salesforce users too must amp up their data reliability and security by creating a backup of their important data and storing it elsewhere. This not only safeguards data in the unfortunate event of data loss but also helps in quickly getting the business back on track after such an event.
Here we must mention another one of our products, DataBakup. This simple data backup and recovery application is custom-designed to support multiple Salesforce systems and aided by its full and incremental backup services, helps enterprises easily overcome their fear of data loss. Guaranteeing highest levels of data security within the cloud infrastructure, this highly scalable application also possesses the seamless data restoration feature. DataBakup is both easy-to-use and a cost-effective solution, ideal for small to mid-range enterprises.
Equipped with these tips and making use of the above mentioned applications, Salesforce users can easily augment and improve their Salesforce performance, ultimately boosting their business growth. To know more about these applications, you can get in touch with our Salesforce data & file management experts.