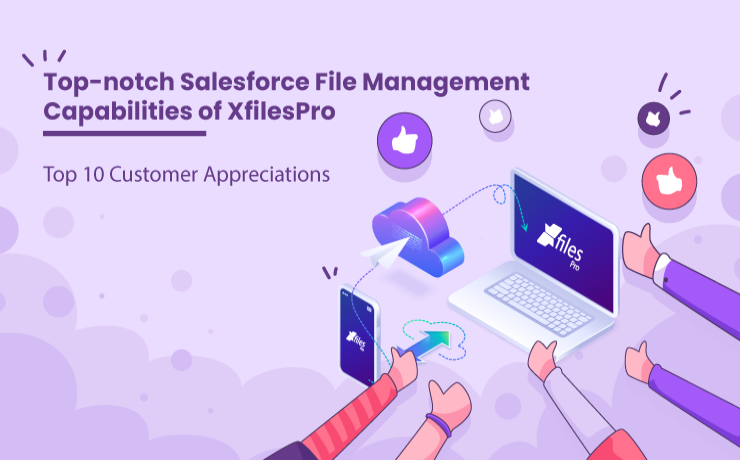 When it comes to managing the sheer volume of files & attachments generated in the Salesforce system, users are on the constant lookout for solutions that can help them make their Salesforce file management seamless & hassle-free. To help ease those file management processes, our comprehensive file management & external collaboration application for the Salesforce system, XfilesPro, is at their disposal.
By definition, XfilesPro is an advanced file management & collaboration solution, designed especially for the Salesforce system, that helps users seamlessly store & collaborate their files with different external systems. These include cloud storages like SharePoint, AWS S3, Google Drive, OneDrive & Dropbox as well as on-premise systems like SFTP, SMB & Network Drive. Using XfilesPro, users can optimally manage their Salesforce files, cut back on their file storage costs & enhance the business growth, without compromising on their user experience.
Recommended reading: Why is XfilesPro the Most Comprehensive File Management Solution for Salesforce?
Due to the fact that XfilesPro performs extremely well with all Salesforce-offered solutions like Sales Cloud, Service Cloud, Salesforce Platform, Experience Cloud, etc & is highly customizable, it has steadily emerged as the most preferred solution among top-notch enterprises for resolving the challenges associated with efficient Salesforce file management.
Let's have a look at what some of our previous clients have to say about the services offered to them by XfilesPro.
Large Volume File Migration (File Archiving)
One of the latest features of the XfilesPro application has already found admirers in our clients like Walid Safieh. Using XfilesPro, you can now migrate a large volume of Salesforce files from the primary file storage & securely archive them in a secondary storage space.
"If you need to archive your files, definitely do it with XFiles!

I can't say enough nice things about the team here!! They've spent countless hours helping me with my archiving issues and have been instrumental in helping us with our file storage issue. The tool is very easy to use and the team is very supportive with any needs you may have!"
Customizable to the T : Easy Handling of Attachments
As mentioned before, XfilesPro is a highly customizable application that can be tailored to meet almost all the requirements your organization might have. Like we did for Kris Carlson's enterprise who wanted the application customized so that it could seamlessly handle the sheer volume of Salesforce attachments that were present in their highly complex Salesforce Org.
"Tremendous app and incredible support – Very Highly Recommended!

We were looking for a solution to migrate all of our Salesforce attachments to cloud storage to save on storage with Salesforce and to have a viable backup. Our Salesforce production is very complex as it relates to attachments where we had well over 300,000 attachments across multiple record types. The XFiles Pro team developed a custom solution to enable such a large migration of data. During this process, the XFiles pro team identified numerous instances where Salesforce had inadvertently deleted attachments and worked with me to get those issues resolved and ultimately resulted in the successful and efficient migration of all of our data.

To say that the XFiles Pro support personnel were amazing is an understatement. They worked with us regularly to ensure our implementation was successful and were incredibly responsive (and still are) with any issues, questions or concerns. They took the time in every instance to work with us to ensure any questions were answered and issues addressed immediately. I cannot recommend this product or their team enough!

In a time when customer service is lacking across the board, this company has created a model of live, in person customer support that is second to none. They figured out a very complex problem, developed a solution and worked with us step by step to ensure implementation went very smoothly. nicely done!!!"
Integrating Salesforce with SharePoint
Though XfilesPro supports multiple external cloud/on-premise storage systems, the crowd favorite remains SharePoint. Most of our customers use the solution to collaborate their Salesforce system with SharePoint & overcome their hassles of managing the files & attachments. See what one of our customers, Edita Bruzaityte, has to say about this collaboration.
"Great Solution ?

We used XfilesPro to integrate SharePoint with Salesforce and it does exactly what it says on a tin. The solution is quite easy to install and navigate, the users praised it for its simplicity and functionality. I also have to say, the team has done an amazing job in supporting us throughout the entire process."
Another one of our customers, Joshua Pattison, also used XfilesPro to integrate his enterprise's Salesforce system with SharePoint but sang praises about the next-gen Bi-directional Sync feature offered by the solution. Using the bi-sync feature, users can edit, share, download & delete files from both the primary Salesforce file storage as well as the external SharePoint storage.
"Fantastic – Just what we needed

This product gave us the perfect solution to limited storage and enabling a bi-way sync between our sharepoint. Setup and configuration was straightforward and the team were on hand to walk us through the process. The value for money is brilliant. The XFiles Pro team were also very helpful in answering any questions and assisting with the setup. Great customer service!"
Integrating Salesforce with Google Drive
Our application is also favored by various Salesforce users who want to integrate Salesforce with Google (Shared) Drive in order to efficiently & hassle-freely manage their files & attachments by moving them to the external Google Drive storage. Here's what Richard Lackey, who used XfilesPro for this very purpose, had to say about it.
"Awesome functionality and service

We have wanted to connect Salesforce and Google (Team) Shared for a few years and have been waiting for a solution. Thankfully, I came across XFilesPro, installed and configured the demo version and was impressed from the beginning by the functionality and configurability provided by XFilesPro. It was a pleasure to engage with the sales team.

We also needed particular functionality and greatly appreciated the prompt care and attention to our needs from the sales and support teams at XfilesPro to provide us with a solution to meet our requirements. We now have an easy to use, customizable solution for integration between Google Share Drive and Salesforce that works the way we work allowing the Salesforce record and attached files to be the single source of information and removes the need to think about running out of storage space on Salesforce.

If you need to integrate Salesforce and Google Drive or other file storage options, you need to try XFilesPro."
By integrating Salesforce & Google Drive using XfilesPro, users can unlock an endless list of benefits like better file management, improved file collaboration, reduced file storage costs, improved business productivity, & much more. One of our users, Natacha Joseph, tells about the benefits her enterprise received after using XfilesPro for Salesforce-Google Drive integration.
"The right tool

Salesforce file storage costs were a big challenge for us. While we were in search of a better application to resolve this issue, we came across XfilesPro.

With XfilesPro, it has become so easy for us to manage our files and save additional file storage costs. XfilesPro works seamlessly with our external storage : Google Drive

There are many features in the applications like EXPORT, Import and default files/folder are really impressive. Anyone who uses the application can look forward to the best in class support and service.

We wanted an application as we were moving to a new Salesforce Lightning environment. We also wanted a tool to switch from Cirrus Files. XfilesPro replaced the app we were working with for years and tool it all over within hours. We are good to go without any impact on our production.

I would recommend XfilesPro to anyone who is looking for such a solution to save the additional storage expenses. Excellent service, they answer fast to our questions and are always happy to help us. A big 5 stars to XfilesPro and Team!"
Achieving Regulatory Compliance with XfilesPro
XfilesPro is not at all a one-dimensional solution! In addition to simplifying the file management experience & reducing the file storage costs, the solution also helps in adhering with the different internal policy guidelines & regulatory compliance directives an enterprise may be governed by. Like it did for Gaurav Peters's organization, who had this to say about XfilesPro's services.
"1st Class Service, 1st Class Product

We'd been looking for an app that specifically connected our Adelaide Drive to the Salesforce records as we hold confidential data and also may exceed the Salesforce size limits. Our businesses are heavily regulated so compliance was critical too.

We also had some specific data storage requirements in terms of data locations, file paths and naming protocols.

Not only did this product deliver on the promised benefits, it exceeded our expectations because the team at X-FilesPro integrated the features in their roll-out on the go.

We could not recommend this product more highly!"
Cross Org Salesforce File Management with XfilesPro
The application is also designed to facilitate seamless collaboration between different Salesforce Orgs & integrate files from multiple Orgs to manage all of them from a single location without impacting the storage usage at all. See what one of the users of XfilesPro's cross-org collaboration feature, Chris Doman, has to say about it.
"Great Solution to meet our Unique requirement for Cross Org attachment Sharing

We approached xFiles with a somewhat unique business requirement. Our goal was to share case attachments and associated case email attachments with a partner salesforce organization through a Sharepoint library. While their out-of-the box solution did not meet our needs 100%, the team quickly developed an understanding of our requirements, and worked with us to develop and implement the solution in about 6 weeks time. The flexibility of their solution and development team were great. We have been live with the solution for a couple of weeks now, and everything is working well."
Service Guaranteed with XfilesPro
In addition to providing top-notch Salesforce file management & external collaboration services to the customers, XfilesPro also offers excellent, on-demand, 247 support to all customers. This is another reason why more & more customers trust XfilesPro with fulfilling their Salesforce file management needs. Here's what Rob Koch, one of our customers, said while praising the support offered by XfilesPro.
"Excellent Solution for File Storage and Management

X-Files Pro is a smart choice for any org that deals with a large volume of files and attachments but is looking for an alternative to purchasing extra storage. The team at Ceptes Software has built an efficient app for the Salesforce platform that can handle migration of content to SharePoint, OneDrive or Google Drive, or onsite through an FTP site.

What impressed me most about XFiles Pro was the level of support that Ceptes provided throughout our implementation. From the kick-off call to sandbox testing to final installation in production, the account manager and his team were spot-on with instructional content, feature demonstration and follow-up confirmation. I am now comfortable giving this training directly to my client.

Well done, Ceptes! X-Files Pro will be a huge help to my client."
Another one of XfilesPro customers, Franchere Chan, was also happy with the great customer experience provided by XfilesPro to his enterprise. Here's what he had to say about this.
"Solid solution and great customer experience!

With an end goal to have a 360 view of all our customer and sales records in Salesforce, we needed a solution that allows us to integrate our existing storage solution for documents and files into Salesforce. XFiles was fit for purpose. Apart from a very solid solution that meets our needs, the support team has been very helpful and have provided a great customer experience!"
These are just a few of the amazing reviews our clients gave regarding the services XfilesPro offered to them. If you want to read some more amazing customer testimonials, you can head out to XfilesPro's main AppExchange page. You can also get in touch with us to discuss your unique Salesforce file management use case with our experts or witness the app in action by scheduling a free demo today!