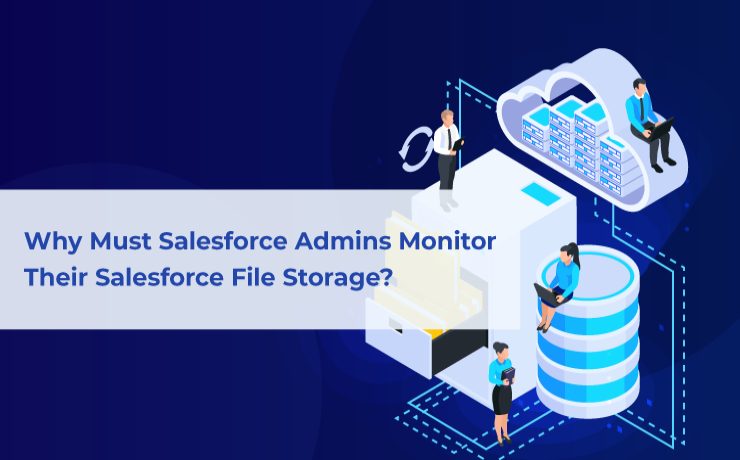 As businesses become diversified & technological advancements are made, even the customers demand personalized services, prompting companies to maintain separate accounts & files for each customer. Because of this, it becomes nearly impossible to manage the documents using manual methodologies which results in more automated alternatives being adopted for file management. This is where Salesforce enters the scene, helping companies provide more personalized experiences to customers.
But one of the most critical aspects of running a business using Salesforce is managing the massive volume of records, data, files, & documents that are created, moved, modified, & deleted on a regular basis within the very limited storage space. Since companies deal with thousands of customers regularly, there is a constant need to keep track of the primary storage space allotted by Salesforce, when the licenses are purchased.
Salesforce Storage: A Brief Introduction
Primarily the Salesforce storage is classified into three categories – Salesforce file storage, Salesforce data storage, and Salesforce Big Objects. As the name suggests, file storage is the space allocated for storing important Salesforce files like files & attachments, Salesforce CRM Content, Files home, Documents tab, Chatter files (including user photos), custom File field on Knowledge articles, & assets regarding Site.com. In the same manner, data storage is allocated space used for storing Salesforce records like Cases, Accounts, Notes, Events, Quotes, Leads, Opportunities, Tasks, and much more. And, Big Objects is the space that stores and manages your massive amounts of data on the Salesforce platform.
When it comes to storage limits, the Contact Manager, Group, Professional, Enterprise, Performance & Unlimited editions are allocated 10 GB for data storage, plus 20 MB additional data storage per user, and 10 GB for file storage. Only the Salesforce Essentials edition has 1 GB of primary file storage. Salesforce Orgs also offers additional file storage, decided by the number of standard user licenses:
The Enterprise, Performance & Unlimited editions receive an extra 2 GB of file storage per standard user license.

While the Contact Manager, Group & Professional editions receive an additional 612 MB of file storage per standard user license.
Also read: Top 3 Ways to Prevent Hitting the Salesforce Storage Limit in Your Org
Monitoring Salesforce File Storage: How & Why
Now that you are aware of the fact that Salesforce file storage limits your Salesforce Org, it's important to always keep a watchful eye on the primary file storage. To check the enterprise's storage usage, users can simply navigate to Setup & click Storage Usage to view the Limit, Amount Used, Percentage Used, and usage breakdowns of each storage type. Through this, users can also learn about the Top Users of each storage type.
In case your Salesforce Org's file storage limit is exceeded due to any reason, in most cases, Salesforce allows some buffer storage above 100% usage, usually up to 125-150% of the original storage. After even that grace storage is exhausted, new files & attachments will simply not be updated in the storage. This issue has the potential to result in the malfunctioning of critical CRM processes and the consequent disruption of vital business operations. In more severe instances, if the problem with file storage is not promptly resolved, it could put the continuity, growth, and productivity of the enterprise at risk.
In most cases when enterprises run out of their allocated Salesforce file storage, the admin receives a warning email from Salesforce instructing him to either clean up the Salesforce instance by deleting not frequently used files or purchase more file storage space from Salesforce. Deleting files might not be feasible for the enterprise because of various internal policies & external guidelines governing regulatory compliance & retention. And additional file storage may be out of the question owing to the hefty, recurrent costs ($5 per month for 1GB) associated with it.
Also, Read: 5 Effective Strategies for Organizing and Managing Files in Salesforce
XfilesPro: A Savior in Salesforce File Storage Issues
The limitations of the Salesforce file storage, the need to purchase additional storage, & the struggle to migrate important files from the third-party storage (being used before implementing Salesforce) can easily be resolved by integrating the Salesforce system with an external storage platform. This is where XfilesPro, an advanced file management & external collaboration application, emerges as a much-needed savior.
XfilesPro can easily help Salesforce users migrate their Salesforce files/attachments to any external Cloud or On-premise storage of their choice, thereby freeing up space in the primary file storage. The files/attachments can either be seamlessly stored in cloud platforms like SharePoint, AWS S3, Google Drive, and OneDrive or securely moved to different on-premise storages like SFTP, SMB & Network Drive. What's more is that XfilesPro future-proofs the file storage by optimizing it, brings down the file storage costs, & offers a more seamless file management experience in Salesforce.
If you also want to know more about the application with over 500+ customers & 500K+ licensed users across 15+ industries that enjoy seamless collaboration & multiple other benefits, then please get in touch with us. You can also schedule a quick personalized demo to see the application in action.