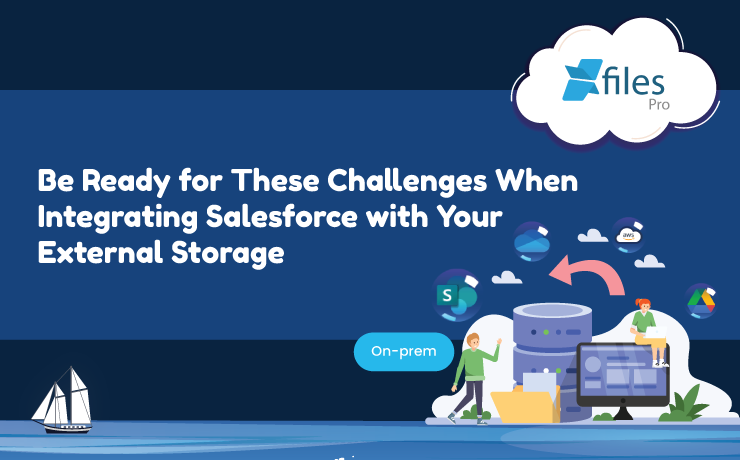 Your business is thriving. Your sales process and customer experience have been boosted. Now you want to further enhance your operations within Salesforce to take your business to the next level.
You start being on the lookout for applications that can streamline your processes. You invest massively in apps that you feel the right fits. But, there will be something that will set up the roadblock — their integration with Salesforce.
Most enterprises find it difficult to effectively integrate Salesforce with their external storage systems or applications in order to manage their data and files better.
Let's take a look at the common challenges that businesses face when integrating with external storage systems.
#1. Complex Configuration
Undoubtedly, integrating Salesforce with an external storage system will be challenging. If your external storage system comes with certain complexities, integrating it with your CRM app will pose additional challenges. For example, integrating Salesforce with legacy systems, enterprise resource planning (ERP) systems, or custom-built applications often necessitates the use of specialized connectors, middleware, or APIs to facilitate the integration process. So, to achieve effective and robust integration, you need to navigate the intricacies of these systems.
#2. Nonsupport for Salesforce Cloud Apps and 3rd-party Apps
If you use Salesforce, it's no surprise that you have several apps to streamline your processes. You must be having different Salesforce cloud apps such as Sales Cloud, Service Cloud, Marketing Cloud, etc. In addition to this, you will be having different external applications for varied business requirements such as XfilesPro DocuPrime for auto document generation. What if you can't experience a streamlined process with your supporting apps post-integration? Your efforts and money will go in vain. So, when integrating Salesforce with your external storage, it's crucial to ensure continued support for your Salesforce cloud apps and 3rd-party apps post-integration.
#3. Unable to Achieve the Maximized ROI
To integrate Salesforce with your external storage, you need to invest in a file management solution that should bank for your bucks. If the app asks you for annual maintenance costs or any other penny for unnecessary needs, it will break your bank and you can't get maximized ROI through it. So, your focus should be on leveraging the app to the fullest to receive an enhanced ROI from it.
#4. Violation Against Compliance Guidelines
Your compliance guidelines are stringent and you can't break them. You need to follow your regulatory demands even after the integration of Salesforce with your external storage system. The chances are high that you might not meet the guidelines as most integration apps don't support the external storage systems that your compliance demands. So, please be wise and ponder over the complications in your compliance before the integration takes place.
#5. Choosing the Wrong Application For Integration
All your efforts for a successful integration between Salesforce and your external storage would only succeed if you hire the right application for the integration. Investing in an inappropriate application is a common mistake businesses of all sizes mostly do. So, make sure you choose an app that helps you fill the right gaps, and set your integration on the right path. You need to find out an application that is scalable, cost-effective, not demanding maintenance charges, and meets your compliance requirements.
But it doesn't seem like a cakewalk to find one such application.
On that note, let us recommend XfilesPro, the #1 file management app for Salesforce. We can confidently say that this is where you can achieve peace of mind by forgetting the challenges discussed above.
XfilesPro is that pro app you need to seamlessly integrates your Salesforce with any of your external platforms without the need for an additional connector and by eliminating complex configuration challenges. This application helps you to meet your compliance guidelines by integrating Salesforce with your compliance-approved external cloud storage platforms such as SharePoint, AWS S3, Google Drive, and OneDrive as well as on-premise platform.
Also, Read: Top Seven Factors That Differentiate XfilesPro From Other File Management Solutions for Salesforce
And the added benefit is that once the successful integration is done, you can move the growing Salesforce files to your external storage so that your storage space will remain optimized. Since our app won't cost you any maintenance charge, you can gain maximized ROI as well.
Do you want to learn more about XfilesPro? Schedule a demo with one of our product experts.