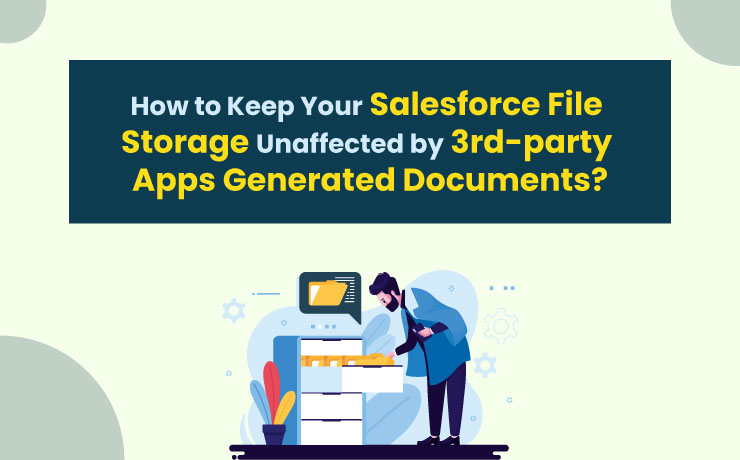 Imagine this scenario.
Finally, your dream of starting your own business sees the daylight. Your company hits the market, so you're keen on taking it forward. You ponder on all ways to start it in full zeal considering different aspects of a business. That is when you came across Salesforce, the #1 CRM in the world.
You embraced the cloud software to find more prospects, close more deals, and deliver a higher level of customer service. And, to make operations more streamlined, you purchase 3rd-party apps for automatic eSigns and document generation.
Now comes the hindrance. The 3rd-party apps create documents in huge volumes, heralding the exceeding of the Salesforce file storage limit. Obviously, the following consequence will be a drastic impact on the workflow.
If you have envisioned the scenario, think about your possible approach toward this challenge. How will you manage the documents efficiently without letting your Salesforce file storage be overburdened by it?
If you think buying additional storage space from the biggest CRM provider could be a solution, here's the warning — it might break your bank.
So, What's Next?
You need to push documents out of Salesforce!
You read it right. To optimize the Salesforce file storage space, you need to move the Salesforce documents that have been generated through 3rd-party applications to external storage.
So, the next question is how to do that.
The wise strategy you can adopt here is to hire an external document management solution for Salesforce. And, we have no recommendation other than XfilesPro as it's the most trusted and installed document management app for Salesforce today.
A Little Light on XfilesPro
The #1 document management app for Salesforce, XfilesPro leverages its rich industry knowledge of a decade to meet the document management challenges of CRM users. The application helps you to automatically move the Salesforce documents generated through 3rd-party apps to any of your preferred external cloud storage including SharePoint, Google Drive, OneDrive, and AWS S3 so that your Salesforce storage limit won't be exceeded.
What's Beyond Document Migration?
The magic of XfilesPro doesn't end by moving your Salesforce documents out of the CRM platform. You can also explore many other advancements as mentioned below;
Gives the Perfect Folder Structure You Always Asked For
XfilesPro offers a standout advantage, simplifying your life in a significant way. As Salesforce doesn't provide a built-in folder structure, XfilesPro empowers the users to create a folder format in the external storage to arrange files in a way that makes sense to their business. This helps the admins access files without any confusion.
Meanwhile, discover more about XfilesPro's Smart Folder Structure capability.
Your Files are Secure Like Never Before
Understanding your concerns regarding file security, XfilesPro leverages the Access Control functionality, helping you protect your files from unauthorized access in the external storage. With this, you have full control over who can view, edit, and download the transferred files, alleviating any concerns you may have about the security of your valuable data.
File Collaboration is Finally Sorted
XfilesPro recognizes the common frustration of waiting endlessly for multiple people to make modifications to a file. Because the extensive back-and-forth process can seriously hamper productivity. Understanding the gravity of this challenge, XfilesPro's Bi-sync functionality enables the real-time reflection of the modification made in Salesforce records on respective files in the external storage and vice versa. That means the internal teams can work on Salesforce files while external users can work on files in the external storage and have the changes updated on both platforms simultaneously. This ensures a real-time file collaboration experience like never before.
Learn how to revolutionize your Salesforce file collaboration with XfilesPro here.
Repeating the warning we gave you at the beginning of this article — buying additional storage space from Salesforce is never a budget-friendly choice for your growing business. Thanks to XfilesPro, you are no longer required to upgrade your storage space for a huge cost as the application moves your Salesforce documents to external storage, helping you optimize the storage space effectively without spending pennies.
The benefits of using XfilesPro to migrate the salesforce files generated through external apps don't end here. If you wish to learn how XfilesPro can prevent your Salesforce from hitting the storage limit, connect with one of our experts today.