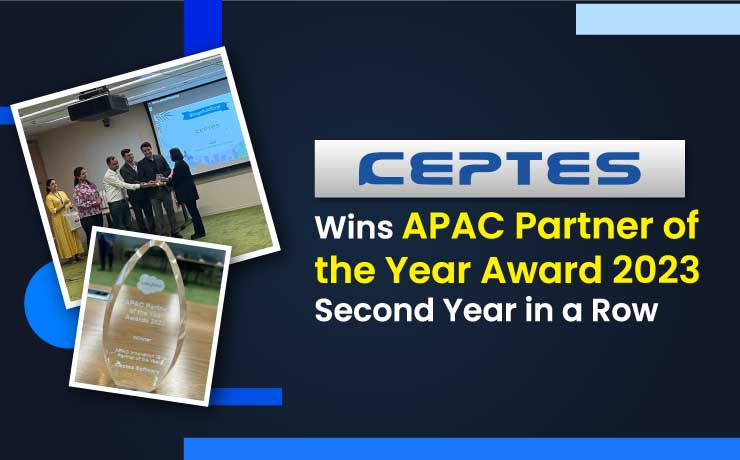 Hold on, 2023! We couldn't get enough of your wonders.
Before getting over the hangover of our massive victory at the Salesforce Partner Innovation Awards 2023, you showered us more love with another distinguished honor – the Salesforce APAC Partner of the Year Award 2023.
It's like the year of our dreams – filled with success, recognition, and endless possibilities. And, it's an incredible feat to receive one of the most prestigious recognitions for the second year in a row.
True, CEPTES is living everyone's Salesforce dream.
That being said, it's no longer a dream for us. It's been two consecutive years since CEPTES has worn the crown of the APAC Partner of the Year Award. Just like any partner of Salesforce, we wished to make it to the list ever since our beginning.
It was our years of hard work, perseverance, and commitment to excellence that paved our path to remarkable recognition for consecutive years. We took tremendous steps in the ISV innovation with two of our advanced product ranges XfilesPro and DataArchiva. While XfilesPro delivers an advanced document management platform combining file management and auto document generation apps for Salesforce, DataArchiva provides a fully-fledged data management platform. With next-gen apps for data archiving, backup and recovery, and seeding for Salesforce, DataArchiva delivers a comprehensive and complete suite to power up your document management experience in Salesforce.
With our applications raising the bar in the Salesforce ISV, we have received back-to-back awards in 2023, which made us fall in love with this year so deeply. We owe this incredible milestone to our employees, partners, and associates for their unwavering determination to our success around the clock. And, we can't button up this gratitude without giving a tip of the hat to Salesforce for their support and for being our number one cheerleader.
Once again, thank you all! Thanks, 2023 for being a significant period in our history.