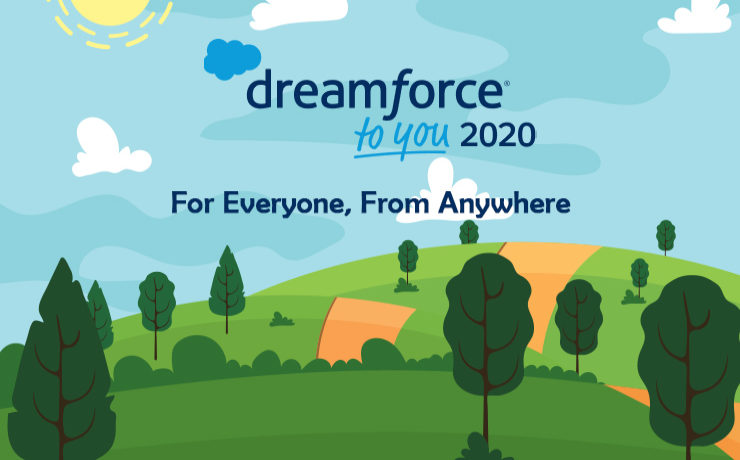 This past year, the world has changed drastically, same as the Salesforce Dreamforce event. Dreamforce, the biggest B2B Cloud carnival of the year is finally here and this time, it is coming to you.. to your city.. to your home. Trailblazers from around the globe will meet once again, albeit virtually. Even the global pandemic restrictions aren't going to dilute this year's event's fun, learning, and innovation and we are all set to be part of this grand fiesta.
Dreamforce '20 Personalized For You
For the first time ever, Dreamforce '20 will organize plenty of high-level personalized meetings which will shed light on the role of Salesforce Customer 360 and how the platform can be tailored to meet the business needs. Starting from 9th November, experts will reveal how different departments can be connected to offer a single source of truth and will enable organizations to deliver exceptional customer experiences from anywhere.
The Inspiring Keynote by Marc Benioff
Salesforce CEO Marc Benioff, accompanied by the special guests from the State of Rhode Island, AT&T, and Bentley Motors, are scheduled to address the attendees on 3rd December. They will share various inspirational stories about the learning and success of Salesforce users in this challenging year. During the keynote, Trailblazers from around the globe will also celebrate the success of leading companies in the new work-from-anywhere scenario. Marc will also showcase new-age digital innovations such as Salesforce Customer 360 that have been transforming enterprises everywhere.
The First Ever DreamTX Event
Over a period of four days, from 15-18th December, Dreamforce will organize DreamTX when the entire Ohana will come together. This event will be dedicated to all-round learning with personalized content, insightful demos, and innovative guest sessions. With the promise to have 'something for everyone', DreamTX will offer insights to users from every line of business and every industry. It will also have powerful stories of how successful companies worked during the pandemic and the superpower of Customer 360. Users can also share their knowledge with other Trailblazers and be entertained by some surprise guests.
Down the Dreamforce Memory Lane with CEPTES Software
Over the course of previous Dreamforce events, we have always maintained the focus on XfilesPro in addition to our other solutions, DataArchiva and DataConnectiva. Through them we have met new people, we found customers and partners, but most importantly we learned that which made us what we are today. Being a regular Dreamforce attendee, we have also taken part in customer success expos where we showcased all our flagship solutions. We can proudly say that we secured many of the customers for XfilesPro from these Dreamforce events who use it to take care of their file management and external collaboration needs.
'Dreamforce to You 2020' with XfilesPro
The XfilesPro team is totally cranked up for the biggest cloud carnival of this year. As we actively participate in 'Dreamforce to You 2020', we promise to bring all the live actions, news, and announcements about the event to you. Do join us for some amazing product announcements about XfilesPro that are sure to completely revamp your file management experience in Salesforce.
To make your Dreamforce 2020 memorable, we have launched a 'Wheel of Fortune' contest. A plethora of exciting product offers and deals can be availed by spinning the wheel and trying out your luck. So, what are you waiting for? Give it a whirl here.
Something Big Is About to Happen
DataArchiva in 2018
DataConnectiva in 2019
So, what's next?
During the last two Dreamforce events, we have been introducing new products. And we intend to keep the journey going this year as well. Even the COVID-19 pandemic could not hamper our product innovation and we are all set to introduce yet another solution that will help Salesforce enterprises address their end-to-end data management requirements. After the immense popularity of our data archiving options, both native and external, we proudly introduce our enterprise data backup solution for Salesforce. Stay tuned for more updates.
Not signed up for Dreamforce yet, don't miss out on all the fun & learning opportunities. Sign up now.