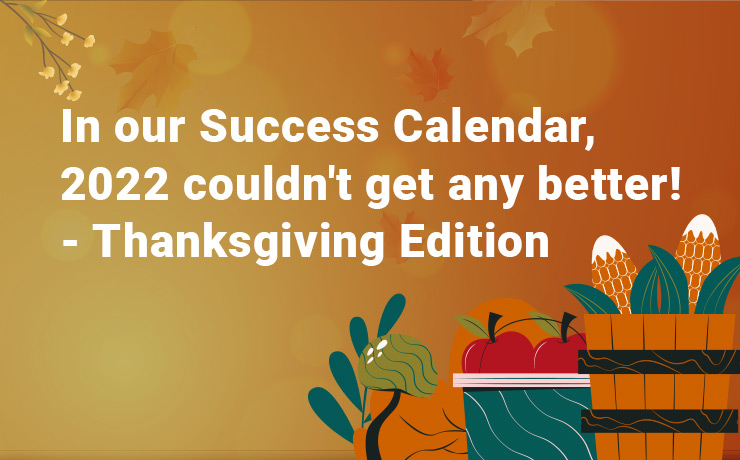 XfilesPro was bound with blessings this year. 2022 turned out to be a good year than we expected it to be. We came across several ups and downs but this time, the grass was greener on our side. This was the year wherein ordinary opportunities were turned into blessings. We started off the year with a long list of challenges. What would life be like if there were no inner demons to face right? But as the saying goes "No Pain, No Gain", we moved mountains to reach where we are now.
This Thanksgiving season, we are taking the opportunity to thank all our customers and partners who have helped us to come this long way and reach our destination of success. This could not be stressed more because nothing would have been possible if we did have our amazing customers who have been there for us for a very long time.
We have had an excellent array of partners lined up to help us take XfilesPro to the next level. This will eventually help us to serve more customers with a better reach. We are more than thankful for all our partners teaming up and collaborating with us.
2022 was the year wherein the maximum number of customers was onboarded. We entered several markets and industries. Complex file management challenges were sorted out and deciphered which lead to accelerating the business growth of several of our clients. This was the year wherein the maximum number of features such as Folder/File Syncing, and SharePoint Tagging were included in XfilesPro. FiDo was our newest addition to the family hailing to be the product mascot. Lately, we entered into the world of auto document generation with XFP's new app
Our most innovative and fast-moving product, XfilesPro turned 9 years old this year. Looking back at its success, we were completely flabbergasted and happy at the same time. XfilesPro still continues to be the number 1 application for file management in Salesforce on AppExchange. The act of thanking people who have been on your journey only increases the potential to gain more. This is a perfect example as we were awarded the below awards as a testimonial of our ingenuity and delivering what we promised.
APAC Partner of the Year 2022 (ISV Innovation Category)

Partner Innovation Award 2022 (ISV Innovation Category)

Salesforce India Partner Ideathon Award 2022
Such awards boost our confidence and give us more strength to come up with phenomenal record-breaking ideas. Salesforce has helped to a great length and has been a leading light in helping us to reach where we are today.
One advantageous thing is that the ball of creativity is always in our court. It is up to us to carve it out and throw it to our present and potential customers. We are always keen on how we work and the excellent team working with us has helped us reach these feats.
During Thanksgiving, just like how a food coma leaves you standstill for a while, if your Salesforce is vulnerable with the increased storage, optimize it with XfilesPro and get it cracking like before. There is nothing that XfilesPro can't do when it comes to filing management and storage optimization. This is a perfect win-win situation for you as well as ourselves. Why wait, Schedule a call with our industry experts and avoid this uphill process of deleting or moving the files manually to external storage and come out of the wash.