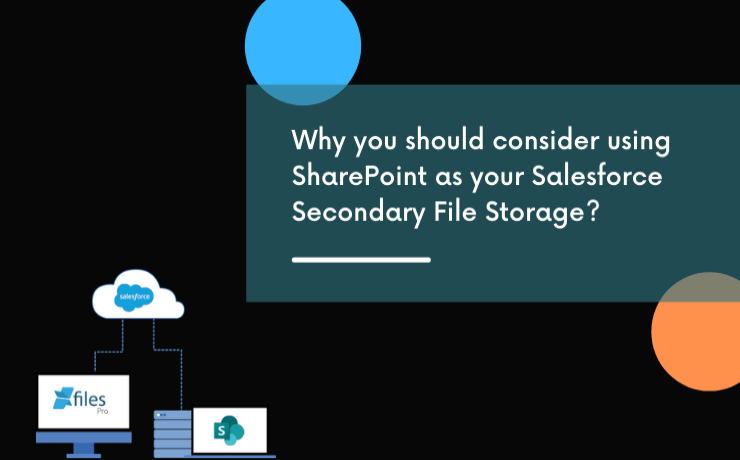 On a day-to-day basis, Salesforce enterprises produce loads of diverse content, including documents, images, videos, emails, and web content. And all of them are usually stored as files in the Salesforce file storage. But organizing and managing such massive amounts of content is a seriously cumbersome task. For the ease of the users, there are some means for Salesforce document management offered by Salesforce itself.
Even though Salesforce performs all possible activities of storing, processing, assessing and analyzing the customer database & providing productive feedback, in reality the SaaS CRM platform was not aimed at managing the documents created and stored on the system. Being notoriously in-famous for the low available Salesforce file storage doesn't help its case either. For this reason, many companies look outside for enterprise content management (ECM) softwares that are specifically designed to help large businesses.
Enterprise content management or document management (EDM) systems come as a boon for Salesforce enterprises that create and consume a lot of files and documents. These systems can very well be integrated with Salesforce which makes it easier to use both the systems simultaneously. SharePoint, a Microsoft-powered document management system, is one such popular solution that enterprises rely on for managing and securing their Salesforce files.
But before we discuss the integration of Salesforce with the SharePoint system any further, let's first understand what exactly is SharePoint.
What is SharePoint?
To begin with, SharePoint is a web-based collaboration platform that is primarily used as a document management and storage system, but is extremely configurable and can be used for various purposes depending upon the circumstances. Launched by Microsoft in 2011, SharePoint uses workflow applications, "list" databases, & other web parts and security features to empower teams to work together.
Being one of the most popular Salesforce document management & storage platforms in the market today with over 100 million users worldwide, SharePoint offers storage, retrieval, searching, archiving, tracking, management, and reporting of electronic files and documents. SharePoint also gives Salesforce enterprises the ability to control access to the stored information and automate workflow processes across all business units.
Benefits of Using SharePoint
Ease of Use

: For a web-based collaboration platform, SharePoint is relatively easy to maintain and, at its fundamental level, is extremely easy for enterprise users to understand and implement.

Utilitarian Features

: With most of its features being centered around an intranet-based cross collaboration experience, SharePoint enables secure sharing of Salesforce files, top-notch Salesforce content management & smooth workflow collaboration.

Personalized Experience

: SharePoint is also an extremely customizable and massively scalable platform with various different ways it can be utilized to increase productivity and gain more return on investment (ROI).

Low Costs

: The set-up as well as utilization costs involved in SharePoint-based integration is very affordable when compared to other ECMs or purchasing more Salesforce user licenses.

Constructive Consequences

: Use of SharePoint facilitates increased productivity and visibility for Salesforce files and information to users across all departments.
Also read: Salesforce-SharePoint Integration – How to Transform your Salesforce File Storage Needs
SharePoint for Salesforce File Management
Simply put, when the native Salesforce collaboration tools (Salesforce Chatter, Salesforce Files, Salesforce CRM Content, Salesforce Knowledge, Documents & Attachments) are efficiently used, cross-departmental collaboration and Salesforce document management can be established even without using SharePoint. But it is not very effective because of two main pitfalls: hefty license & Salesforce file storage costs and restricted collaboration capabilities for non-Salesforce users.
The optimal solution in such scenarios is choosing to use Salesforce as the CRM platform while integrating with SharePoint to attain seamless enterprise collaboration. In this way, cross-departmental collaboration can occur in the intranet part of SharePoint while the extranet accommodates collaboration with external (non-Salesforce) users, like customers and partners. Thus companies can easily use SharePoint to not only overcome the Salesforce limitations but also get additional document management features.
Also read: Document Management in Salesforce: A Brief Introduction to its Best Practices
For hassle-free Salesforce document management, SharePoint facilitates the use of metadata in files in order to properly sort, organize and keep track of the content owned by Salesforce enterprise. More importantly SharePoint also affixes tags onto files and content as different users upload them to collaboration spaces which leads to easy distinction among files. It can also make end-users provide some metadata about the Salesforce documents in order to make Salesforce content management even more seamless.
Advantages of Salesforce-SharePoint Integration
Cost-savings are perhaps the primary reason why most Salesforce using organizations opt for SharePoint and Salesforce integration. With this integration, they can enjoy a full-fledged collaborative work environment across all departments without having to spend a fortune on licenses. In addition to this, the integration also improves the Salesforce document management capabilities.
Also read: Leading Engineering & Construction Firm Specializing In Life & Health Sciences Uses XfilesPro & Smoothly Manages Salesforce Files Using Sharepoint
Below we elaborate seven specific benefits the Salesforce-SharePoint integration brings to the table in addition to cost savings & better Salesforce document management:
Storage for Big Files

: While Salesforce doesn't possess the ability to store large size files and documents, SharePoint commonly provides storage for files as big as 50 MB or larger. Therefore an integration between the two systems would eliminate Salesforce's file size constraints and leverage the storage.

Real Time Availability

: After the Salesforce file storage is integrated with SharePoint, all files and content are available for use in real-time & are also continuously synchronized in SharePoint storage.

Document Versioning Control

: SharePoint automatically handles the file versioning for all files, attachments and documents that originate in Salesforce which gives admins more control over what documentation is being sent to the clients & partners and ensures only relevant documents are being delivered.

Single view of all Salesforce files

: In Salesforce-SharePoint integration, SharePoint seamlessly supports easier Salesforce file management by enabling file hierarchies and breadcrumbs. It is important to note that all interactions with the newly stored files are via the Salesforce interface.

Increased Efficiency

: The Salesforce-SharePoint integration essentially embeds the SharePoint functionality directly onto the Salesforce platform. This gives users a seamless UI/UX experience as they interact with Account, Contact, Opportunity or Project pages, which in turn enables them to be more productive throughout the day.

Enhanced Security

: Salesforce enterprises that integrate SharePoint with Salesforce can easily customize access controls which ensures that users will only see those SharePoint-hosted files and content which their individual SharePoint credentials entitle them to see. Thus by restricting unlimited access to all Salesforce documents, SharePoint improves the security.

Reduced Costs

: And finally, storing files in Sharepoint is far less expensive than storing those same files in Salesforce file storage. Therefore, integration between SharePoint & Salesforce significantly reduces the Salesforce file storage costs.
How XfilesPro Facilitates Salesforce-SharePoint Integration
Currently there are several means through which the Salesforce-SharePoint integration can be brought about. The first tool that pops into mind is definitely the Salesforce Files Connect framework that allows users to set up the integration themselves with simple point-and-click tools. But it comes with its own share of issues like bulky documentation, security issues, & limited functionalities.
The other option is to design a custom-built integration application that can handle the nuances of Salesforce-SharePoint integration. But even this can be a costly, time-taking and tedious process. Lastly, enterprises can look for integration applications listed on the Salesforce AppExchange that can simply be installed and implemented by the Salesforce admin himself.
One such AppExchange integration application is XfilesPro which is designed to help Salesforce admins seamlessly collaborate and store files in SharePoint. The application offers a 360-degree Salesforce file collaboration feature which simplifies the overall process of Salesforce-SharePoint integration. XfilesPro's centralized content management system, auto-export (file archiving) functionality, intelligent file/folder hierarchy management, bulk file handling capabilities, multi-org file integration, & large volume file migration further streamlines the SharePoint integration.
Also read: How to Store Salesforce Files in External Storages using XfilesPro: Steps to Follow
By making use of XfilesPro's unique file management capabilities, Salesforce admins stand to reduce their file storage costs significantly, in some cases by up to 70%. In addition to SharePoint, XfilesPro can also be used to integrate the Salesforce system with various other external file storage systems like the cloud-based Amazon S3, OneDrive, Google Drive, & Dropbox and on-premise SMB, SFTP, and Network Drive.
To know more about this highly customizable & admin-friendly application and how it supports Salesforce-SharePoint integration, get in touch with us or schedule a quick demo here.
Watch This On-demand Webinar
Integrate SharePoint & Salesforce Using XfilesPro - An Advanced File Management & Collaboration Solution For Salesforce