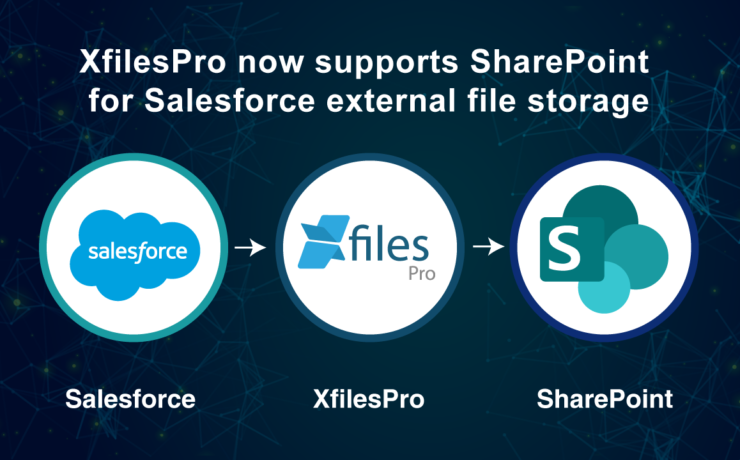 XfilesPro has added SharePoint as an external Cloud storage option for Salesforce users. Now Salesforce users can upload files & attachments to SharePoint without impacting the user experience in order to reduce file storage costs with seamless integration & collaboration.
As a leading external file storage & collaboration solution in the AppExchange for Salesforce, XfilesPro is being used by over 200 companies from varied industries. With the addition of SharePoint, the application now supports 5 Cloud storage systems including AWS, Google, Dropbox, OneDrive & SharePoint. Apart from this, XfilesPro also supports multiple On-premise storage systems such as SMB Windows Share, FTP & FILE.
Limited file storage & high recurring storage costs have been a huge challenge for Salesforce customers. With XfilesPro, Salesforce files and email attachments of any size can be stored in external storage systems automatically without affecting the user experience. This results in storage cost savings and improved performance. SharePoint has a huge user base of over 100 million users worldwide, with an average of 20,000 new users added each day; it is used by over 78% of Fortune 500 companies. Looking at the demand, we have added SharePoint in our upcoming release.
With its impeccable capabilities such as customized folder hierarchy, file import/export, templatize folder structure, file sharing, multi-file upload, and many more, XfilesPro has been the first choice document management solution for Salesforce. We have successfully implemented the application in 15+ industries including BFSI, Manufacturing, Healthcare, Hi-Tech, Non-Profits, Education, Law, Retail & Ecommerce. XfilesPro now also supports the Salesforce Professional Edition.
Get in touch with us for more info. If you want to store your Salesforce files & attachments in SharePoint, please Request a DEMO now.
ALSO READ: A Look at XfilesPro's Top Features & Benefits – Your Solution for Limited Salesforce File Storage Challenges