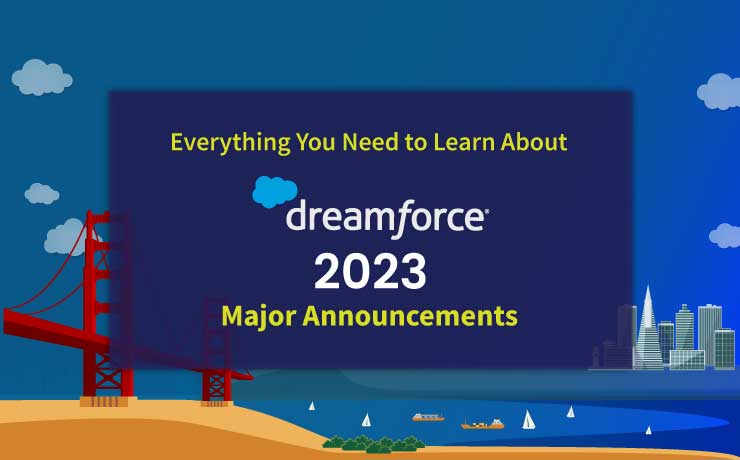 Dreamforce 2023 is done and dusted. The year-long wait for the largest AI event powered by Salesforce served everything that the largest global tech community deserves. With the three days of the event gathered hundreds and thousands of Trailblazers, and through the 1,500 sessions they hosted, the chanting of Data + AI + CRM + Trust was in the air.
In this blog, we unpack the highlights of Salesforce's flagship conference, the top announcements, and how we relished each moment of it.
#1. Einstein 1 Platform
Salesforce took the global community by surprise through the relaunching of the Einstein 1 Platform. It's made to showcase the significant enhancements for both Salesforce Data Cloud and Einstein AI capabilities, all of which are seamlessly integrated into Salesforce's fundamental metadata framework. This trusted AI platform, designed for customer-centric businesses, empowers organizations to securely connect diverse datasets and create AI-driven applications with minimal coding, ushering in innovative CRM experiences.
Remember, Everyone is an Einstein Now!
#2. Einstein Copilot
It was phenomenal to introduce Einstein Copilot as a booster of productivity! Salesforce brought a brand-new, reliable, and readily available conversational AI assistant seamlessly integrated into every application's user interface. Einstein Copilot enhances productivity by providing real-time assistance to users as they navigate their workflow. It allows them to ask questions using natural language and receive accurate, dependable answers derived from secure, company-specific data sourced from the Data Cloud.
#3. Einstein Copilot Studio
Within Einstein Copilot Studio, Adminis and other Salesforce professionals wield a unique combination of authority and customization. Here, you have the ability to harness the potential of generative AI to enhance user productivity while maintaining full control over its implementation. Also, you can decide which processes benefit from generative AI and precisely define the scope of prompts to ensure a tailored and effective user experience.
Develop prompts that can be reused and are linked to both company and customer data.
Prompt Builder:
Develop prompts that can be reused and are linked to both company and customer data.
Skill Builder: Empower Copilots with additional abilities to serve you.
Model Builder: Provide versatility in choosing AI models, which may involve partnerships with Anthropic, Cohere, Databricks, Google Cloud's Vertex IX, and OpenAI.
#4. Free Data Cloud And Tableau Licenses
The announcement for free Data Cloud and Tableau Licenses was a game-changer moment for many Trailblazers. The free licenses are now accessible to customers using Enterprise, Unlimited, and Unlimited Plus editions. So, there's no need for a purchase to access Data Cloud Everywhere, which includes up to 250,000 data service credits.
#5. Data Cloud Triggered Flow
For years, we have been building automation using Salesforce Flow, typically activated by specific actions like data modifications. However, today, as Data Cloud is seamlessly integrated into the Einstein 1 platform, we can now fuel automation with dynamic data originating from Data Cloud. This includes real-time data as well as data from a multitude of diverse systems. This particular type of Flow initiates when the conditions tied to the Data Cloud Data Model Object (DMO) or Calculated Insight Object (CIO) are accomplished.
Wooo… It seems like Dreamforce 2023 was more epic than ever! With major announcements that blew Trailblazers away, DF23 is going to be the talk of the town for some time now.
Like every year, the presence of
team XfilesPro at Dreamforce 2023
was obtrusive this year as well.
And the best part was that followed by last year, we received Salesforce's Partner Innovation award 2023 just before the DF23 magic began. And, the fun was doubled this time because we were recognized for not one, but two prestigious ISV categories.
Industries – Communications (ISV) for the product DataArchiva
Emerging Tech – Customer 360 (ISV) for the product 200 OK
That was awesome! With the pride of PIA23 and the brimming excitement for the reunion of Trailblazers, we relished the AI-powered innovation at San Francisco. We met with innovation seekers, partners, and customers at the APAC Lounge and paved new paths to a bright future, together.
Like any year, Dreamforce has been an experience like no other this year as well. We will cherish the amazing moments we had with the global trailblazer community.
Until next time, see you!