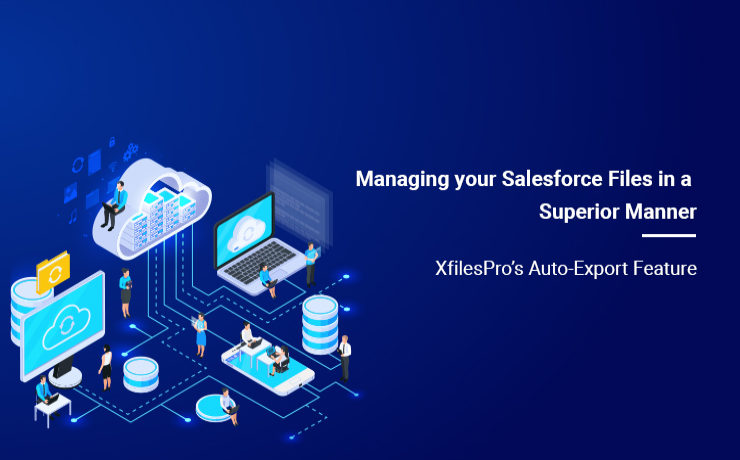 Managing the immeasurable number of files and attachments in the Salesforce Org becomes a hassle for most of the enterprises. XfilesPro is one of the top AppExchange applications for file management and external storage collaboration that lets enterprises seamlessly store and collaborate their Salesforce files and attachments with various external storage solutions such as OneDrive, Google Drive, SharePoint, Amazon S3, DropBox and many more.
This application performs exceptionally well with Service Cloud, Experience/Community Cloud, Sales Cloud, and Salesforce Platform. This highly customizable and admin-friendly application helps Salesforce customers not only reduce their file storage costs significantly (nearly up to 70%), but also seamlessly enable 360-degree file collaboration including integration with various external storage systems.
Enterprises can also experience a centralized content management system, efficient file and folder hierarchy management, multi-org file integration service, capacity to undertake large volume file migration as well as community portal collaboration.
Learn more about XfilesPro's file management capabilities.
Usually when enterprises implement XfilesPro for managing the files in their Salesforce Org, they are burdened by an enormous amount of such files and attachments, sometimes over 100 GBs. Upon successful implementation of the application, using the Limitless Initial Offload feature they move these files to their desired external storage platform, at once. But after this initial offload, the subsequently generated files and attachments have to be monitored and periodically moved to the external storage.
To ease the burden of a Salesforce admin and to do away with the constant regulation and supervision of files, XfilesPro introduced the Auto-Export feature. With this feature, the XfilesPro application itself takes care of the Salesforce files and periodically moves them to the external storage system integrated with the Salesforce application. This can be done on an hourly, daily, weekly or monthly basis or at the end of the day, or even weekly; as is deemed necessary by the Salesforce admin when he sets the batch and time interval for the file export process.
There are several advantages of this feature:
No Manual Intervention

– The application automatically takes care of the file export process, which cuts back the need for any kind of manual labor.

No File Limitations

– Due to this feature, XfilesPro can manage millions of files and records without any difficulties.

No Supervision Required

– As the entire process is automatic, no supervision from the Salesforce admin is required, which gives him sufficient time to focus on other things.

One Time Execution

– The batch and time interval for the export process has to be set only once, after which the application manages the files automatically, based on the set parameters.

Enhanced Security

– In case of any process failure

which is rare

,

files will not be lost

as XfilesPro engine smartly handles and re-initiate migration of those files

.
If you want to know more about the Auto-Export feature or about the XfilesPro application, please get in touch with our system experts here or set up a free demo here.