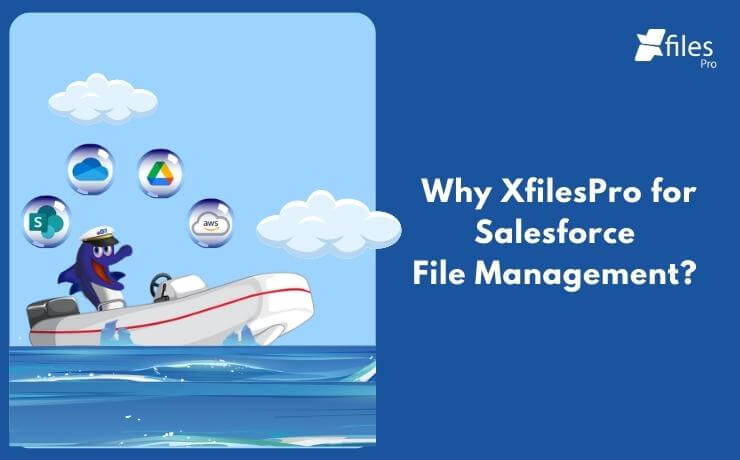 When facing any challenges related to file management in Salesforce, AppExchange is the first place you will reach out to. You will search for the best 'file management' solution in the biggest enterprise cloud marketplace. We can tell beyond a shadow of a doubt that XfilesPro will be the first result that comes in the search. Similarly, if you conduct Google research for the same, you will the name XfilesPro appears on the first page.
That means, XfilesPro is a solution that comes at the top for your Salesforce file management needs anywhere and everywhere. Seeing the popularity of XfilesPro in the Salesforce ecosystem, if you have ever wondered why XfilesPro reigns supreme, we're here to help. Reading through this blog, you will learn why Salesforce users have preferred XfilesPro for more than a decade over any other application to streamline their file management experience in Salesforce.
#1
.
Support Multiple External Storage
XfilesPro understands your compliance guidelines just as you. XfilesPro understands that your regulatory demands won't let you migrate files to every platform other than a few. So, XfilesPro offers support for multiple external file storage platforms to deal with your policies. The application establishes a seamless integration between Salesforce and your preferred external cloud file storage platforms including Amazon S3, SharePoint, Google Drive, and OneDrive. The best part is that XfilesPro also supports your on-premises platforms to store the migrated files.
#2. Advanced Features for SharePoint Users
If you already have SharePoint as a file storage platform or if you have been pondering owning the same, XfilesPro is the #1 file management app you can invest in. XfilesPro supports advanced SharePoint capabilities to help users to get the most out of their SharePoint platform. Here're a few;
Tagging

: Leveraging the

Tagging

capability of SharePoint, XfilesPro helps you tag your content against specific columns in the external environment. This will help the users to learn about the content that a file carries without opening it.

Version History:

Your files will be accessed and edited by different users. It's so obvious. However, the chances are high that you will get confused after the collaboration of multiple users on the same file. Because you want to know who made what changes. With version history, you can track the changes for easy processes and understanding.

Template Creation:

This is another advanced capability to eliminate manual work. With XfilesPro, you can automatically create sub-folders upon every template creation in SharePoint (if you wish to). This will help eliminate employees' effort to create sub-folders manually.

File Syncing:

XfilesPro helps you mirror the changes that you make on the files in SharePoint in respective Salesforce files and vice versa. This is possible through XfilesPro's advanced

Bi-sync Component

that helps you reflect the changes on files in both platforms.
Also, Read: Why XfilesPro Is The Most Preferred App To Connect Salesforce & SharePoint For File Storage
#3. Trusted by 500+ Customers Globally
Be it legal, healthcare, manufacturing, education, or real estate, organizations across a wide range of industries from different geographical locations are today using XfilesPro to better manage their Salesforce files. With next-gen capabilities that can streamline their process within the CRM platform and elevate the file management experience, XfilesPro has crossed the milestone of catering to the needs of 500+ customers today.
Here's some of the feedback from our esteemed customers from different industries.
Also, Read: One Of The Largest Global Manufacturers Leveraged XfilesPro To Move 40TB Of Salesforce Files To SharePoint
#4. Excellent Support
XfilesPro's support team works day in and day out to fulfill the needs of customers. They work around the clock to ensure that the customers are processing very easy and efficient operations with our application. Below are some of the five-star rated reviews XfilesPro has received on the AppExchange that mentions the unwavering support offers by of our teams.
#5. Capabilities Beyond File Management
XfilesPro is not all about efficient file management in Salesforce. It's even beyond that. There are a lot of capabilities that make XfilesPro a cut above the rest of the competition in the market. Let's see the features other than Bi-sync Component, Template Versioning, and Template Creation that XfilesPro provides to users.
Storage Space Optimization:

XfilesPro is the top application every Salesforce Admin deserves to have in their hectic work schedule. To prevent the storage space overload in Salesforce that happens due to unmanaged file growth, XfilesPro migrates your files to any of your preferred external storage (Amazon S3, SharePoint, OneDrive, Google Drive, and On-premise as discussed at the beginning of the article) automatically so that you can keep the storage space freed up.
Also, Read: US Logistics Services Company Took Precautionary Measures To Never Run Out Of Salesforce File Storage Limit With XfilesPro
Customized Folder Structure:

As Salesforce comes with challenges to create a preferred folder structure, XfilesPro tackles this challenge by allowing you to create a custom folder structure in the external storage that makes sense to your business.

Community User Support:

Just like the support for Standard Users, XfilesPro provides support for Salesforce Community users and manages the files uploaded by them very efficiently within the CRM application.
#6. High Return on Investment
As XfilesPro eliminates the need for buying additional storage space from Salesforce as well as an extra integration tool to connect between Salesforce and external storage platforms, customers can save a lot of pennies. Moreover, with the power of automation that pushes files out of the production org, the application empowers the users to focus on their strategic goals, which can enhance productivity.
And, there are a lot of other capabilities that will prompt you to choose XfilesPro to manage your Salesforce files in a modern way.
If you wish to learn more, schedule a demo with one of XfilesPro's product experts.