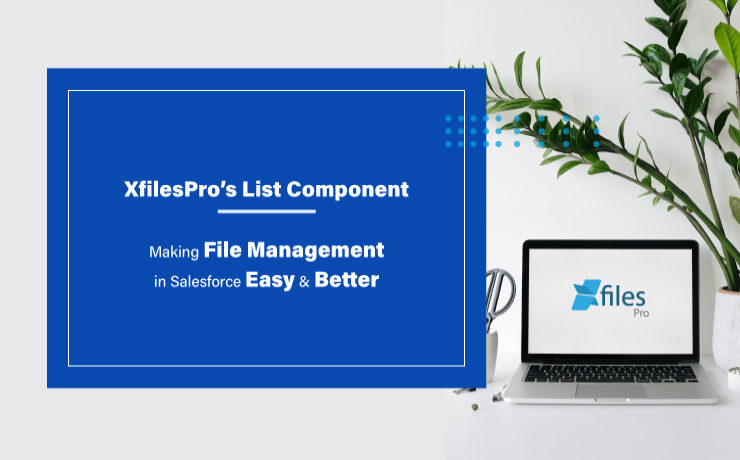 Our application, XfilesPro, was launched back in 2013 to help Salesforce customers around the globe easily manage the innumerable amount of files & attachments in their Salesforce Org. Following that, we have constantly released subsequent versions of the application where new features and capabilities have been added to improve the overall experience.
To define XfilesPro, it is an advanced file management & external storage collaboration solution for Salesforce which makes managing files in Salesforce extremely hassle-free. Being one of the top AppExchange applications for file management, it lets enterprises seamlessly store and collaborate their Salesforce files/attachments with various external storage solutions such as SharePoint, OneDrive, Google Drive, Amazon S3, DropBox as well as in different on-premise storages.
Using XfilesPro, Salesforce customers can not only reduce their file storage costs significantly (by nearly up to 70%), but also seamlessly enable a 360-degree file collaboration, involving integration with various external storage systems. Not only this, our highly-customizable application performs exceptionally well with Service Cloud, Sales Cloud, Experience/Community Cloud, Salesforce Platform, and other custom made solutions built on the Force.com platform.
Recommended reading: XfilesPro V6.0: Assess & evaluate all that's brand new
This article is intended to make Salesforce users aware of the unique List component of XfilesPro. XfilesPro's List component is a kind of related list component that can be added to the record layout and acts as an alternative to standard Salesforce Attachments/Files related list. The List component console 'lists' down the names and certain details of each file that is moved to the integrated external storage, while offering an option to preview those migrated files from within the Salesforce UI.
One of the primary benefits is that when making use of the List component, the Salesforce files uploaded are directly moved to the respective external storage without consuming any of the internal Salesforce file storage. Below mentioned are some of the other prominent features of the List component of the XfilesPro application:
File Uploading Functionalities :
Point & Click Upload

– When using the List component, XfilesPro offers simple point & click functionalities to its users which allows them to simply select their desired file/attachment and then click on the button for their desired action: upload, delete, download, etc. They work well for both single as well as multiple Salesforce files at once.
Drag and Drop Upload

– Another way of uploading Salesforce files/attachments in the List component of XfilesPro is by directly selecting the file and then dragging & dropping it to be uploaded.
Mass Upload

– Lastly, when using XfilesPro's List component, the users also get the option to upload multiple files/attachments at once in a single click. Here it is important to remind that there are still some file upload size limit in different external storages.
Note: After uploading files in the List component, they will still be accessible from the component. However, they will actually reside in integrated external storage.
Mass File Functionalities :
Mass Download

– Using the mass download functionality of XfilesPro in the List component, the users will be able to select multiple files & attachments at once and then download them by clicking on the download button. Following this, these files will be downloaded in the form of a zip file.

Mass Share– XfilesPro's List component also allows Salesforce users to select multiple files/attachments to be shared within the system or with someone outside of the Salesforce system. For this users simply have to select their desired files, then click on the share button and the files will be shared in the form of an email.
Mass Delete– Another exciting feature of XfilesPro's List component is its functionality to mass delete multiple files and attachments in a single click. Users have to just select those specific Salesforce files and then click on the delete button after which the files will be permanently deleted from the system.
Manage Columns: Using the List component of XfilesPro, it's extremely easy to include and manage additional columns on the component. The users simply have to decide and select the columns that they want to add to the component and then click on the apply button, after which the columns can be seen on the List component.
Add Notes : When using the List component of XfilesPro, adding special notes to the Salesforce files and attachments is not only possible but also very easy. For this, users just have to click on the 'Add Note' button, following which they can add whatever text they want to put as the description for that specific file. That note will be then added to the Salesforce file as its metadata.
Download & Delete : Even downloading or deleting specific Salesforce files and attachments is straightforward and trouble-free when using XfilesPro's List component. To do this, users simply have to select that specific file and click on the button for their desired action, after which that file will either be downloaded from the console or be deleted permanently.
We hope this article helped you understand the List component as well as its various functionalities in a better manner. In case you still have any questions or doubts, we'll be happy to resolve them for you. Please get in touch with us or simply schedule a quick live demo here to see everything for yourself.