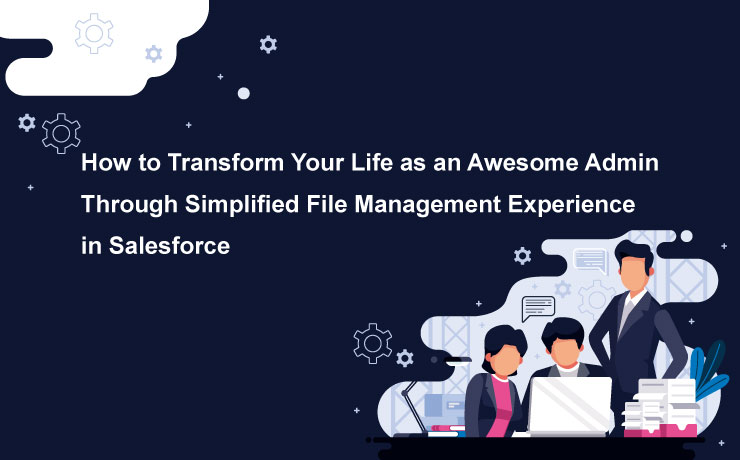 A Salesforce Awesome Admin is the conductor of automation, orchestrating a symphony of efficient processes, eliminating manual tasks, and enhancing productivity across the board.
Nothing can beat how Ohana glorifies awesome admins.
But do you really think the life of an Awesome Admin is awesome as it seems?
A big NO from our end!
We know the struggles of juggling multiple balls to accomplish complex tasks. Indeed, efficient file management within the Org is one such complex task for them. We learned firsthand that managing the growing volume of Salesforce files is one of the most difficult tasks that they perform on a daily basis, which poses an impact on their productivity.
But we want to help them. Let's discuss some of the most effective ways that will simplify how Awesome Admins manage Salesforce files.
Sort Files into Proper Folders
You can't expect to achieve a streamlined workflow if your files are scattered within the Org. Unorganized files cause challenges including uneasy file access and a very confused workflow. Also, keep in mind that your files are going to grow per day, which you can't help with. So, it's imperative to categorize files in folders that make sense to your business. Since Salesforce doesn't provide an option to have a proper folder structure, you can choose an external file management solution that is proven for its customized folder structure capabilities.
As we just discussed, you can't manage the volume of files that is going to grow by the day. Imagine the troubles that a single file search will create considering the large volume of files in the org. It will be nail-biting. The scenario is even scarier when it's an emergency. That's why naming files with relevant data is critical. So, following a consistent method of naming your files is recommended for better search, sort, and filter processes. SharePoint Tagging is an example of how naming or tagging files can ensure smart and streamlined operations with easy access to files.
Enable Automated File Syncing
Every time a file gets formed in Salesforce, it's necessary to sync it with relevant folders. However, maintaining file synchronization across multiple systems and devices is tedious and time-consuming. It will kill the admins' productive hours. This is where automation comes into play. You can consider a file-syncing tool that can automatically sync your files with respective Salesforce records so that you can rest assured about a highly consistent workflow. Not only the consistency, but automated file syncing also saves your time and minimizes the potential for outdated or conflicting file versions.

Bolster Security Measures
Nobody wants to teach a Salesforce Admin how critical their Salesforce files are. Files are that important for an Admin just like data. Because files hold valuable information that can't be exposed to potential risks. So, ensuring file security through advanced functionalities such as access control and encryption can be a great stride that will give you peace of mind. Not only security, but such advanced capabilities can also maintain the confidentiality, integrity, and accessibility of your files.

Emphasize File Collaboration and Versioning
When talking about modern file management in Salesforce, we can't leave unsaid the fact that efficient file collaboration stands as the bedrock of Awesome Admins' success. Salesforce offers various collaborative options including Chatter and file sharing, empowering teams to work together and communicate in real-time seamlessly. Leveraging any of these options, admins can perform very fast and transparent operations.
When it comes to file versioning, you can either make use of Salesforce's version control capabilities or that of a third-party file management solution that diligently monitors file modifications, track revisions and uphold a transparent audit trail. With these measures in place, you can foster a culture of collaboration while ensuring the reliability and security of your files.

Also, Read: Revolutionize Your Salesforce File Collaboration with XfilesPro: Key Benefits
Move Files Out of Salesforce and Keep Them Externally
It is certain that you will hit your Salesforce file storage space either today or tomorrow. Since the files increase in number per day, you are required to move them out of the production org in order to keep the space freed up. You can either leverage any of your existing file storage platforms or adopt a new one that your compliance permits.
But file migration from Salesforce is not easy as there are a lot of complexities involved in integrating Salesforce with the external system. From finding a solution that enables seamless integration between both platforms to address complex configurations, the challenges are a lot.
Let's see how to address those challenges through a superior file management app for Salesforce. We'd like to introduce you to XfilesPro, the most trusted and recommended file management app that can automatically migrate your Salesforce files to your preferred external storage such as S3, SharePoint, Google Drive, OneDrive, and On-premise platform. The good news is, the app comes to the rescue not only for file migration from Salesforce but also to address all the life-saving strategies for Salesforce Admins that we have discussed so far.
Also, Read: How to Store Salesforce Files in External Systems
Let's see how XfilesPro accomplishes the above strategies;
XfilesPro's Folder Structure feature will help the Admins create a customized folder structure in the external storage to keep files organized.

XfilesPro supports SharePoint Tagging functionality, allowing users to tag their Salesforce files with relevant data externally in SharePoint.

With XfilesPro's security measures such as 'Access Control' and 'Encryption at Rest,' they can rest assured about the strong security of files.

The #1 file management app also allows real-time collaboration on files for internal teams and external users.

XfilesPro also provides multiple versions of the files for easy operations.
That's it. If you have reached this far, there is a high chance that you're looking for a perfect file management solution for Salesforce. So, why can't give it a try to XfilesPro?
To learn more about how XfilesPro can make awesome admins' life easier, schedule a demo here.