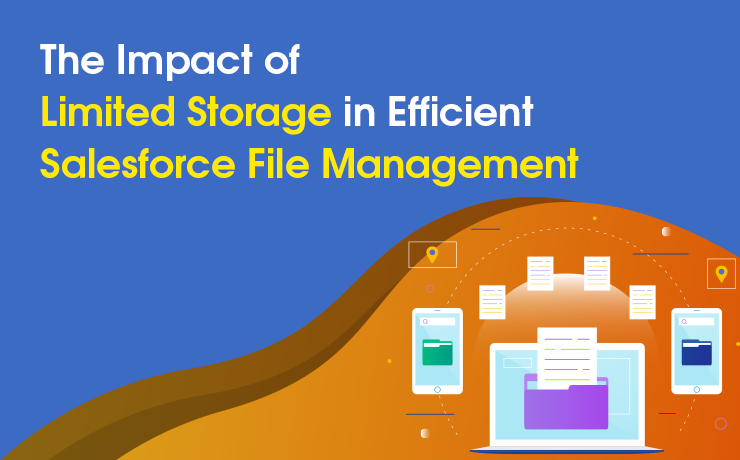 Let's break it down to the most simple concept. What is file management exactly? It is a process of naming, storing, and organizing files so that you can quickly locate them at the time of need. It sounds so simple, right? The same thing applies to file storage in Salesforce too. But the catch in Salesforce is that the file storage capacity is minimal.
With poor file management, the results are devastating. Some of the significant impacts are wasted time, inefficient file collaboration, slacked productivity, compromised ROI, and several other aspects. To get a better hang of it, let's now dive into the impacts in detail
Unable to store large files or large volumes of files
Be it a small or a huge enterprise, the accumulation of files will only keep increasing. If you're wondering how much storage you want for your files, it is like a deer in headlights. File management is like a bottomless pit. It is a never-ending process. So, if you have limited file storage in Salesforce, then your future files are going to be homeless. This is one of the major drawbacks you will face.
Drastic Reduction in Collaboration and Productivity
Teams interact with each other through the process of collaboration. It is a game-changer contributing to any organization's success. When there is limited file storage in Salesforce, this process cannot take place seamlessly. Due to improper file management, the files can be misplaced or even deleted to suffice the storage requirements.
Increased costs for file storage
If you are wondering about buying extra Salesforce file storage, then it is going to be a costly affair. Even for a well-to-do company, this cost is a cautionary tale. With the day-by-day increase in the accumulation of files, buying extra storage does not help. Again limited file storage in Salesforce is responsible for the devil's work
Challenges with file visibility & accessibility
When the files start piling up, it is very important to note that the number of files will start getting massive within your Salesforce app. This is the time when file access becomes a challenge. Alongside the file, visibility is also affected. This will lead to a lot of escalations and will result in a catastrophe among the teams which is again the strong impact of limited file storage in Salesforce.
Inability to manage massive files getting generated through community users
Being a Salesforce Admin, one task that you must take is managing the community user files. Community users upload a lot of files. These files will get stored in Salesforce file storage. So storage space will get filled rapidly. It is one hell of a task. The amount of work that goes through in getting those files in line is a herculean task. Also, all this can work seamlessly only when you have better file management and storage space.
Inability to integrate any 3rd-party app for better business productivity
If anyone integrates any 3rd-party app, then the files that will get generated from the app will also get stored in Salesforce file storage. This will fasten the storage filling process. That's why it is not possible for many Salesforce users to integrate 3rd party apps. Since the storage is not sufficient, integrating the Salesforce storage with third-party apps will also be challenging. With the lack of coordination between files, it is highly implausible to have something integrated into file management which is already a mess.
In conclusion, constrained file storage on Salesforce's file management can have several consequences for businesses and organizations that heavily rely on the platform for their document management needs. It is important for users to consider these limitations and plan accordingly to ensure that their file management needs are adequately met. Salesforce also offers various solutions to address these challenges, such as implementing a document management system or integrating with third-party storage providers. One of the apps that you can blindly rely upon is the #1 App on file management on AppExchange i.e. XfilesPro file management. Overall, by carefully assessing their needs and exploring the available options, businesses can continue to leverage Salesforce's file management capabilities effectively.
If you would like to go forward with XfilesPro, then schedule your
demo here.