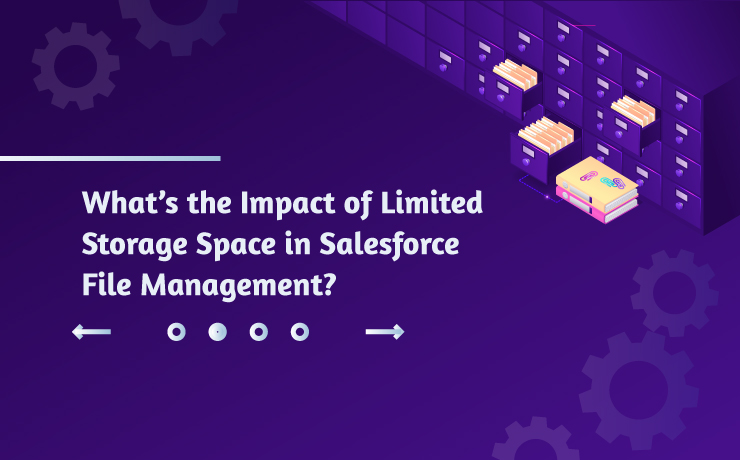 Here's the nightmare that will never end in the life of a #Salesforce admin — file storage limit. As Salesforce comes with very limited storage space, the admins are always afraid about hitting the storage cap.
Not only the storage space overloading, the worst part is that there are a lot of other challenges with the limited file storage space. To run your business efficiently, you need to be aware of those challenges and the impact that can have on your operations.
To get a better hang of it, let's dive into it in this blog.
Unable to Manage Large Files or Large Volumes of Files
Your Salesforce files can come in any size and quantity. You will generate small-sized files and files that come in bigger sizes such as presentations, and video and audio files. And, it's obvious that with the surge in the number of big-sized files, the file volume within the CRM platform will also increase.
This will be an uphill battle as the management of files in large sizes and volumes will cause troubles in the management of files including uploading, accessing, editing, and deleting. That means, your entire file management experience will be completely disrupted.
To know about the limitation in Salesforce storage spaces, check here.
Drastic Reduction in Collaboration and Productivity
Teams interact with each other through the process of collaboration. It is a game-changer contributing to any organization's success. When the files are more and the storage space is limited in Salesforce, this process cannot take place seamlessly. Due to improper file and storage management in Salesforce, the users will fail to collaborate effectively, which will impact the overall productivity of the employees.
Increased Costs for File Storage
If you are thinking that purchasing additional storage space from Salesforce is a solution for the limited storage space, we want you to know that it will break your bank. No matter if your company is a small scale or an enterprise, the cost associated with extra storage purchase may not sound cost-effective for your business considering its high charge. So, think before acting, is that something your growing business wants?
Challenges with File Visibility and Accessibility
Just like the troubles in Salesforce file collaboration, the limited Salesforce file storage can drive uneasiness in the visibility and accessibility of files within the org. If the Salesforce application loads very slowly, you can't easily access and edit the files during emergencies. And, this will lead to a lot of escalations and result in catastrophe among the teams.
Inability to Manage Massive Files of Community Users
Being a Salesforce Admin, one task that you need to take is the management of the Community User files. The more Community Users you have, the more files will be generated in the file storage space of your Salesforce. That means that the storage space will get filled quickly, which is a difficult undertaking. The growth in files will only result in storage overloading and unproductivity among employees.
Explore how to manage Community Portal Files here.
Challenges in Integrating Salesforce with 3rd-party Apps
You may want to integrate Salesforce with multiple 3rd-party apps for different purposes. Be the integration for document generation, file archiving, or data management, the ultimate objective is to automate and streamline the workflow. However, when integrating certain apps with Salesforce (such as an auto document generator), you are going to generate a large volume of documents that will eat up your limited file storage space. Since the storage limit is not sufficient to accommodate the growing volume of files, you will not be able to establish an effective integration between both platforms.
It's the Wrap
By now, you must have learned about the consequences that limited file storage space in Salesforce can have on your workflow within the CRM platform. To smartly address this challenge, we recommend you XfilesPro, the #1 file management app for Salesforce. You can intelligently tackle the limited storage issue with XfilesPro as the application optimizes your file storage space.
Let us make this more clear.
With XfilesPro, you can automatically move your Salesforce files to your preferred external cloud platform such as Amazon S3, SharePoint, Google Drive, and OneDrive as well as on-premise system. This will be a great way to free up the limited storage space, which will help you achieve a very streamlined file management experience within the Salesforce application.
The XfilesPro benefits are;
The management of large-sized files and large volumes of files becomes easy as the file storage space is constantly optimized.
Facilitate seamless file collaboration among your employees with trouble-free file access.
Eliminate the need for costly additional storage purchases, saving your expenses.
Simplify the management of numerous files uploaded by Community Users without worrying about overloaded storage space.
Similarly, the integration of Salesforce with any third-party app is a tension-free job considering the freed-up storage space.
To learn more about how XfilesPro can help your business with a modern and tension-free file management experience for Salesforce, schedule a demo
here.