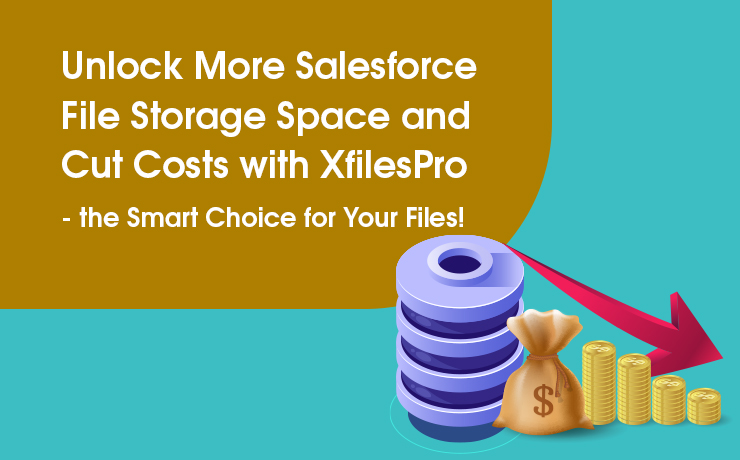 Stop crying over spilled storage costs! XfilesPro is here to mop up your Salesforce storage expenses and leave you with more dough for your business growth.
Do you know that the default storage given by Salesforce is just 10GB per org? Is that really enough for you to satisfy your storage needs? Big NO!! So, the next predicted step is obviously burning your money on extra Salesforce File storage. But let me stop you right there. Have you given thought to the Salesforce File Storage Costs? The answer is still no. There is nothing to worry about. We are here to help you out.
According to the statics conducted in 2022, about 20% of users increasingly use Salesforce every year.
This blog is purely a remedy blog for you to lift the Salesforce File Storage Costs off your shoulders and insight you with the best possible solutions keeping in mind to reduce your Salesforce File Storage Costs. So here we go:
Integrating External Storage Platforms with Salesforce to Store Files
XfilesPro is an excellent application that works as a pathway to integrate your Salesforce into an external storage cloud such as AWS S3, Google Drive, One Drive, or SharePoint and On-prem such as (FTP, Network Drive, or SMB). By doing so, it is optimizing the Saleforce storage and there will be no worry about the daily accumulation of files.
Large Volume File Migration – Initial File Migration to Reduce Storage Usage Immediately
Even though the external storage is integrated, the question of moving or migrating the files is one of the most important issues that every Salesforce admin will encounter. But with XfilesPro, there is never a dull move. The feature of initial file migration will help in the implementation of file migration which is an automated process.
Moving Community User Files to External Storage
Using XfilesPro one can easily migrate all the community files to the external platform to reduce the Salesforce File Storage Costs. Moving Community files to an external platform cleans up the storage space and thus avoids spending money on additional purchases. Also, it will be accessible from the sea of files and it will save you from spending your productive hours fetching or locating it. Isn't that what you want at the end of the day?
Moving Files from 3rd-party Apps to External Storage
Being a part of a big organization to have a seamless workflow, Salesforce can be sometimes integrated into third-party applications. When other file management apps do not heed any integrated third-party needs, XfilesPro has got your back. XfilesPro provides excellent assistance for third-party applications by offering an automated file migration utility triggered by specific events.
Zero Maintenance – XfilesPro doesn't need any maintenance costs
How wonderful would it be to have all these facilities without any maintenance right? We all know that apart from maintenance being a hectic process that cannot be missed, it is also a costly affair. But XfilesPro's file management never fails to impress you. The upkeep here is zero and you can still use it to its total capacity. The budget you allocated for Salesforce File Storage Costs will remain untouched.
The prayers for your troubles have been answered. XfilesPro file management in Salesforce is not just an application, but with these features is definitely an asset to your organization. If you are looking to upgrade with the technology when it comes to file management in Salesforce, then schedule your free demo here